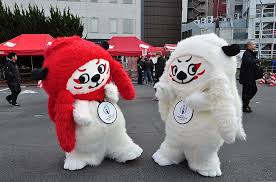 Welcome to the slightly emotional top 5. It has been through a bit of an emotional rollercoaster these past few days, I think my anger is fading and I am now in a more serene space, enjoying the fairies in my head that are telling me everything is going to be ok, Australian Rugby can only go up from here. But there is still a little dwelling to do, so here goes. This week we look at a number of possible reasons where it all went wrong, focus in on the real reason it all went so wrong, then lift the mood with some NRC talk and look ahead to the rest of the World Cup.
WE WERE ALL IN ON THE "UNPREDICTABILITY OF SPORT" TRAIN UNTIL REALITY DERAILED IT!
With the autopsy well underway and the finger pointing well advanced, the inevitable questions of why and who to blame are being fired by every rugby pundit. Most hilarious for me is the Rugby names, most with either fingerprints on, a "members" entry pass to RA HQ or have been on the payroll, all playing the blame game; yet were all party, even if it's been a minor part, to alleged crime.
Now, let's cut through the BS and get to it. Who couldn't read the writing on the wall?
Today marks 400 days since the Wallabies beat a top 6 ranked team without the aid of a Red card. Generally speaking, I believe it's fairly safe to say that if you are planning to get through to a quarter final of any RWC you're going to most likely be playing a top 6 ranked nation. So that has to be your target at a minimum and for 400 days now it's been a bridge too far. If we look back further it had been a 50/50 prospect at best. Taking a step back its clear we were on the down side of the lofty heights of sometime being able to beat a top 6 ranked team to where we are today at the bottom of the heap; Number 6 in the world.
The "Larkham gate" drama and his subsequent sacrifice to the rugby gods was just a reminder of the try scoring inability of the Wallabies that still persist today after many years. The only new dimension that the Wallabies did come up with trying to make attacking rugby is expanding their attack to both a vertical as well as the horizontal concept. Lateral metres as well as forward meters seemed to be the only innovation our attack has come up with in recent history and we do seem to be quite apt at the lateral metres. It's just a shame they don't count as imagine the extra metres in the stats.
But Rugby is a team game, a collective. Words like combination, cohesion are used; or for those that want to keep it simple; getting your best 15 on the park to pay as a team. But then there is the "other" approach where every kid gets a prize it seems every eligible player gets a Wallabies jersey. (Yes, some missed out but we can change the rules to fix that. Not like we haven't done it before!).
Just take a look at this.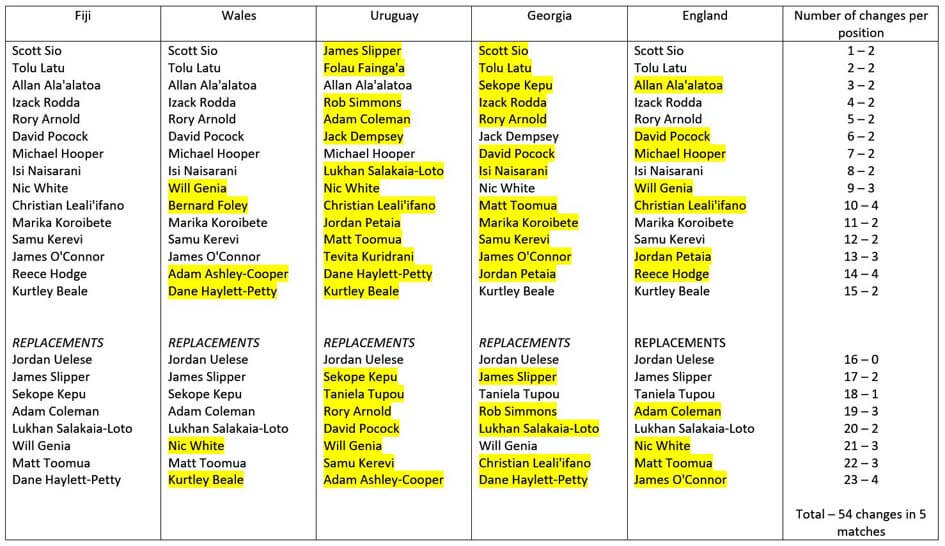 This table shows the Wallaby team selections for all of their World Cup matches. The changes from match to match are highlighted. 54 changes were made to playing roster during the course of the World Cup. We did not have the same player in the number 10 jersey in any consecutive matches. The 9/10 combination we went into the final with had not played together all tournament, bar the final 20 minutes of the Georgia match. A number of players played a number of different positions, regardless of what their "best" position was. Is it any wonder the players looked a little lost at times?
SO WHAT HAPPENED?
Last week I wrote about the Wallabies numbers and how for all the positive numbers, when it came to our attack we were more likely to hatch the Gilbert than get it over the line for points. Even after sacrificing an attacking coach to the Rugby Gods and reinventing our attack nothing really changed and the habits persist.  The numbers are again ugly:
64% possession
62% territory
122 more runs than England.
303 more metres run
Almost double the number of clean breaks making 14
It certainly does solidify the obsessive "ball in hand" game Cheika was apparently pushing. The risk reward justification that was being preached by some seems to come to an abrupt conclusion once you introduce the 18 turnovers conceded into the conversation.
Jones' words from the lead-up press conferences will probably haunt Cheika for a long time. Ball in hand was fools philosophy and the inability to honestly look at the numbers and realise that most likely the reason we had the ball so much was that we didn't know how to score was a humiliating oversight.
We also need to be honest about the players and selections. The team change piece above makes you wonder what the Wallabies selectors were trying to achieve. Build a team of the best 23 or just a squad with options? On many occasions I heard the comments that no players had really put their hands up to claim a position. With so many changes, how could they? Were they given the tools and combinations that allowed them to show their best? I might be old fashioned but I was led to believe you build a team by identifying the right combinations and skill sets to support and complement. But alas, the lesson of the 2011 Brumbies, that awesome super star filled team that were world beaters on paper but a dog turd on grass should have been a clue with this one.
This was always the "back to the future" squad. So many players that had never been able to bring us success. How Genia was targeted because of his predictability in previous games was the clear evidence of that. The core of our backline had been, gone, come back and after being tried in every possible combination you can think of, and still unable to produce the goods, we just persisted with it.
I will openly admit that I am a huge Pocock fan but I can't help but question his selection. He was fairly ineffectual and really doesn't bring much in attack. As hard it was to see and admit, Chris Alcock highlighted Pocock's running inability during his stint at the Brumbies.
The Wallabies were akin to one winged bird. Koroibete really showed the true value of a quality winger. Imagine what you could do with two real wingers in attack?
For those who might want to challenge my views I would ask you to consider if Cheika would have really stayed on as Wallabies coach. Look at what he is left with. Who is the 10? Toomua? The chances of success in 2020 are…..? Come the next RWC who will be the 10; no stop! Better still, can you name all the 10's (or potential 10's) for the four Aussie super rugby teams next year?  As you rattle them off confidently you will be able to explain how all the high-performance spin RA has been on ability and a group of under 20's who show potential, who we also have no choice but to grab as they are best available option the future.
One thing the autopsy will reveal but won't be discussed or ever able to be accepted is that the true crime so many have naively been co-conspirators in is the realisation that as Cheika leaves there is nothing left. Aside from the ashes of a failed campaign, we have a group of players in their twilight, a group of youngers guys who have been treading water for years and no real succession plan.
Excuse me?
On Saturday night I wasn't surprised. Disappointed, yes, but I wasn't devastated. Maybe because I, along with many others, saw it coming. The writing was on the wall when Cheika stated bluntly that he doesn't do analysis of the opposition, that the focus is solely on the way we play. Against some teams that's fine, but clearly not against England (who had clearly done their homework!).
But then, not long after the match, I turned from being resigned about the result to being angry. Furious actually. When I heard these words spew out of Michael Cheika's mouth.
"That's the way we play footy. I'm not going to go to a kick and defend game, maybe call me naïve but that's not what I'm going to do. Rather win our way than no way at all, that's the way Aussies want us to play."
Now, I don't necessarily want to bash Cheika any more than he has already been hit, but really? This is the World Cup, right? The once every four years, winner takes all, pinnacle of World Rugby? Because if there was ever a time to do whatever you had to do to get the win, I would have thought that this was it. But according to Mr Cheika, I must be the only one who feels like this, as 'Aussies' would rather the Wallabies 'win their way'. Personally, I would rather they just won. I don't care how they do it. Kick and defend their way into the semi-finals or run the ball from everywhere and end up on the plane home …. Tough choice, I know.
Watching the Springboks beat Japan last night, I felt like throwing stuff at the TV every time the Boks went to the driving maul. Because it nullified the Japanese and made the game dull. But you know who didn't care about that? The South African fans. Their team won and they were ecstatic! Hell, as a Brumbies fan I don't always enjoy the way they win, but I'd sure as hell rather they won than lost.
I can't work out if that statement from Cheika is ignorance, arrogance or that he truly believes that the fans are happy to lose as long as we don't play "kick and defend" rugby. Judging by some of the responses on social media, I am not alone in feeling this way, so I hope whoever the next coach is takes notice.
Fans want the team to win.
Especially at the World Cup.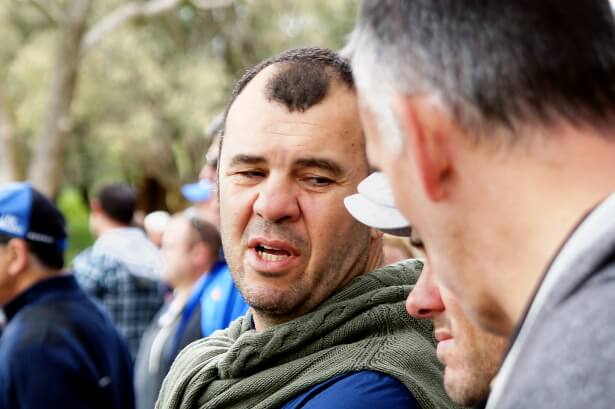 NRC Wrap
Ok, so I'm going to leave all the negative crap there and focus on some positive stuff for Aussie rugby. The NRC! This weekend we found out who would meet in the Grand Final next week. The two teams who finished first and second on the ladder, the Force and the Vikings, will duke it out in WA next week to see who takes home the trophy.
In the first semi, the Force seemed to be doing it easy. But Force fans might have been getting just a little nervous as Brisbane City staged a massive fight back, coming from 42-17 down going into the final quarter to lose by just 4 points. Brisbane scored 3 tries and very nearly stole the match away from the Force.
The second semi played out the opposite way. The Vikings were down 22-0 at half time, and speaking as a fan who was at the match, it was a bit of a glum atmosphere. Now I don't know what Nick Scrivener said to the team at half time, but they came out firing in the second half. After a massive comeback, when the clock hit 80 they were down by 6 points before Tom Banks got over the line. The conversion after the siren sealed it. It was one of the best finishes to a Vikings match that I have been to.
So next week the Force host the Vikings in the final. It's the first time the final has been held in WA. While technically it is the Force's first Grand Final (the other two times it was Perth Spirit), it is the third time that both the team from WA and the Vikings have been in the final. Perth Spirit were runners up in 2014 and Champions in 2016, while the Vikings were runners up in 2015 and 2017.
Match details:
Saturday October 26
3:00pm AEDT (12:00pm AWST)
What do we watch now?
Just because the Wallabies are out of the Cup, there's no need to get rid of Foxtel just yet. There are still 3 matches to be played in this World Cup, and all have the potential to be brilliant (well actually there are four matches, I keep forgetting about the Bronze medal playoff).
First up we have semi-final one. Like last weekend, the most anticipated match is up first. New Zealand play England. This could be a tight one, but I struggle to see England matching it with the All Blacks. The AB's play the sort of attacking rugby Cheika can only dream about, but they also throw in that kicking and defence that really has no place in rugby. You can bet Hansen in as we speak studying the English playbook and will be prepared for whatever is thrown (or kicked) at them, and have a plan to counter it. Likewise, Eddie jones will know fully what to expect from the Kiwis and is probably at a bar somewhere trying to come up with a drunken revelation about how the hell to stop them.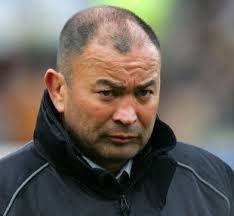 The second semi, while still interesting, will be a different kettle of fish. Wales v South Africa. They way both teams have been playing I would probably have to give this one to the Boks, they have looked in better form. They will have to adjust their game plan, the scrum and mauling that destroyed the Japanese won't be so easy against Wales, and Wales have a much better kicking game than Japan so the Springboks will have more to worry about.
Saturday 26 Oct 7:00PM
England vs New Zealand
Sunday 27 Oct 8:00PM
Wales vs South Africa
Friday 1 Nov 8:00PM
Loser SF1 (England) vs Loser SF2 (Wales) **
Saturday 2 Nov 8:00PM THE FINAL
Winner SF1 (New Zealand) vs Winner SF2 (South Africa) **
* All times are AEDT
** teams in parentheses are my predictions, don't take it as fact!