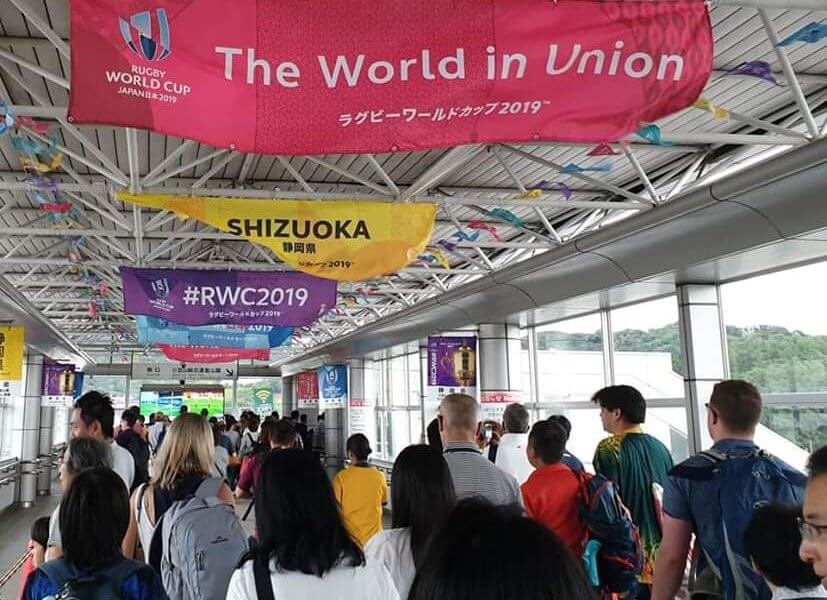 Welcome to the penultimate Tuesday Top 5 for the year. This week we look at the good, bad and ugly from the weekend, drag through the coals of the semi finals, ponder what happened to the All Blacks, meet a Springbok physio and find out some fun World Cup facts.
The Good, The Bad and The Ugly
Good – The first semi final was a ripper. While it was relatively low scoring, the game was fast paced and intense. Even though we all know New Zealand are capable of coming back and scoring from anywhere, they didn't really look like they were going to, the try to Savea was more opportunistic than set up through good play, but that didn't take away from the spectacle of the game.
Another good (while no so much for me as a Vikings fan) The Force taking out the NRC in what can only be described as a total flogging of the Vikings. It has been a great year in the NRC, probably fairly overshadowed by some other Rugby tournament that is going on, but there have been some absolute cracking games. It was a bit of a shame that the final was such a big margin, as the season deserved to have a thrilling finish, but all credit to the Force who were outstanding.
Bad – After this weekend it's all over. Only two more matches, then it's back off to find something else to occupy our time until next season. Luckily that won't be for too long, with Super Rugby kicking off in January (which in itself falls into the category of bad. January 30 in Canberra, Brumbies v Reds. This year on that date it was 36 degrees. Last year it was 33, the year before 38. Seeing a there here? But I digress ….)
Ugly – According to Fox Sports, England ran 748 metres in their win over New Zealand. In the other match, South Africa and Wales combined ran 758. I'm not advocating for the kind of running rugby that a certain ex-Aussie coach tried to implement, but a happy medium would be good!
The Semi Finals – A Tale of Two

Cities

Matches
It was the best of games, it was the worst of games, it was the age of running, it was the age of kicking, it was the epoch of belief, it was the epoch of incredulity, it was the season of Light, it was the season of Darkness, it was the spring of hope, it was the winter of despair, we had everything before us, we had nothing before us, we were all going direct to the final, we were all going direct to the bronze medal playoff ….. I think Dickens summed up the semi-finals perfectly.
What a contrast between the two matches. One was full of attack, running and nail-biting pressure, while the other was full of … kicking and, well … kicking. There was some defence too, but at over a kick a minute it was … well a pretty dire match.
One of the commentators summed it up pretty well (I can't remember who it was) when they said that the main difference between the two games is that in semi 1 both teams were trying to win and in semi 2 both teams were trying not to lose. That changed towards the end of the match when they seemed to realise that if they wanted to not lose then they needed to win, which meant score points, but by then the match had lost a lot of interest.
I hate to say it, but at least if Cheika had been coaching either of these teams there would have been some running!
Although Dickens has nothing on Anchorman!
"That escalated quickly"

Welcome to semi-finals weekend.

Anchorman-style. #RWC2019 #ENGvNZL #WALvRSA pic.twitter.com/TDjodHqabV

— Rugby World Cup (@rugbyworldcup) October 25, 2019
Where did it all go wrong?
It didn't really come as a surprise to many, but some were expecting the All Blacks to take the Cup again this year. Admittedly, I thought they would do it, especially after the way they tore Ireland apart. But watching the semi, the All Blacks just didn't seem to have anything. They played poorly, looked a bit slow (usually if there is a loose ball they are the first to it, but not in this match) and made some really poor choices, especially when kicking. They looked very un-All Black like.
The All Blacks usually get good pay from turnovers, making the opposition pay for their errors but here it was them making the errors. When England did hand them the ball through a turnover, the Kiwi's weren't able to make ground. Did the rush up defence spook them? Are they unable to handle it? Have they relied too heavily in the past on other teams making mistakes at the expense of set piece play?
A big question out of the match is are the All Blacks suffering from playing weaker teams too often? The Wallabies have rarely put up much of a challenge in the past four years, South Africa have a win record in test matches of less than 50% in the past 4 years and Argentina haven't been much of a threat. By comparison the All Blacks look unstoppable, but did we just find out what happens when they face serious competition?
Or maybe it was just that England were simply too good and New Zealand just couldn't match it with them on the night.
Third time lucky?
It isn't just the players who are gearing up for the final this week. One of the South African medical staff is hoping that this weekend she finally gets to lift the trophy at what is her third World Cup. Physio Rene Naylor started out in South African rugby at club level, before making her way up the ranks to be appointed physio at Western Province in the Currie Cup. From there she joined the Stormers and in 2008 moved up to the Springboks.
She was with the Springboks at the 2011 World Cup when they lost the quarter final to the Wallabies, and in 2015 when they beat Argentina in the bronze medal match. After 2015, her contract was up so she took two years away from the Boks, focussing on her private practice and her family.
She re-joined the Springboks in 2017 and hasn't looked back. She is hoping that this year is their year, and she can finally say she is part of the World Cup winning team.
Awesome seeing him score on my side tonight specialmemories #lovethisgame pic.twitter.com/xsWxDWV0ib

— Rene Naylor (@Rene_Naylor) October 31, 2015
Fun Facts
In doing my research for the Top 5 this week (yes, I actually do some research, not everything I write is completely made up … just most of it!) I came across some interesting World Cup facts.
* The ​ticket designs​ for this year's tournament have been inspired by traditional Musha-e art. This type of art usually depicts warriors in battle but for this year's Rugby World Cup, the warriors have been replaced with rugby players in action.
* The Rugby World Cup 2019 mascots are two mythical Japanese creatures known as ​shishi​, they are said to bring happiness wherever they go and ward off evil. Known as Ren-G, they are said to have been brought into the world to spread the spirit of rugby. If you see them, watch out to see if they are swinging their hair in a circle. This is a sign that Ren-G is happy and probably about to break out into a dance!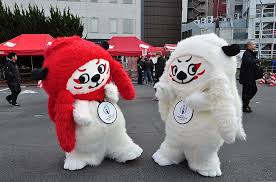 * When the Wallabies visited Japan in 2017, the bars were drunk dry before the match had even kicked off. So in order to keep up with demand for the Rugby World Cup Heineken had its Japanese brewery increase production by 80%
* The same whistle is blown for the opening game of every Rugby World Cup tournament. It was first used in 1905 by a Welsh referee during a game between England and New Zealand. I seriously hope they sanitise that thing in between uses!
* South Africa have a trend of winning every third Rugby World Cup, having won in 1995 and again 3 tournaments later in 2007. By this trend, South Africa should win the 2019 RWC …
* And still on South Africa, did you know they have never lost a Rugby World Cup final. They appeared in the 1995 and 2007 Rugby World Cup finals and won them both. Also they scored 15 points in both those finals, so perhaps 15 is their lucky number?
* Meanwhile, in this tournament England have defeated Argentina in the pool stages, Australia in the quarter final and New Zealand in the semi-final. Will they make it a SANZAAR grand slam by beating the Springboks on Saturday?