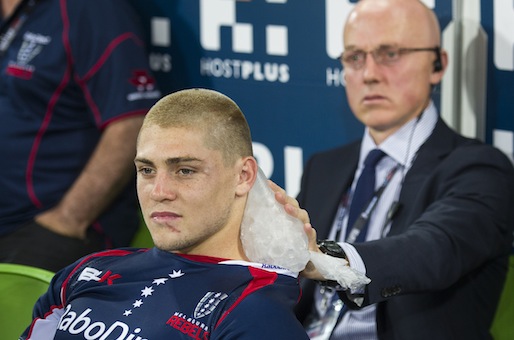 This is the Tuesday Top 5, my patented pentagram of piercing analysis and second-rate puns. Get it right up ya, clowns.
---
5. The Force sucked
They sucked hard. I'm sorry Forcers but that is the only way to describe it. Honestly, I sat through the whole fucking game, and it's 80 minutes of my life I will never get back. They should have won — the Kings were spirited but fairly one-dimensional. Instead they fell off tackles, dropped balls, missed kicks. It was just plain shithouse. And that's sad for me because I love the Force, and they played really well last week. I hope for their sake that this was a one-off, because if it wasn't they will take the wooden spoon. And kudos to the Kings for showing up the critics, in front of 35,000 fans to boot.
---
 4. The Rebels proved what we all knew…
…that they can't survive without JOC and Kurtley. When JOC went off they began to struggle, and when Kurtley got injured their goose was well and truly cooked. While they were worn down by a relentlessly professional Brumbies outfit, I really hoped they would do a little bit better. The back row has been below par — Gareth Delve has been very quiet and Scott Fuglistaller has been anonymous. Higgers is slowly improving, and that needs to continue. But their depth is still paper-thin in almost every position, and with no new recruits in sight the only solution to the Rebels fans is prayer. I'd suggest Brahma, a Hindu god and, according to the Bhagavad Gita, a great ball-runner in tight.
---
 3. Slow down, Brumbies fans
OK Canberrans, so you've got a good team this year. Some have even called them 'the real deal'. But let's not get too carried away, guys. You have beaten a rusty Reds side at Fortress Bruce and a Rebels side without JOC and Kurtley for much of the game. It's fair to say these are not victories that have sent shockwaves through the competition. Jesse Mogg has scored a couple of nice tries, and Benny Mowen has hit a few rucks. It is a promising start. But I'd hate for you guys to get ahead of yourselves (and to be fair the reasonable ACTites have not… all four of them! BUUUURN!).
D-grade put-downs aside, I'm not going to throw out any wild premiership predictions until I see how our guys measure up against overseas opposition. So far we are 0-1 (thanks, Force). Watching the NZ conference games on the weekend it was hard to see that ledger ending up in the black. I don't want to rain on your parade, Brumbies, but remember what happened last year when you started thinking about finals: you went from an unstoppable juggernaut to Greg Norman on a Sunday back 9 at Augusta.
So don't let those expectations get too lofty. Not yet, anyway.
---
2. How do you solve a problem like the Waratahs?
I don't know what to think about Saturday night. The Tahs played patches of really good rugby interspersed with complete rubbish. Brutal defence followed by soft missed tackles. Ten-plus phases of expansive play followed by three knock-ons in a row. If they can eliminate the errors then they can be a good side playing fast, entertaining rugby. And who knows where they could end up. But you get the impression that won't happen overnight.
I liked the new style Cheika has them playing, although we lacked a bit of punch in midfield. I am not a Tom Carter-hater, but we needed a little bit more from him. He can normally be relied on to take us over the a-line on the first phase, but he seemed to lack that little bit of dynamism he once had. The solution at 12 isn't obvious though, and I'd hesitate to throw in an untested rookie like Volavola (who looked nice off the bench). The back row was outplayed, and Michael Hooper was a bit disappointing. His strength is his ball-running and we didn't see that on Saturday. The lineout was shambolic until Mitchell Chapman came on; he needs to start. As does Benn Robinson.
Beating the Rebels is essential, especially at home.
---
1. Strategic blindness by referees
You thought number 1 would be about the Reds, right? One for each Super team would make sense, yeah? Wrong. The Reds get no love from me this week. I know the Festival of Hate is technically over, but I ain't buying it. All you Reds fans (most of our readership, if our polls and comments are anything to go by) can go jump. Throw your empty bottles of moonshine at me, see if I care! In fact I will make this decree for season 2013: any team who beats the Waratahs will not be spoken of here the following week. Please pass that on to whatever pathetic non-Waratahs team you support.
My point here is about how referees seem to ignore rules en masse that they once vigorously enforced. Remember those crazy days when refs penalised attacking teams for going off their feet at the breakdown? It seems like so long ago. For some reason it is back to a free-for-all at ruck time. I didn't see one penalty for sealing off at the breakdown, and I watched almost every game. No idea why we are ignoring this now, obviously refs have decided that penalising for going off your feet is 'so 2012'.
What do you think?
Yeah, you.
PS. I know it might be Monday night when you read this, so the title is unaligned with your current temporal state. But don't whinge about it in the comments section please, or I will send my bloodthirsty armada to destroy all of your ships and battlements! Consider yourselves warned, minions.