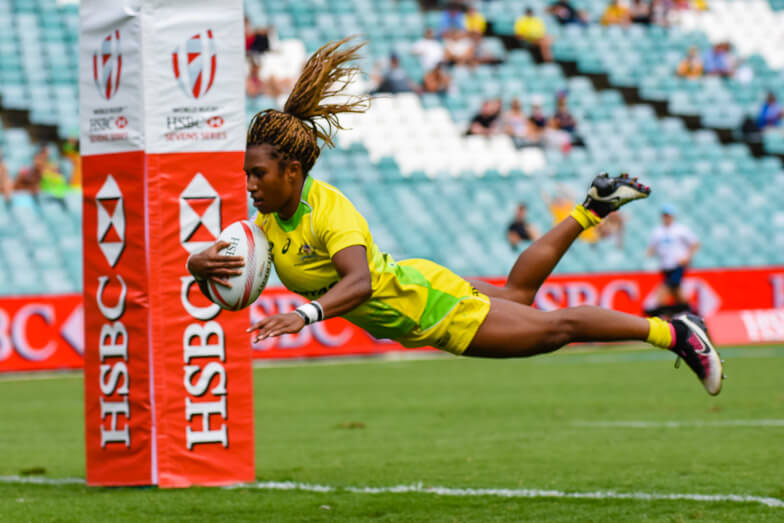 This week we take a look at more injury problems for the Brumbies, the young Waratahs making an impact, throw a few punches at the Reds, look globally and re-visit the Women's 7's from Sydney.
Another one bites the dust
Another trial match and another serious injury blow for the Brumbies. This time it was import scrum half Tomas Cubelli who received a potentially season ending (before it has even begun) knee injury.
38 minutes into the match against the Waratahs in Mudgee, Cubelli was injured in a tackle which appeared to nearly bend him in half backwards while he was on his knees (this particular author* wasn't brave enough to watch the replay due to the sight of players being injured making me feel sick so I'm going by how it looked in real time). Cubelli could be heard screaming in agony and was helped off the pitch, appearing on the bench towards the end of the match in a knee brace.
According to reports on Monday Cubelli has ruptured his patella tendon, an injury that can require a long layoff. Some estimates are up to 6 months, which would mean the whole season out for the Argentine star.
Last week I floated the idea of possibly wrapping players in cotton wool to avoid injuries during the pre-season. Yes, I fully understand that rugby players know the risks, and injuries could just as easily happen in round 1 and wipe a player out for the season. But being a Brumbies supporter (yes, feel sorry for me, it's going to be one of those years) it's a little hard to take that 2 of our better players have been wiped out in matches that don't mean anything. Injuries are always hard to take, but when they happen in competition it doesn't seem as gutting as when they happen in practice matches. All I can say for certain is that if there is another long-term injury at the 10's this weekend I will personally march into Brumbies HQ with large roll of cotton wool!
One upshot is that we will get to see more of Joe Powell. The 22-year-old impressed Cheika enough to make it to the initial Wallabies squad mid-year with very limited game time. He will have big shoes to fill if needed, but from what little we have seen of him he definitely has the talent.
*This particular author being Mrs MST. Mr MST doesn't want you all to think he's a wuss.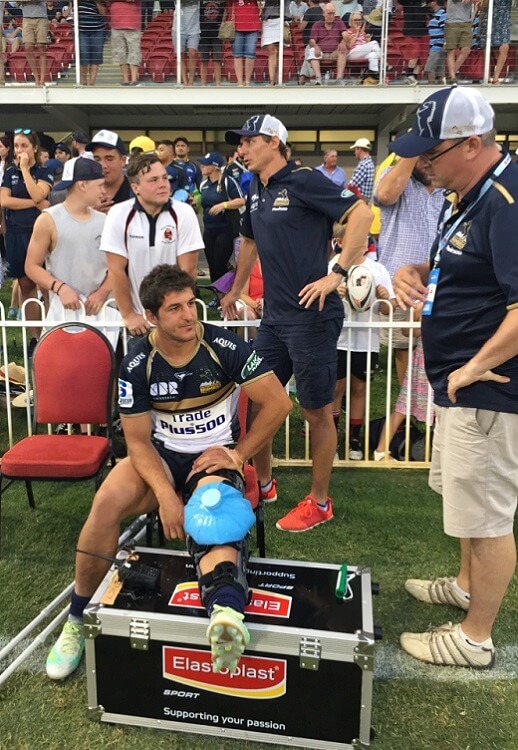 Good guy gone bad
Scott Higginbotham was last seen in Australia captaining the Melbourne Rebels. After 2 seasons in Japan he is back in Australia to play once again for the Reds. He hasn't put a foot wrong off the Rugby field in his 8 years of Super Rugby. Now, maybe he is annoyed that his return didn't get as much news as Quade's. Maybe he's upset that Reds fans appear more joyous about Quade re-signing than himself. Maybe he thought "whatever Quade can do, I can do" and decided to give boxing a go (though to be fair I think he took on a tougher opponent than Quade) … hmmmm … Quade Cooper plays into this a lot more than I realised when I sat down to write it, I guess we can  say it is all Quade Cooper's fault (just beating Mr Rowling Rowley to it)… anyway for whatever reason, Scott Higginbotham allegedly thought it was a good idea to march into a Police Station and allegedly attempt to assault an officer.
According to the Courier Mail "Scott Higginbotham allegedly illegally entered a Fortitude Valley Police Beat and assaulted an officer after one of his friends was arrested for urinating in public Sunday morning." No further details are being released at this stage, the QRU are not commenting because it's a police matter. The ARU have said that they will look into the matter.
With a couple of the senior players throwing a few punches around (allegedly) recently, I wonder if Reds fans are starting to get a little worried that Steve More will clock one of his team-mates.
We will definitely be keeping an eye out for updates on this one.
Tahs Young Guns
The Waratahs showed on Saturday that they have a bunch of young guns that certainly have some fire power. While a lot of the damage was done by the more experienced Reece Robinson, it was the youngsters like Jake Gordon (scrum half), Andrew Deegan (fly half) and Irae Simone (centre) who really impressed. These are the same players who stood out in the NRC last season and it's great to see them continue their careers into Super Rugby.
BUT … look at the positions these guys play. In a season where 3 out of 5 teams have imports listed as fly halves (Rebels – Jackson Garden-Bachop from NZ, Brumbies – Wharenui Hawera from NZ, Force – Peter Grant from SA) because apparently there is a real lack of local talent, these 3 young guys will be waiting in line at the Waratahs behind the likes of Nick Phipps, Bernard Foley, Rob Horne etc (see, a very good reason for AAC NOT to come back to the Tahs as it will just push the young guys further down the line).
Now I'm not saying that the youngsters should take the place of Phipps, Foley etc (well in Phipps' case maybe :-D ) but how long before they get sick of waiting in line and take their trade elsewhere? It's a real danger facing Australian rugby, as we are already losing a lot of talented young players to overseas clubs.
Global Rugby Calendar
Last week a two-day World Rugby meeting was held in San Francisco. On the agenda? A global Rugby calendar which would bring international seasons closer to alignment so there were fewer clashes and less disruption to the Super Rugby Season.
So what would it look like? Well it is only tentative at this point and there are few details, but one of the biggest impacts on Super Rugby would be the moving of the June Internationals. If it goes ahead, this will come as a huge relief to many a fan who have watched their team lose momentum one or two rounds out from the finals due to not playing for close to a month. Instead, these tests would be moved to the first week of July, at the end of the Super Rugby season. This would also mean that the Wallabies would have a continuous season from then through to the end of the Spring Tour, allowing for more continuity within the side as they had a longer run as a team.
While it is doubtful there is an ideal solution that will suit everyone and keep everybody happy, not breaking up the Super Rugby season would be a good start.
It is hoped that the recommendation will be made to the World Rugby Council in May, so it is still a way off before it is even (if it is) going to actually be considered by the council. If any changes are going to be made, it is likely that it will not be until after the 2019 world cup.
Aussie Women suffer heartbreaking finish at the Sydney Sevens, but rugby was the winner… (by Nick Wasiliev)
In what was a thoroughly entertaining Sydney Sevens tournament, the Aussie women's team found themselves unable to replicate the success they had in Rio last year, finishing 4th overall. Our girls cruised through the pool stages and first round of the quarter finals, however found themselves undone by a stalwart Canadian team in the semi-finals, losing 7-12.
In a similar fashion, the USA Women's accounted for the Kiwis in the other semi-final (who then dispatched the Aussies in the third-place playoff, winning 19-0), setting up an all North American hit out for the Champion Cup final. It was a thriller from start to finish, but the Canadians had the edge on their North American counterparts, holding on to win 21-17. It is their third championship victory in Sevens tournament history, and they were deserved winners against a vastly improved US outfit.
In terms of the overall standings, the Kiwis still hold a slender lead at the top of the leader board (36 points), with Australia (32 points) and Canada (30 points) making up the top three. It is still early days yet, with four more events still to come in the US, Japan, Canada and France, but our girls look like they've got a good fight on their hands to defend their championship title.
Despite the lack of success for both the men's and women's teams, no one can deny the success of moving the Sevens to Sydney. While it didn't match the success of the sold out crowds of last year, over the two days, over 75,000 people packed in to watch a great display of Sevens rugby. The only big negative was scheduling issues around many of the women's final matches having to be played outside of Allianz Stadium. But, despite that, I for one would be totally happy with watching another joint event of the men's and women's rugby again next year. It was just so damn entertaining!