Welcome back to the Top 5. A little late today, but hey, you know we're worth the wait! This week we talk through the latest match from different perspectives, glance at the stats, get psyched for the NRC and end with a couple of feel good videos.
Optimist/Pessimist
Game two of this year's Bledisloe is now in the history books and many people are talking about it from differing perspectives. So, what did you make of the Wallabies performance? Being that GAGR is all inclusive and welcomes all viewpoints we decided to firmly plant a foot in each side of the argument.
For the Optimists:
It was a much-improved Wallabies this week that rebounded really well after last week's game and obviously didn't let things get in to their head, as Brian Smith said in his post-game analysis, the "lunacy of optimism" can be a powerful tool if you can get your players to subscribe to it and that's exactly what Cheika managed to do. The Wallabies showed up and made us proud. The skills and attitude that have been missing of late were finally on show proving that selections are now solidifying and the cohesion is coming. The defence really came together showing it just needed a bit more time to get the patterns and positioning set and more familiar to everyone, instilling the trust. It was great to see a real team effort and the intensity at a level that had the All Blacks rattled and making mistakes, forcing scoring opportunities. It was a fantastic effort that was ultimately just short and really with a bit of luck or one of the referee's calls going our way and we could of been going to a decider in a few weeks' time. Finally, we are back on track and looking like we are closing the gap to the Kiwis quickly.
For the Pessimist:
There is an old saying in sports where it's better to be lucky than good. Well this week we saw it in abundance. Last week the lack of basic skills was alarmingly apparent and the first 3 kick receptions just reminded us, reinforced it then rubbed salt in to the wound about the lack of basic skills like catching. They also say sport can be a leveller and they are right; as long as the Wallabies have the all the luck and the All Blacks are having a shocker with nothing going their way. Cheika's persistent selections based on reputations not performance were on show on Saturday night. The scrum went backward as Moore continually tripped over his Zimmer frame. Hooper missed a game high 6 tackle and as usual, like all good 7's, got zero turn overs showing his ineffectiveness at the breakdown. The overall performance was clouded (thank god for small mercies!) by the abundance of luck the Wallabies had making them look competitive. Missing 32 (20%) of their tackles shows the defence is still a real issue. Fortunately, the All Blacks coughed the ball up at critical times in attack otherwise we'd have been well on the way to a repeat of last week. Finally we saw some attack, but it took individual efforts to exploit some out of character All Black defensive mistakes. But even with all the luck and bounce of the ball we still came up short.
What do the stats tell us?
Well I've once again delved into the stats from the two Bledisloe Cup tests. It makes for some interesting reading.

These are the attacking stats, taken out of the table above, separated for better comparisons.



Likewise with the defence stats.


Now, do you want to see something really interesting? Well remember how after the first test we were all hating on the Wallabies? They played terribly, didn't they. Missed tackles, conceded far too many turnovers etc. Well, have a look at this.

Apart from a few areas (The AB's would have to try bloody hard to match our Missed Tackle count at the moment), our stats from Match 1 are eerily similar to the All Black's stats from Match 2. Heck, we even got in more offloads than they did. So while we were crucifying the Wallabies for their performance in the first game and lauding them for their performance in the second, it looks (on paper) like the All Blacks actually put in a Wallaby-esque performance in Dunedin. Yes, I believe we did play very well, I'm not going to take away from that performance.
I just found it interesting. That's all.
The Reality
So whatever you made of it as either the pessimist or the optimist there is something we do need to accept.
15 years! Two games. That's all it took. Two games and its gone again. So again we will wait another year and see after 16 years of promises will we finally win the damn cup? As usual the Rugby Championship is all about if we can be the bridesmaid if we can beat South Africa. Can somebody tell me the difference was between this year and last? One key point was based on the available evidence on Saturday night the All Blacks had a bad game and we didn't get blown off the park like usual. The other is a glimmer of hope in that we have managed to score some tries this year.
Our defence; 30 missed tackles (30.6%) in game one in comparison to the All Blacks 23 (14.1%) and 32 missed tackles in game two (22.8%) in comparison to 14 (14.8%). No, it's clear the defence is not fixed. It was noticeable that in game 2 the defensive patterns had gone back to basic and still was not doing an adequate job. To give a bit more of a benchmark we can see the All Blacks average missed tackle percentage is around the 14.5% mark across both the games while the Wallabies is 26%. The Springboks is at 16.9% and the Puma's is 21.8% for the first two games of the Rugby Championship.
In attack: if we have the ball we struggle to use it effectively. Even when we dominate possession we still can't seem to use it effectively. Game 2 was really interesting in that we only had possession for 39% of the game. The 18 turnovers by the All Blacks not opportunist tries goes some way to explain the story but it does beg the question with that much ball being coughed up, and some of our tries coming from "other" errors, why couldn't we do more with the opportunities. 18 turnovers! One stat that might give an indicator about our attacking style is we are consistently at about 50% less line brakes than the All Blacks. Does that show we are not attacking the line enough or just doing it poorly?
Looking at this objectively on performance the current Wallaby record is unsatisfactory. The performance trends are not moving in the desired direction and it's clear that the issues appear systemic and ingrained as there has been no radical performance spikes that correlate with changes. In sport coaches can be title winners one week and sacked not long after as team performances plunge even with the same players or system who you were successful with. We have seen that with Leicester in the EPL and the Crusaders who, after many years as bridesmaids under Blackadder, Scott Robinson brought the key element that yielded the results. Is it time for change again? I see the NSWRL do not have anywhere near the same patience as the ARU and seem to based their decisions on RESULTS!! (I know – wild right).
Is this current level of performance sustainable and acceptable? There are comparisons and lessons that can be drawn to Stuart Lancaster and England. Lancaster had a winning percentage of 61% when he was sacked but the key issue was when they lost: 4 times runners up in the Six nations and we all know about that RWC results.
Australian rugby right now needs to be on the right side of the ledger or winning hearts and minds by showing we are in the fight. Right now, it's not happening and regardless of the rhetoric and conventional wisdom Rugby is not a long-term project in reality; it runs on yearly cycles and the direction dictates if there is change required or not.  In the Wallabies case, very much like Aussie rugby as a whole, its flat-lining and in rugby and sporting terms it's still on a downwards trend. But it appears to be accepted and we seem sufficiently comfortable not to want to risk changing the performance balance in case it gets worse, and continue to hope for miracles or many repeats of the All Blacks bad luck and poor performance from last Saturday night. Stay the course and others misfortune will bail our arses out! Sounds eerily familiar.
Tainted love
So doing a bit of CSI on the corpse of Aussie rugby of late was always a little difficult until the veil was lifted post arbitration. As the swamp is being drained and we are now looking at the whole corpse (both the on and off field parts), we are starting to see a really sad but common factor (suspect) appearing and in some respects, it may show that wounds to Aussie rugby may be a crime of passion; committed by the love for the game that has provided a false reality in which they believe they were doing nothing wrong.
To understand this, we need to step back in time to when the game became professional here in Australia. In the early fledgling years, the professional game stated to create heroes on and off the field. But like any sport that goes professional it also creates a mini industry for those who have nothing or limited options post career. So we now see legends like John Eales on the ARU board and in commentary for Fox Sports. The ex-Brumbies player Brett Robinson on the Board of the ARU, Rod Kafer in commentary for Fox Sports and  national coaching director for the ARU: just to name a few of the ex-players who are part of the Fox Sport commentary team.  Then we have those who have chosen to take the coaching path like Bernie Larkham and to a lesser extent (player profile that is) Cheika himself.
Over the few weeks it's been really sad to see the reputations of players being tainted by the fact they have the blood of Aussie rugby on their hands. Two of the above declined a near $50million dollar offer to help Aussie rugby and it appears are well behind the axe swinging plan.
On Saturday night pre-game I saw tweets and comments that the excessive hyperbole and frankly rubbish emanating from the some of those mentioned above (with support from the TV cast – Sorry fellas, but I like my commentators to call the match, not be cheerleaders!) in their roles on Fox Sports that supporters reported they had to change channel as it crossed the line and was becoming sickening. I must admit the hyperbole about this being the best team since the world cup was even pushing my tolerance.
When you step back and look at the incumbent administrators at the Super Rugby clubs who voted to cut the Force, the members of the ARU board whose qualifications have been called into question including two ex-players, the coaching issues of the Wallabies with two past players in the coaching set up; one currently can't get the result the other is still yet to show he can; there seems to be a theme appearing and the suspects sadly are starting to be identified.
So looking at the crime scene we can clearly see that rugby in this country is alive and well, the TV figures for the Wallabies games are better than expected so even with the poor performances there is potential for growth if we can get some results. I have seen the reports about big crowds at the QLD Premier Rugby finals, big crowds at the Shute Shield finals. We have also seen the passion and numbers of the supporter base in the west.  For a sport that struggling financially and can't get backers the fact that an offer of near $50 million, and financially guaranteeing the Force, as well as the Rebels being backed financially seem at odds with the desperation to save $6 million per year as there is no other options.
Its circumstantial evidence at this point but it's looking more likely a crime of passion as the blood is now showing up on the hands of those mentioned above and many like them. Staunchly believing they are doing the best for the game – and they did for a while. But the amateur era where they learned their craft and how Rugby operated is a bygone time and what now we find is they are without ideas, nor made investments in the game and are desperately out of touch with a rugby public, game and contemporary commercial environment.
Ironically, the key sponsor of the Wallabies, Qantas, is a perfect example for the ARU to turn to to get some clear advice, guidance and model on how to take an entity from the brink in a tough commercial environment and return it to its glory days posting profits in a really tough global market. It's a clear message that times have changed and you need the right people for the job.
One thing that was initially overlooked but has become very apparent once you step back and survey the crime scene; the crime scene tape seems to encircle just the ARU, Wallabies and Super Rugby. Strange coincidence or the clear indication of a crime of passion by a specific group or demographic who are out of touch with the game, supporters and public?
Hey the NRC is on – we think, maybe, ah… possibly – WTF?
So just when you thought you had seen all the different ways possible the ARU can screw things up……..well apparently not!
So what the best way to kick off a national competition? Screw up the time of the opening game!
No seriously. So as of late Monday night, you had the following choices for game #1 of the round:  Canberra Vikings v QLD Country.
Rugby.com.au has kick off at 3pm
Canberra Vikings Facebook has kick off at 3pm
The original NRC draw as published on GAGR has kick off at 1pm
Fox Sports has it listed as kick off (and streaming time) at 1pm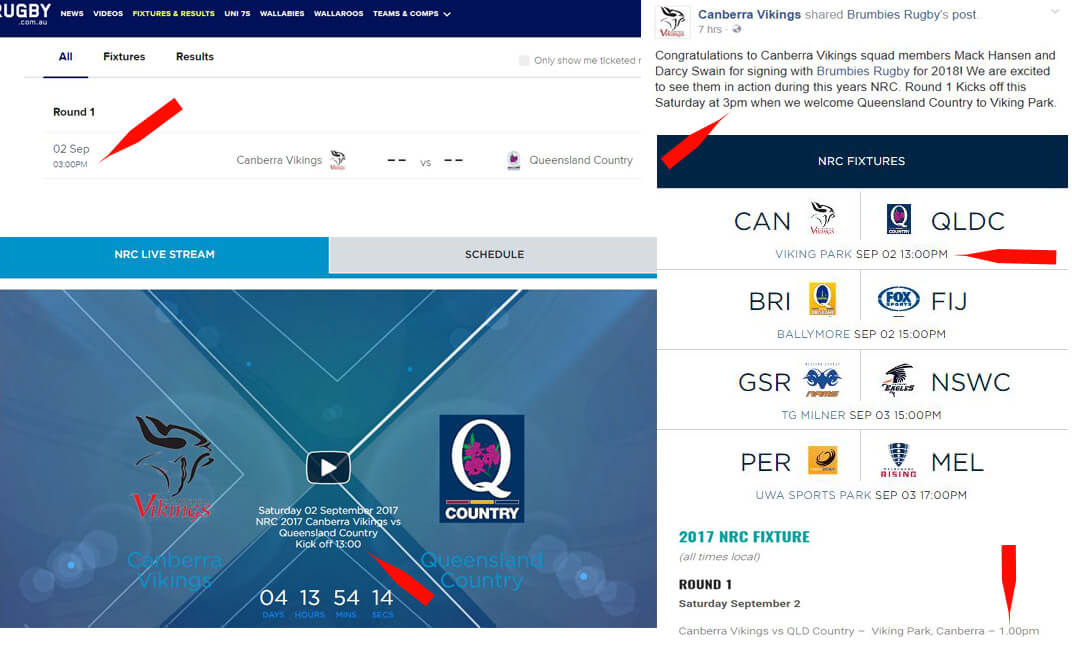 So, leave it with us and we will hit up twitter and have an answer for you in 48-72hrs!
UPDATE: Kick off confirmed as 3 pm (thanks @NRC_Live and Canberra Vikings Facebook) However Fox Sports is still listing it as a 1pm kick off and stream, though the person who runs the @NRC_Live twitter account told me that they have now informed them of the correct kick off time.
The big question I have is how were people notified of the changed time? I haven't seen any mention of it here on GAGR, and had to do a bit of searching. Have there been any other changes to the original draw? Because to be honest, I looked at the draw as put here by Rugby Reg for reference, it was only by chance I saw the change to 3pm mentioned on Facebook (which I don't usually even look at).
If you can work out the game time throw the kids out, send the partner shopping or drag them all to a game. Just watch it any way you can.
Every Saturday and Sunday 3pm match will be televised LIVE on FOX SPORTS, with the remaining match-ups LIVE streamed on foxsports.com.au and via the FOX SPORTS app.
ROUND 1
Saturday September 2
Canberra Vikings vs QLD Country –  Viking Park, Canberra – 3.00pm (not 1:00 pm as it says on Fox Sports)
Brisbane City vs Fiji – Ballymore Stadium, Brisbane –  3.00pm
Sunday September 3
Greater Sydney Rams vs NSW Country Eagles – TG Millner Oval, Sydney – 3.00pm
Perth Spirit vs Melbourne Rising McGillivray Oval, Perth – 3.00pm (5.00pm AEST)
Let's end on a positive
Last year in the Bledisloe Cup matches we scored 1 try in the first 2 tests. ONE.
Whatever we may think of the Wallabies performances so far this year, they have definitely improved greatly on that, with 9 tries in 2 matches. Here they are in all their try-ness.
Apologies for the All Blacks try sneaking in there, I couldn't edit it out.