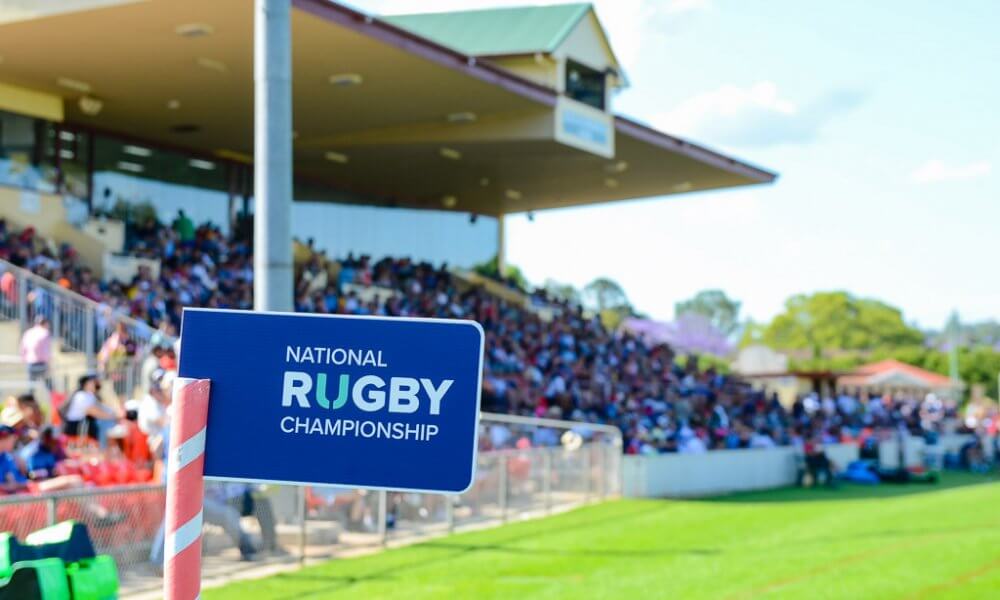 No name changes this week, just the basic Tuesday Top 5. There was plenty of rugby action over the weekend and we will look into the good, bad and ugly of it. We'll run an eye over the Wallabies match against Japan, talk the NRC, get a bit serious and then check out the All Blacks v Barbarians. Plus throw in some highlights from the action over the weekend.
The Good, The Bad and The Ugly
Good – Seeing 2 smashing NRC semi-finals. It really has been a pretty awesome comp this year.
Bad – Yes, it was a 30+ point win. But we still let Japan score 30 points.
Ugly – James Slipper's eye. Looked nasty.
Wallabies v Japan – What did we learn?
Ok. So the Wallabies put 63 points on japan and ran out winners by over 30. But was it really that convincing? I don't want to put a dampener on it, it was a good game for our boys and there is definitely plenty to be positive about, but we only won the second half by 1 point, didn't score anything for the last 15 minutes and got pretty lucky with at least one try off a Japanese error right on the goal line.
I wasn't going to include the stats for this game, but then I took a look at them and actually found them very interesting.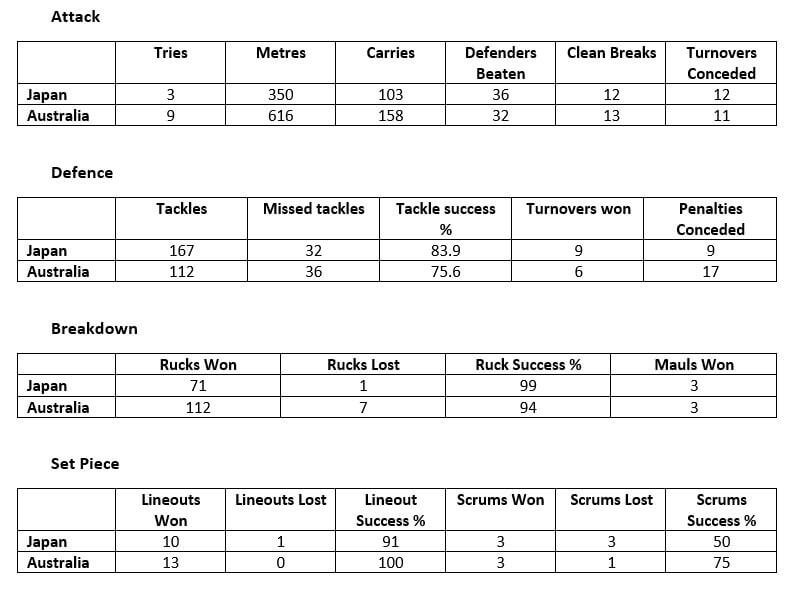 To my uninformed eye, they look like the stats of two pretty evenly matched teams. The only place the Wallabies had a clear advantage was in the set piece. We ran and carried more, but beat fewer defenders and our tackle rate was lower than the Japanese. Even though we made a similar number of clean breaks, this time we managed to convert some of those into tries.
So while the scoreboard made it look like a thrashing, the stats make it look like a much more evenly matched game.
We were all very interested to see how Hodge would go at flyhalf. For many, including myself, the verdict is still out. His goal kicking was top-notch, but his passing was pretty concerning at times. The commentators noted his weakness in passing left to right, and a lot of his passes were off the mark which slowed momentum. Is he a serious option at 10? Personally I think it's too early to call.
Nick Phipps had a pretty standard game for him, some passes way off the mark and some poor kicking. He also conceded 3 of the teams 11 turnovers for the match. When Joe Powell came on his passing was very good and he made nearly twice as many tackles as Phipps.
Another interesting point when comparing the back rows of both teams. The Wallabies outplayed the Japanese on attack, but its reversed in defence. It will be interesting to re-visit these stats against a team like England, where defence is going to be pretty important from our back 3.

So what did we learn? Well, while we got a big win over japan, we will certainly need to lift our game in the upcoming tests.
** Stats courtesy of Rugby.com.au
Speaking of the Wallabies, you know how some people in Australia don't know which game you refer to when you say Rugby, so you have to be more specific ie Rugby Union or Rugby League? Well I think someone might have had that problem …
Uhh….. pic.twitter.com/uixaLDesU6

— Alistair Hogg (@alistairjhogg) November 4, 2017
Some people were claiming it was a fake, but if that is true why would HSV tweet this soon after … 
Sorry for getting our jumping mammals mixed up earlier! Go Kangaroos! — HSV (@OfficialHSV) November 3, 2017
NRC – On to the Big One
Our finalists are set. On Saturday night the Vikings and Queensland Country will fight it out for the trophy.
We had two pretty amazing, but very different semi-finals over the weekend. One was a tough, score for score fight to the finish, while the other was higher scoring and really not in much doubt after the opening 20 minutes or so. Will this have any impact on the final?
The Vikings v Spirit match was tough (both on the field and in the crowd, it may not have looked it on TV but it was bitterly cold, like being back at the Brumbies matches mid-winter!). Defence was mighty from both teams with some huge hits in there. Neither team was really able to dominate the match and right up until the siren it could have been anybody's to win. The Vikings struggled to match it in the locks, with Enever and Carter both on tour (with different teams) and Richie Arnold running rampant for the Spirit. Gee he had an outstanding game. The usual suspects for the Vikings were kept pretty quiet, Banks, Dargaville and Cusack didn't have their usual impact, though Valetini had another great game, as did Naisarani for the Spirit. The Vikings will need to lift their game if they want to take out the final.
The Queensland Country v Drua match was nearly all Country from the get go. Taniela Topou had one of his best outings with some great runs and offloads. Duncan Paia'Aua had a strong game and the Country line-out was nearly unstoppable. Unfortunately, the Fijians suffered with losing players to international duties which noticeably upset their cohesion. Their discipline was again a problem, 2 yellow cards reducing them to 14 for a chunk of the game. Country will need all their stars firing again if they want to win on Saturday night.
So that leaves us with one game to go. Two teams who you'd have to say are pretty evenly matched. If both teams play at their best, we are in for an absolute cracker of a game.
The NRC player of the year will also be announced after the final, apparently the player in question plays for one of the two teams taking part. Speculate away to your hearts content, there are plenty of players on both teams that could take it out! 
Good for the eyes but emotionally unpleasant
It's an odd thing when you are watching a game and you want your side to win as much as you don't want them to. Then to watch and see in the first five minutes of the game the signs of a team acting out of character, signalling that the stripping out of players had a significant impact and had effectively ended an amazing first season at it most critical point.
For all the good that was the NRC semi-finals there was one aspect of the weekend that in the past would have garnered far more attention and created more extensive discussions. But it appears that Australian rugby supporters have become far more emotionally unattached to the game than in the past.
Have we hit that point where we just accept things, not talk about them and just try and move on choosing to focus on a positive and ignore the unpleasantness in the knowledge that it's a lost cause? Have rugby supporters started checking out emotionally to some degree? I think we have.
On Saturday night the Mst's watched a cracker of a game between the Vikings and the Spirit. We knew that if the Spirit lost that was the last ties to the Force cut and a watershed moment. But we really didn't pay much regard to those facts.  Post-game we went on to the field just like we have so many other times but it became very apparent this was different. You could feel that the atmosphere was emotionally heavy and uncomfortable. Looking at the Spirit players you could visibly see that this was more than just losing a game. In some respects, it was subtle. No tears or outbursts, more of an uncomfortable quiet. Interacting with the Spirit players was a little painful to be honest, but also humbling and an honour. They held themselves well, but you could see that they wanted to stay composed, you could see in their eyes there was a reality dawning that they had been avoiding and it was going to be hard but it would be dealt with privately.
For us it was a real poignant moment as rugby supporters. It was rugby history but not the history you like. The reality was we had been there as a rugby team died, a part of rugby history died and was solidified into a history that nobody wanted nor the game needed. For the players it was more. For some it marked an endpoint; the last time they will play together, be a part of that club, the end of journey and the start of massive upheaval and change. But as much as we felt it at the time, we plead guilty to being emotionally unattached to the game nowadays. We have opted to be emotionally ignorant to protect ourselves from Rugby Australia's actions and to remain isolated in how we think so we can enjoy are rugby without the issues interfering.
On Sunday we tuned in to watch the second semi-final. We already suspected that it was fait accompli that Queensland County would be in the final. 17 hours of travel was always going to take its toll, but to have half a dozen or so of your players off on international duty was always going to be a game changer. The moment that the Fijian's opted to take a shot at goal off their first penalty, it was so un-Drua like that it was a clear signal that they were hoping for a miracle and didn't believe.
I remember listening to stories about Drua players going on a plane for the first time when they came to play over here. This bunch of blokes has really done themselves proud and it must be gutting to see the core of your team gone and realise that you are so close to the finals but without much hope before kick-off. A whole season wasted? It's a tough call for Fiji. Do they rob Peter to pay Paul?
Many things in life are all about timing and I can't help but ask why is the NRC scheduled the way it is while other competitions like the Mitre 10 and Currie Cup have finished? Maybe they got the secret memo about the end of year tours dates and impact if they didn't finish a week ago. But, alas, let's be honest, do we expect more for Aussie rugby? No. Again, we the Mst's have opted to be emotionally ignorant to protect ourselves from Rugby Australia's actions and to remain isolated in how we think so we can enjoy are rugby without the issues interfering. Bring on the final.
So as new age supporters of rugby (unproudly) we will just move on. Let's not talk about it as we just want to watch the rugby. In the past we cared; now not so much. 
Barbarians v All Blacks
In what was a much freer flowing and more entertaining match than our own Barbarians clash, the All Blacks defeated the Barbarians in the early hours of Sunday morning.
The Barbarians set the tone for the match early in the week during a team meeting on Tuesday October 31. I was hoping this would be some sort of new uniform they were going to wear for the game. 
Happy Halloween

The world's most surreal ever team meeting #rugby #rugbyunited pic.twitter.com/4pS5E633pY

— Barbarian FC (@Barbarian_FC) October 31, 2017
 The Barbarians got out to an early 10-0 lead thanks to some brilliance from Richie Mo'unga and Steven Luatua but it didn't take long for the All Blacks to hit back with some brilliance of their own, with Naholo somehow staying inside the field of play and getting an offload to Perenara for their first try. The Barbarians hit back with a try to our very own Sam Carter and took a 17-10 lead into half time. A six-minute spell just after the 50-minute mark saw the All Blacks score 3 quick tries and take the game by the scruff of the neck. They ran out winners 31-22 but it was the Barbarians who had the last say with a neat bit of pretending to tie the shoelace trickery.
Last play of the game and the Barbarians do this!! pic.twitter.com/KMgxcWq8fi — BenchWarmers ⚽️ (@BeWarmers) November 4, 2017
The match was played in great spirit, with all players looking like they were enjoying themselves. Don't get me wrong, it was as tough as they come, I swear it looked like almost every player had blood on them! The hits were huge, there was no quarter given. It was a near full strength Kiwi team against a very strong Barbarians team and it was a great game played in front of a huge crowd. But it was still fun! This was highlighted best by in interaction between Baa Baa's captain Andy Ellis and referee Nigel Owens after a scrum reset (for not correctly feeding the ball)
"If you are going to cheat, cheat fair!"
Nigel Owens and Barbarians skipper Andy Ellis have an amusing chat!
Sky Sports pic.twitter.com/LV5kn7HzEd

— EatSleepRugby (@eatsleeprugby) November 5, 2017
Highlights