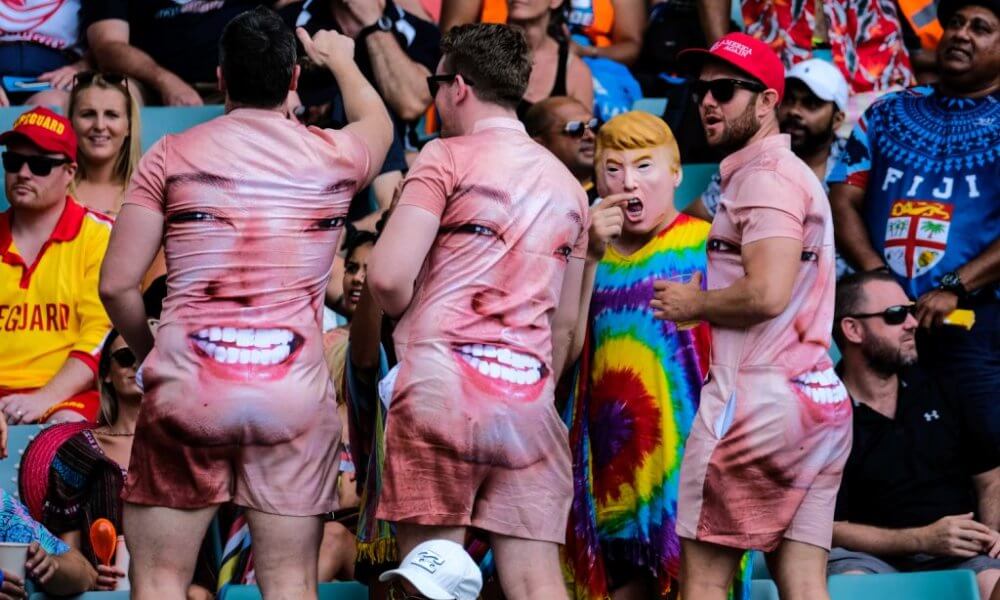 Well after a long off season the Tuesday Top 5 is back for 2018! We kick off the season with the Good, Bad and Ugly, look at the opening round, talk coaches, players and what should we expect from our teams this year?
The Good, The Bad and The Ugly
The Good – Super Rugby is back! After a seemingly endless off season, full of misery, hurt and betrayal (kind of like a shoddy romance novel) Super Rugby was back this weekend. Not exactly with a bang, seeing that 11 out of the 15 teams weren't playing, but the season did kick off without a loss to any Aussie team. And that's always a good start.
The Bad – Whose stupid idea was it to only have 4 teams playing in the opening round? I'm mean really …
I'm also really looking forward to the Super W games – if anyone can tell me when and where I can see them that would be great to know!
The Ugly – This year some teams are boasting a wealth of talent. So much talent that it makes it hard to pick the starting side. So much so that there are some very good players, possibly even those who have represented Australia, who will miss selections in the coming round.
Yes there were games:
Round one kicked off over the weekend in South Africa with the fantastic outcome for Aussie rugby; none of our teams lost!
Opening up the season were the Jaguares v Stormers. Watching the Jagaures you couldn't help but feel that there was a very familiar look to the way they were playing. Their attack was fast paced, a lot of work being done but very little yield from those efforts. Defensively they were frail. It all was remarkably like the Tahs in the early days of the Cheika regime. Sadly I predict it won't yield the same results. The Jaguares are a team that needs structure and not be hyped up with a higher work rate. Until they can be wound back and be more disciplined I expect it will be a long and messy season with little reward. The Stomers were unconvincing showing little in attack other than heading out wide to their blisteringly fast wingers.
The Sharks and Lions closed out the weekend with an entertaining game. The Sharks appear to be sticking to their "physicality" first approach but their new flyhalf showed some real promise. The Lions showed they are a threat again in 2018. It will be interesting to see how both of these teams evolve but so far the SA conference seems to be similar to last year.
The games also gave us a first look at the new rules. We got to see our first penalties for kicking in the ruck and crooked feeds. It was hard to tell the impact of the new scrum laws but after 10 resets in the first game and a lot of ball retrieved from the second rows feet I am wondering if the new laws have done anything positive and will test our patience as we wait for pedantic halfbacks to feed the ball at their leisure.
The new breakdown laws have had little impact. In reality it seems that aside from those players who are attempting to deliberately (cynically) disrupt play at the breakdown rather than go for the ball it won't make too much of a difference.
You can read the new law variations here
Tryhards, habits and old new packaging
With the Aussie season kicking off next week there is plenty of speculation about how teams will perform. With the Rugby Australia mandate of less is more, coupled with new coaching strategy, it will be interesting to see how Aussie rugby does perform under the new arrangements.
If you take a step back and look at Aussie Super Rugby 2018 it's interesting to consider the off field changes that are supposed to steady the ship.
No less than 16 coaches are helping guide our Super Rugby sides in some capacity. On top of that there are at least 4 at the elite level (Wallabies) that are out and about helping solve the coaching crisis and will work with each of the Super Rugby teams.
Now, consider this does not take into account any of the Academy coaches, strength and conditioning or sports psychologists.
So potentially some Wallabies players will potentially be exposed to about 11 coaches all up this season.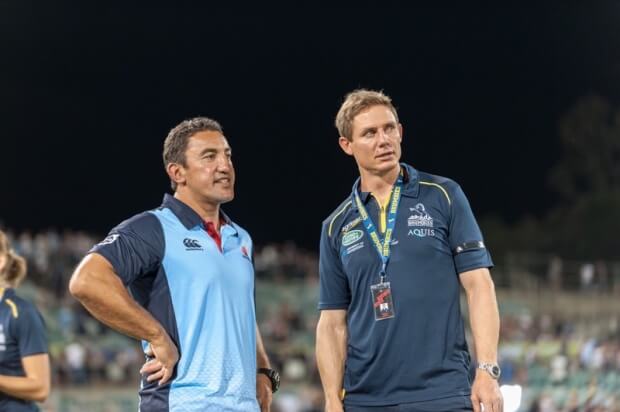 It does beg the question about how much coaching is too much, conflicting instruction and over coaching; and PERSONALITIES! It's also fair to consider it's quite a hefty payroll for a game that's piggy bank is almost empty.
Will it yield the desired results for Aussie rugby?
A little food for thought from Brian O'Driscle during the 6 Nations. When asked about the coach's half time talk he explained that players at "this" level don't need the emotional speeches or motivational passionate spiels. They should already be able to deal with their own motivation and mindset. Players need only technical information. What corrections and adjustments can be made and input provided in to structural, positional and tactical adjustments.
So, with a battalion of coaches at the ready, which have now magically overcome the well-publicised coaching issues of last season, we also apparently have depth to burn all of a sudden with an overabundance of quality players. Rugby Australia's quality over quantity plan has delivered a problem of depth and too many players for coaches to select from. Ironically this depth and abundance of players is the same playing stocks lacking the depth and talent needed for Aussie teams to be on par with the Kiwis.
But with all this coaching and all these players, what's actually new or different?
Well, actually very little. The majority of the same coaches are in the mix. The core player groups are the same essentially; except for those now playing on the greener grass and their spots now stripes.
But come next weekend we will see if we are creatures of habit when the selections and game plans are on display.
Will this be like the latest food trends; rebranded and a different quantity but in reality, the same old thing?
One key risk to watch this year is which coach(es) will select themselves out of a job because they can't kick old habits?
The soft safe option. Winning our way to long term failure?
Talking about selections, it was interesting to read an opinion piece titled "Quade Cooper is a victim of rugby's safety-first culture".
It's an interesting opinion but does it have some merit?
Well I think it does actually, and it may be closer to home than we all would like to admit. Like I eluded to above, in Aussie rugby old habits and traditions  rule the roost when it comes to the possibility of real change.
So, let start with a question that's been discussed plenty over the last year or so. If Foley goes down then who?
Now let's consider that last year was a watershed moment for Aussie rugby. The line was drawn, hard decisions made, coaches came together and a new plan and way forward forged.
One of the key positional issues and performance issues of the Aussie teams was linked directly to our current flyhalf's.  Faltering, injury prone, just not good enough. Or working on developing the best of the Kiwi leftovers; oh, and QC.
Yeah, nah.
Consider this. On the eve of round one with the exception of Gibson at the Tah's, we might see the 3 other coaches all select flyhalf's primarily on reputation and them being considered as safe options.
I will count Lealiifano in this group but will caveat this with the fact his illness caused his unavailability which in turn contributed to the  overall flyhalf issues. His return to the game has been impressive, but he is still on the comeback and playing well, but not near his peak level. He has had limited time at the Brumbies and played minimal Super Rugby for over a year. When he has played Super Rugby its been mainly at inside centre.
Debrezceni, Lance, Lealiifano? So, what of the Stewart, Adams and Hawera. Too risky?
This year things are different and I don't see the safe option being an acceptable part of coach's central defence should the results not come. Quite the opposite.
For mine, I say we take the risks. We really don't have much choice. Look at Stewart, Adams, Hawera and even Mason. There are signs of hope for the future. The others are known quantities and we already know one is off at the end of the season, another is most likely off and the third isn't even in the core squad.
Managing expectations
What is a pass mark for Aussie Super Rugby come 2018? What will be deemed as a successful season?
If we win the title will that be enough? But what of the other 3 teams. What is they bomb out? Would winning the title and having 3 teams be a flop be ok?  Should we set the bar high and say all 4 in the top 8? It's possible.
What about individually?
Well I really think we can perform well; BUT the stars will have to align and we do have to make some hard decisions.
Aside from all the Aussie teams to beat a Kiwi team (not just the Blues), we need to remember that more teams make the finals than not.
The harsh reality is that there is an even chance that we will repeat the performances of last year. Just remember that we have lost some of the weaker teams from the competition.
Looking at the teams on paper I can see that we could get at least 2 if not 3 into the finals.
The Tah's are a bit of a sleeper to me. They look like they could get their act together and show more continuity than the other 3 teams.  But it's a lack of depth and player talent issue they face. If they can get a roll on and maintain it they will really push for top spot, but they could be easily derailed.
The Brumbies are at risk of being the underperformers again. So much potential mixed with such hamstrung ways. If McKellar can break the mould and let the young talent loose they will be entertaining (again) and really push for the top of the table. McKellar is the coach at highest risk to select his way out of success.
The Red's. Not an easy one to predict. New always brings both hype and hope to a playing group but will it be enough. They Reds do have a decent team that should be pretty competitive but can they keep it together week after week? That's the key issue. The complexity of the Reds is endless. For every pro there appears to be a con and that's without factoring in an opposition. Consistency and ill-discipline will be the two issues that will haunt them this year. They will slay dragons yet fall flat on their faces in the mud tripping over their own feet.
The Rebels.  Lot of names but most are the same names under the same coach that managed to win nearly 50% of the time. Comparable with the Brumbies but scoring less points. Genia brings in something more but how much more is yet to be seen. A bit of added fire power from the corpse of the old Rebels will add some attack. They are also the team with the biggest issue with flyhalf.  They should be pretty competitive and fairly consistent but I don't think they have enough to be the powerhouse many fantasise they will be. They are still primarily a forward orientated team that now has some backs and their success will, like last year, depend on the other Aussie franchises failing.
In 3 sleeps we will start getting some answers and I for one can't wait!
As you get ready for kick off regardless of your alliance and whatever the results this year we as rugby supporters all need to temper our passions and support THE GAME!  We all need the Aussie teams to be successful (not as successful as the Brumbies of course) to rebuild our game.  I know its a hard ask and in some cases bordering on twisted but unless we do it who else will?