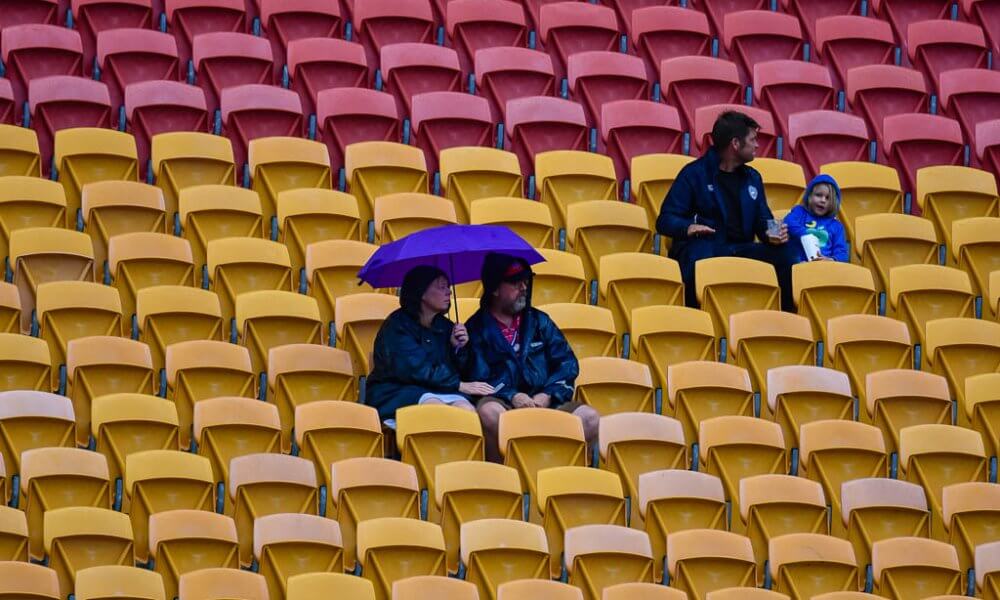 Ok, so it's Tuesday and by now I'm sure you know the Drill. Good, bad and ugly, Report Card and some other stuff. This time we listen to what Rod Kafer is saying, look at some positives from up north and we dug up some highlight videos just to make us feel a bit better about rugby at the moment.
The Good, The Bad and The Ugly
Good – So often in games we have to sit through replay upon replay while the TMO sifts through the footage looking for evidence of this or that. It takes a long time and usually the fans can see what the TMO is looking for after just the first replay (even though we then have to sit through another 5 or 6 replays). Well on the weekend Lions centre Rohan Van Rensburg saved us all the pain of that process when he told referee Angus Gardner to call off the TMO because he definitely knocked the ball on. A great move by a player who would obviously rather get on with the game than wait around while the referees watched the screen. Thanks Rohan!
Bad – A pet hate of mine … players in the hands of the medics, seemingly in lots of pain, who jump up and re-join the action the moment the referee calls a penalty/hands out a card. Now I'm not saying Crotty wasn't injured, but he looked on the verge of leaving the field before Peyper awarded the penalty. Then suddenly he was up and running again. Must be a bloody good team medic.
Ugly – Some of the refereeing we have seen recently has been pretty ugly. Missed penalties, inconsistent calls – these are things we are pretty much used to. But for a referee, and a very experienced one at that, to ignore the call from his AR that Red 2 was offside, responding with "We'll get it next time"? That's a new level of poor. I'm pretty sure he didn't get it next time either.
Report Card
Rebels C- They were just inconsistent. At times their scrum looked ok, but then it got hammered. Their lineout was a big mess, Rangi had a bit of a shocker. Another high penalty count didn't help them (12 penalties this match, 104 in total so far this season at an average of 11.5 per match), and silly errors once again let them down.
Reds B+ The Reds came out flying in the first half and just blitzed the Lions. They scored some great tries (especially for a team that scores very few tries usually) and it was their forwards crossing the line. Their scrum looked good again and they managed to keep the Lions out of the match. They just need to keep the pressure up right until the final whistle, 2 weeks in a row they have let the opposition get a bonus point after the siren.
Brumbies E They got on the board early, giving us all a false sense of hope, but to be honest they were just rubbish for the rest of the match. They weren't helped by some "interesting" calls at scrum time (and other points) but did themselves no favours whatsoever. They looked completely inept, lacked basic skills and leadership, and their decision making was poor. Even against 13 men they couldn't get points. Hopefully they use the bye week to … well where do they start? So much work to do.
Inconvenient truth?
"The one thing that our Australian teams want to go to all of the time is to set piece, they don't want to play the game,"
"We talk about heads up rugby and having an understanding of how we want to play, yet we're not a country who wants to play heads up rugby," Kafer said on Fox Sports.
Sometime people have a good point other times you wonder what's really behind the rant. Cue Rod Kafer on Saturday night. Yes, some of what he said is very valid but I can't help but wonder about the timing and if the rant serves as more of a deflection.
I was wondering what hat was Kafer wearing when he got on his soap box? Fox Sport analyst? Or did his rant come more from some deeper place?
Say being on the panel that recommended McKellar as the Brumbies coach? I am thinking that the 126 game Brumbies veteran standing on Canberra Stadium watching the Brumbies under the coach he recommended get humiliated and crash to a record poor season must be hard. Or was it in his role as head of the Australian Rugby coaching panel?
I can't help but be sceptical about the real motivation or harsh realities behind his criticism. Maybe the reality for Kafer and RA is far closer to home than they want to concede; especially for Kafer.
This from the coach he recommended:
"Our attitude, intent and effort … if you win games off the back of that, you win tonight. Unfortunately when you're playing the best in the world … effort, attitude and intent doesn't always win the game," McKellar said.
If that is not a clear enough message about what is up with the Brumbies and why they lost I cannot see how players could not be held accountable.
I want to be fair here and give Kafer some benefit of doubt so let's have a look what's happening at the other Aussie teams he is involved with as head of the Australian Rugby Coaching panel.
Wessels pinpointed discipline and poor set-piece execution as the key areas of the game where the Rebels faltered against the Stormers. "It's been a perpetual problem right through the whole season," he said about his team's lack of discipline.  "And it's not skill errors … it's just lazy stuff like not getting back onside."
The Reds had a good win on the weekend so surely the RA company line should be coming from there loud and clear? "I can't really afford to think about Australian rugby," Thorn said
Well, one the positive for Kafer and RA this week in this is the Waratahs. After being comprehensively beaten by the Lions the week previous the coaching staff have let Hooper be the mouth piece and bang on about doing stuff better and things like that. Although he's not a coach its equally inspiring and insightful words:
"Once we got a few points behind we were chasing the game and tried to play those high pressure plays and (that) unfortunately showed a bit of immaturity in our team," Hooper said. "It's something we've got to improve at."
So, I can't help but agree with Kafer. It's the players fault. It has to be as between the mixed messages, nothing statements, obvious observations and the fact the players are not being able to translate the coaching rubbish in to results off their own backs who else can we blame?
But I think we should isolate the problem just a fraction more. Leadership. Hooper gives us a good clue that when it comes to those players letting teams down it's not those players in leadership roles. The coaches have selected  them to lead the teams based on their experience and maturity as well as leadership qualities.  The discipline issues certainly are nothing to do with the captains, right?  Immaturity; no chance as there are Wallabies at the helm of all the sides leading the way and setting the example. In the Brumbies and Waratahs cases we are talking 100 caps or close each with Carter and Hooper on top of their international experience.
It begs the question of who is it actually lacking the "core fundamentals" as Kafer put it? But I wonder who's job would it be to work that out?
Coach:
countable noun: A coach is someone who trains a person or team of people in a particular sport.
verb: When someone coaches a person or a team, they help them to become better at a particular sport.
countable noun: A coach is a person who is in charge of a sports team.
countable noun [oft noun NOUN]: A coach is someone who gives people special teaching in a particular subject, especially in order to prepare them for an examination.
verb: If you coach someone, you give them special teaching in a particular subject, especially in order to prepare them for an examination.
You just need to be good enough not the best
Well played the Reds. The reality in sport is that if you play to the best of your abilities, whatever level it is, and to whatever level you have on that day the opposing team needs to play better than you to beat you.  It shows that you don't have to be the best to get results you just need to be good enough on the day. That's exactly what the Reds did on the weekend and what they have done right through this season.
It's quite entertaining as an outsider to read the comments in forum in the lead up to Reds games each week. The love hate affair Thorn has with supporters is quite an entertaining situation. In summary most weeks we see the call put in and the hit man booked for Monday by most of the Reds supporters. Then on Sunday the hits being hurriedly called off due to the unexpected showing from the team and Thorn given another temporary stay of execution.
Thorn is succeeding in building a team from a group of players of mixed levels of talent and abilities into a reasonably competitive unit. Working from that fundamental platform of the set piece his players are learning their roles, building confidence in their roles and in their team-mates. We can see at times how his players are then extending themselves beyond their base roles and being creative; sometimes getting it right but at others learning from the experience.
The Reds may not the best but what is setting them apart is they are becoming more consistent at playing to the best they can. It's now good enough to get results if teams slip up and good enough to enable them to keep growing and improving.
It something that the other Aussie franchises might want to take note of. It's a simple strategy and so far, not a bad one from a rookie coach. Play your game to your strengths and make the opposition beat you.
One thing that might (and still could!) have enlisted the support of more of the Reds and potentially even other Aussie rugby supporters would be some communication about the plans and direction Thorn intends to take the Reds. A good bit of PR may have the Reds fans far more onside – but Thorn seems to be letting the team do the talking for him.
Highlights
With everything looking a bit bleak at the moment  and with a lot of negativity floating around, we thought we'd throw in some highlights. Just to remind ourselves that it isn't all terrible all the time.
Check out the highlights of our U 20's against Fiji at the Oceania Championships. They young guys looked very sharp.
And here we have the Reds, finally giving us some highlights we can feature!