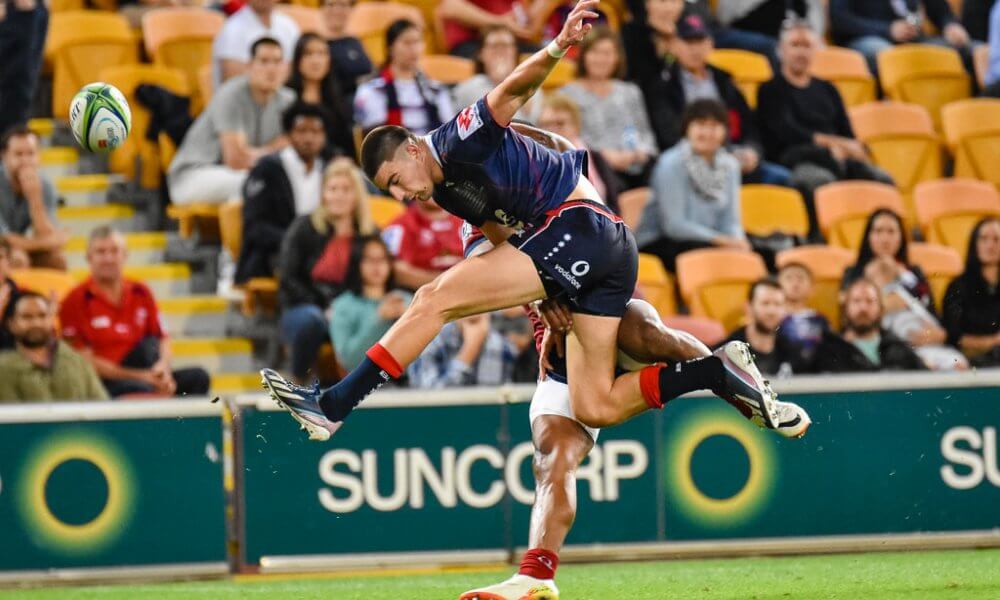 Welcome to the Top 5 for this week, thanks for joining us. This week we return to a more familiar format with the good, Bad and Ugly, grade our teams, look at what (if any) impact the changes to Super Rugby have made to the Aussie teams and ponder popularity. Plus there are some highlights. We like highlights.
The Good, The Bad and The Ugly
Good – How good is it to have a season where the top 8 aren't decided weeks out from the finals? Going into the last round only 2 matches really don't have anything riding on them. Plus people are still saying the Brumbies could make the finals (personally I doubt it) but the fact that so much could change in the last round definitely makes it a little more interesting.
Bad – The final call of knock on during the Chiefs Brumbies match. Now before you get your knickers in a knot, no I am not about to complain about the ref. I am about to complain about the people that complained about the call (which to be honest isn't as many as some would have you believe). Yes, the call looked to be wrong. No I don't think the TMO should have intervened, hell, could you imagine what would happen if they started butting in for every wrong knock on/forward pass etc? But no, I don't think the call cost them the game. Sure, the Brumbies may have been able to go on and win but they are the ones who put themselves in the position of needing that call to be right in order to have a chance at winning. If they hadn't knocked on earlier in the match while crossing the line, if they had made more tackles, if they had supported more in attack at the breakdown, then that last call wouldn't have mattered a bit as they would have already had the game in the bag.
And then there was this. Is it desperation for a headline, poor wording or just a complete lack of understanding about how upset Brumbies fans were. Either way, this tweet (while listed in the bad) made me laugh!
There's was controversy and heartbreak in the super rugby yesterday following a refereeing decision, that could haunt Brumbies fans for years to come. #9News pic.twitter.com/FZfDPszofC

— Nine News Sydney (@9NewsSyd) July 7, 2018
Ugly - Jack Maddocks' hair cut. I mean seriously, WTF was he thinking?
Unexpected – I decided to add this into this section for something a little different. Because I know when I saw it live my reaction was "woah – did you see that step?"
Report card
Reds B Not a perfect game, but I thought they played pretty well against the Rebels. Their scrum was, as expected, outstanding and they used the ball pretty efficiently. They handed the Rebels some opportunities through poor lineouts but also got lucky as a result of some poor play by the Rebels.
Rebels D They just didn't look that good. There were numerous poor passing options taken, dropped ball and poor kicking. There was also some questionable decision making happening, whether it was coming from the coaches box or the captain/playing group, the choices around when to kick for goal and when to kick for touch seemed to make little sense. If they do make the finals, they will need to lift their game drastically.
Brumbies C- The last 20 minutes showed, like last week, that they can play. But the first 60 was pretty terrible. They butchered a few scoring opportunities, were outplayed at the breakdown and were falling off tackles. Once some of the subs started coming on (Hawera had a good stint) and they started finding gaps rather trying to bust tackles, they really challenged the Chiefs. A pity it came too late to get them the win.
Waratahs A They won, record margin, huge blow out etc etc. But until the red card to the Sunwolves the Tahs actually looked to be under a bit of pressure. Don't get me wrong, I never actually doubted that they were going to go on and win it and give them full marks for taking advantage of the extra man, not relaxing and absolutely annihilating the Sunwolves. But for an A+ it needed to be against a 15-man team.
Have the changes worked?
At this point last year we had just watched the final round of Super Rugby and were heading into the finals. Remember, this year there is one extra game. So lets just ignore the final round and have a look at how we stand this year compared to last year. Changed format, changed teams – what has it all done for the competition and Aussie rugby?
Who are the winners?
Well obviously the Rebels. Apart from inheriting a substantial number of players, a coach and support staff, their results have improved drastically on last year. They have a W/D/L record of 7/0/8 compared to last year's 1/1/13. But when you add in the Force's record from last year of 6//0/9 it kinda equals out. The results of the Rebels basically reflect the combined results of Rebels and Force from 2017. The Waratahs and Reds have improved their win rates as well, while the Brumbies have stayed the same.
The Sunwolves are doing slightly better as well, they have won an extra game and are looking more competitive.
The Jaguares have also improved their wins from last year, from 7 to 9, but I think that has more to do with them finally playing like the mostly National team that they are rather than the change in format.
Ignoring the Jaguars and Sunwolves, let's look at the Rebels. Is their drastic rise proof that we are stronger as 4? On paper, yes it is. We have won more games as a conference, we have won 3 games against teams from NZ and there is a real chance of having two teams in the finals – all of that points to a huge improvement. Right?
Well, let's break things down a bit and see.
With the 5 teams in 2017 we played 75 matched. We won 21 of those. Of those 21 wins, 15 came out of Australian derbies, with 4 wins over South African teams and 2 over the Jaguares. None of our teams played the Sunwolves last year.
In 2018 with 4 teams we have played 60 matches and won 27 of them. 11 of those have been in Australian Derbies, 3 over kiwi teams, 6 over teams from South Africa 1 over the Jaguars and 6 over the Sunwolves.
So the majority of our wins are still coming over Aussie teams, but this year we have picked up a bit over the other countries. More evidence for a better year.
So yep. We are definitely better off with 4 teams over 5. The Waratahs are about to finish 2nd on the table while the Rebels could finish 8th. Right now they have 9 and 7 wins each. Of those 9 wins for the Waratahs, 5 have been against fellow Aussie teams and 2 against the Sunwolves. For the Rebels, of their 7 wins, 3 have been against Aussie teams and 2 against the Sunwolves. Both the Tahs and Rebels have each beaten one Kiwi and one South African team.
Like I said earlier, it is a very real possibility that both of these teams could be in the finals. Last year the Brumbies were the only team to make it, and only because they topped the conference. With 34 points, they wouldn't actually have qualified for the finals if it went on points alone.
Speaking of points, the Rebels are on 35, on the verge of making the finals. Last year that would have put them 10th on the ladder.
Hang on – the Rebels, with 35 points this year would have finished 10th last year, but are currently 8th. It looks like the new format has not only helped the Aussie teams improve, but equalled out the whole comp. The Kiwi teams are playing each other more often, taking points away from themselves. The Aussie teams are playing double the number of games against the Sunwolves, for the most part a points booster for us. In fact, the South African and Australian conferences are both getting more points than last year while the Kiwis are getting less.
The result of all of these numbers, wins, losses and points? This year it is definitely a tighter competition and for the most point more competitive and less predictable. I wonder what the final round will bring us?
What's the problem?
So it's a closer competition, less predictable, more tries and running rugby etc etc. So why are people still turning off? Smaller crowds, fewer viewers, less commenting in Forums as so on. It seems that, despite the changes SANZAAR and RA has made, people still just don't care about Super Rugby. To be honest, I have definitely found my interest waning. I am not watching all the matches that have been recorded, I found myself kind of relieved that it was the last home game last weekend … I am even somewhat indifferent about the results and finals.
Am I alone? From conversations I had with those around me I'd probably say no, I'm not. So why is it we don't care as much?
Is it that our teams keep appointing coaches, backing them, defending them to the hilt regardless of the poor results and lack of any identifiable vision and game plan they are giving us?
Is it because we are watching some of our great young talent walking away because they are not being given the opportunities, consistently being left out for under performing "named" players?
Is it because nearly every weekend we are seeing refereeing decisions which, whether correct to the letter of the laws or not, are ruining games. How many matches this year have been impacted red cards? How many times have we complained about TMO's interfering/getting it wrong/not speaking up when we thought they should?
I don't know the answers. I don't think anyone knows the answers. All I know is there are definitely questions that somehow need to be answered.
But then again it could simply be one fact of life that rugby need to accept. It's in the entertainment business and that mean it is all about popularity. SANZAAR, RA and all the unions / franchises can justify and explain it all they like, but it means nothing. Ratings and popularity are king and the rugby board rooms are simply out of touch. Which team has a coach they like or want or a game plan or playing style that is interesting and evokes some excitement? Do you tend to go to games to support the players and game overall or the franchise?
Maybe it's not as hard to work out what is wrong as RA make it out to be. The reality is JoJo Siwa can get more people to show up at a shopping centre than any Super Rugby game and she would probably be beneficial to any Rugby board in this country. Apparently she is entertaining and appeals to a certain targeted demographic. It would be nice if Super Rugby was appealing at all.
Highlights