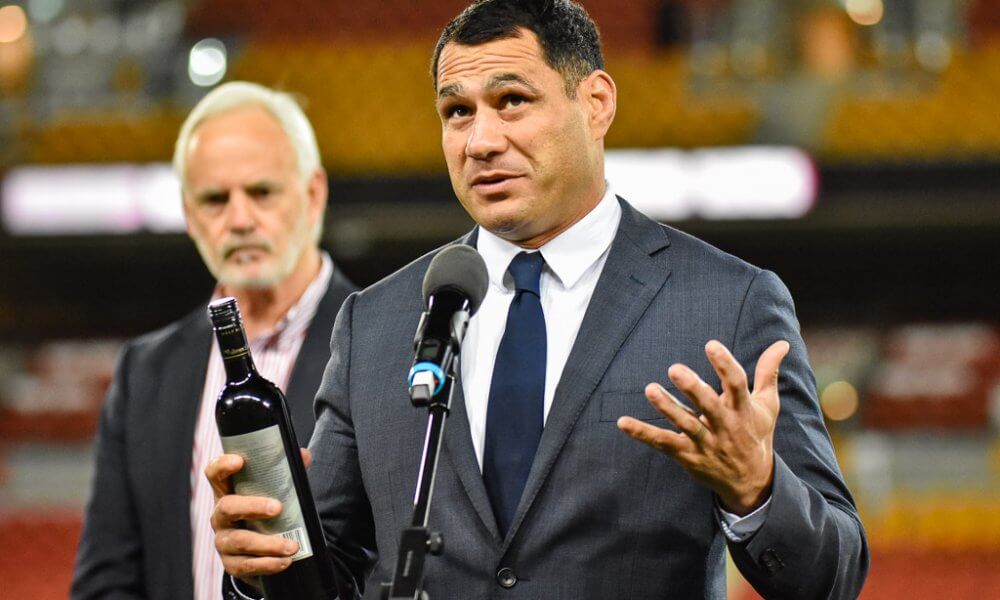 So the regular season is done and dusted, but that doesn't mean we're going anywhere. This week in the top 5 we give out grades, go through the good, bad and ugly from the weekend, talk smarts (or dumbs depending on how you want to look at it), review where our teams got it right or maybe not so right and check out some of the great action from the weekend.
Report card
Reds B The Reds looked pretty good against the Sunwolves, who were once again left playing with just 14. But even at full strength, they didn't really look to be giving the Reds much competition. The Reds showed us again that there is more to them than just a scrum, the forwards also did a great job around the park (how good was that run from JP Smiith?!)
Rebels C I don't really know where to start on this one. They weren't terrible, they weren't great. They were handed some tries by some of the worst kicking I have ever seen from a Kiwi back. I really can't go above a C, because the Rebels twice blew a decent lead. The Highlanders were clearly playing below their best and the Rebels just couldn't get the job done. The face at the end sums up the match really (I will discuss that later!)
Brumbies A+ Why is it that they have saved some of their best rugby for when it doesn't count? They have been on fire since the rounds before the test window (except for the terrible first 6o minutes against the Chiefs). Out of all of the Aussie teams they actually have the best momentum heading into the finals, except they left it all too late and won't be there. We saw beautiful tries, great running/stepping/weaving/offloading and even some very good chip kicks and grubbers. Maybe a little weak in the scrum, but they looked to sort it out.
Waratahs D- This was their last hit out before the finals. Their chance to consolidate 2nd spot and make sure they got a home semi if they made it past the first round of the finals. But they played as if it really didn't matter. They didn't look like a team heading for the finals, they looked like a team who had checked out and whose season was done. Or who didn't think that the outcome of the match actually meant anything (again, I'll get to that later). Either way, they looked terrible. They were out played in every area by a Brumbies team who clearly wanted it more. 
The Good, The Bad and The Ugly
Good – While it may not have been good for the Waratahs, the game on Saturday night showed us some very good rugby. The K Train was back to his best, Speight looked good (before going off injured), David Pocock was, as usual, an absolute beast, the Arnold twins caused confusion and chaos. They are all the big names you expect to see. But what made me smile was seeing the like of Andy Muirhead, Tom Banks, Joe Powell and Folau Fiangaa having very good games. The young guys, the ones who are next in line and are already putting their hands up for Wallaby selection come Bledisloe or end of year. Add in the likes of Jack Maddocks and Duncan Paia'aua and it makes for a not too bad looking future.
Bad – Cards. Red Cards. Cards ruining games.
Ugly – The last thing our game needs at the moment is a player arrest after in another country. Yet that is exactly what we got from Amanaki Mafi on Sunday after the Rebels match against the Highlanders. Even better, in this report you can clearly see a Rebels jersey visible in the pictures. By now I'm sure you all know the details (well what there is to be known at this point), but what I didn't know was that this isn't the first time Mafi has been involved in off field issues. He left Bath in 2016 after an alleged altercation with medical staff. Apparently, he removed the names of one or more other players from the list for treatment in order to add his own and get treated earlier. You can read about it here. There are also whispers in the Rebels forum that there was an incident in South Aftrica, again involving Mafi, but no details. All I know is it must have been a one-way fight. We all saw how Mafi reacted to being hit my tiny Matty Lucas – imagine if Timani had laid a hand on him!
Rugby Smarts
There's this thing I've mentioned before called Rugby IQ. I've pointed out that the Kiwis have it in droves, they just always seem to know what to do in different situations that arise both on and off the field. It's something I've questioned before in Aussie rugby. Do we have it? Do we have Rugby Smarts? I have three examples of where the answer could be a definite no.
1) Now hindsight is a wonderful thing, isn't it? By now we all know that the Rebels missed a finals spot by just one, single point. A point they could very easily have gained during the season. On April 17th, a few days after Coleman made that decision I wrote this in the Top 5 as part of the Good, Bad and Ugly –
Bad – I have to question the decision making of the Rebels in the last play of their match against the Jaguares. I now many here will disagree and believe they did the right thing going for the win. After all, they were already going to get a bonus point if they lost, a penalty goal would have only given them one more, where if they scored a try they walk away with 4 points, we play the game to win, right? So what's one little point? Well as a long time, die hard Brumbies fan I can tell you that every point is vital and one point can mean the difference between making the finals and watching the finals on TV. I think the Waratahs may have that sort of experience too. It can also mean the difference between home and away games should you make the finals. 1 point is important. And the Rebels threw it away.
There are lots of "what if's" in rugby, but that one point was pretty much a given, if Coleman had chosen to take it. Instead he played the win or nothing card, a gamble which we know now cost them more than just the game. To be fair, it isn't the only reason they didn't make the finals, losing their last three games also played a big part. But that one point ….
2) Again, I have to query some of the decision making by the Rebels captain. This time it was English who seemed to show little awareness of what was needed. Down by 9 with 78:45 on the clock Jackson blows whistle for a penalty. 79:07 Mafi tries quick tap but is stopped cos not on the mark. 79:20 English signals to Jackson they will take a shot at goal. 79:42 Jack Deb takes the kick. NEARLY ONE FULL MINUTE WASTED IN A CRUCIAL GAME!!!! Usually we see teams racing to take the kick or tap, but there looked to be no urgency in what the Rebels did. Did it cost them the game? Probably not, but in rugby you never know.
3) And finally (and this one has me more than just a little dumbstruck), it appears as though no one at the Waratahs thought to tell Coach Gibson that they needed to beat the Brumbies to make sure they would finish second on the ladder. He really seemed to be under the impression that no matter what the result was, they would be playing the Jaguares next week. Don't believe me? Check out the presser, his face when it is pointed out to him that if the Lions win their match then the Waratahs will play the Highlanders would be funny if it wasn't so astonishingly stupid!
Gibson looked completely thrown when told that a Lion's win would mean playing the Highlanders. Not the Jaguares. Foley also looked confused – I wonder if knowing that losing would mean it was more likely they played the Highlanders would have made them play with more urgency? I am still struck with a bit of disbelief that this seemed to escape the attention of the coach. I would have thought that the possibility of missing out on the chance for a home semi, and the added revenue that comes along with it, would have been enough for the head honchos at Tah land to make sure everyone knew exactly what needed to happen. But I guess not!
How did we stack up?
End of the regular season, so let's do a little bit of comparison. How did our conference stack up compared to the others? Where did our teams finish out of the 15 teams in the competition in a few different areas?
(stats from https://www.foxsports.com.au/rugby/super-rugby/stats/teams)
Now keep in mind, while it's good to be at the top for points and tries scored, it would also be good to be down the bottom for points and tries conceded. I'm not sure that we managed that! I'm not going to do too much analysis here – really there isn't too much to say. Defensively the teams in the Australian conference take up 4 of the top 6 spots when it comes to points and tries conceded. Remember, we want to be down the bottom of those columns. We also take up 3 of the bottom five spots for points scored, 4 of our teams are in the bottom half for tries scored and 4 out of the 5 in the bottom half for tackle rate. That's where we want to be up the top. The only team from our conference not in the bottom half there was the Sunwolves.
Just to rub salt into the wounds – teams from NZ take up 3 of the top 5 spots for points scored, 4 of the top 6 for tries scored, 4 of the top 6 for tackle rate, the bottom 3 spots for points conceded and the bottom 3 spots for tries conceded.
Does this mean that, while we were winning more games this year, we were playing more games against weaker opposition? You have to admit, having the Sunwolves in our conference, although they were an improved outfit over last year's team, handed most of the Aussie teams 2 wins they didn't get last year (except for the Reds, and we will never speak of that disaster again!) Likewise, only 4 games v NZ teams compared to 8 against other Aussie teams, if you look at where the majority of our wins came it was still against teams in our own conference. So yes, our results improved and we did look to be playing better rugby. But are we playing against lower standard opposition more often? Is that going to help our game in the long run? I don't know the answer, we can only wait and see. 
Highlights