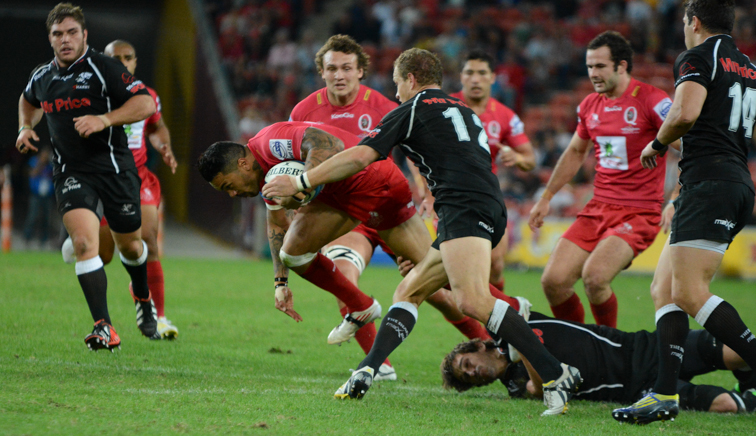 I'm not wasting any time today; we have many important things to discuss. So let's get stuck right in.
5. Why so mad?
After a few articles on potential selections in recent days, the level of negativity here is starting to get to me. So I want to try and give a bit of positive spirit to the place.
Despite all the argument over selections, when it all boils down to it everyone is debating two positions.
The first is fly half. People want Quade Cooper, and seem to think JOC (the likely candidate it seems) and Barnes are abhorrent, disgusting options. But I must remind you of a few things.
Firstly I don't think Deans has put a line through Quade just yet. With Kurtley seemingly gone and JOC carrying an injury I think he is still on the radar, and I am not willing to jump to the conclusions made by other writers here that he is no chance of playing.
But even if Deans DID pick Cooper (which is unlikely but as I said before not out of the question) this doesn't miraculously turn us into a razzle-dazzle Harlem Globetrotter team that we all want to see. Don't forget that Cooper was 10 at the RWC. Cooper was 10 in tests last year where we struggled to score tries. He isn't the silver bullet that will turn us from chumps to champs.
The inverse is also true. JOC and Barnes aren't going to turn us into a stodgy, negative mess. With JOC at 10 the Rebels have scored something like 12 tries in their last 3 games (against the Chiefs, Blues and Crusaders). Barnes has only played pivot at the Tahs for 10 minutes but set up a try in that time and kicked a few pressure goals. The Reds with Cooper at 10 have been OK, but apart from the first half against the Sharks they haven't been scoring tries. I am not convinced the difference between Cooper, JOC and Barnes is that huge at 10. Certainly not big enough to drastically change our playing style, or our fortunes overall against the Lions.
The second is inside centre. People are desperate for Lealiifano, and I'd think he would certainly be in the squad. But the logic goes that Deans will pick a basher at IC who will stifle our attack and ensure the ball never gets to the wider channels. Now I don't debate that Deans will probably pick a basher. If he picks Pat McCabe then it will be controversial, but what if he picks Rob Horne? Could many people argue with that selection? He is the #2 inside centre at the moment, and just played a dominant game against the Springbok centre pairing.
And to the second point on stifling our attack – people assume that our whole style hinges on playing two playmakers, and if we don't we will become a negative mess. But two things contradict that assertion- our worst game last year came with two playmakers (vs NZ away) and the most attacking Aussie side this season (the Tahs) don't play two playmakers. The Reds chalked up a great win this week with a basher at IC.  The Rebels have scored plenty of points with Rory Sidey at 12.
So if you step back and look at the big picture, everyone is more or less on the same page. The forward pack looks pretty good, with multiple options in each spot. And ultimately that is where this series will be won and lost. Forget Folau, forget Cooper, forget Beale. The pack is where it's at, and we are looking as good as we have in years. If they get go forward ball then JOC, Barnes and Horne/McCabe are more than equipped to make things happen.
So in conclusion I am not as worried as the rest of you. Lighten up and crack a smile. Life is OK, and I expect the rugby in June to be OK as well.