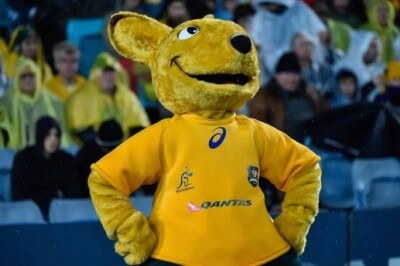 Welcome to the post Bledisloe, what the hell was that we just watched, edition of the Top 5. This week the Good, Bad and Ugly is back – yes there really was some good on the weekend,  we praise the Wallaroos, look at a range of numbers, go for a ride on a magic carpet and hand more things over to New Zealand. Sadly there is no Badger Bachelor update, I haven't had time to watch it yet :(  Anyone want to fill me in? Do I hate the stalker chick? Anyway, back to the rugby – enjoy!
The Good, The Bad and The Ugly
Good – It was great to see the Wallaroos and Black Ferns take centre stage. The game being shown live on Fox Sports as well as being a curtain raiser for the men's game, will hopefully expose more fans to the game.
Bad – Do I really need to say it? The Wallabies, especially the team that showed up after half time, were pretty bloody bad.
Ugly – We had a month or so to train together, longer than the Kiwis who had to make allowances for those pesky Super Rugby finals. We had an extended training camp. We had a warm up match. We had all players (bar Sio and Tupou) fit and ready. We had a full-time coaching team. All that and we still got thrashed.
Go Girls!
How good was it to be able to watch the Wallaroos play the Black Ferns on Saturday? Live on TV, before the "main event" – just awesome. Not only is it great to see the girls getting more games at home, in big stadiums, but it was also good to see the way they played. To my untrained eye they looked like a team that had improved a lot since their last outing against the Kiwi's.
Just two years ago, the Wallaroos went down 67-3 to the Black Ferns. Unbelievably, that was the first test match in 2 years for our girls. Yep, they had not played since the World Cup in 2014. Now we are seeing more regular games, and with it an improvement in the way the girls are playing. No, they didn't beat the Black Ferns, but they really did put pressure on them, their defence was terrific!
The losing margins for the Wallaroos against the Black Ferns in the past 3 matches have been 64, 26 and 27. This weekend it was 20, still a decent difference, but they are improving. Let's not forget, that the Wallaroos just played their 50th match. That's 50 in total. Fiao'o Fa'amausili, the Black Ferns' Captain and Hooker just played her 53rd match. Let's face it, the Black Ferns play a lot more rugby than our girls. Over in New Zealand they have the Farah Palmer Cup, a competition that runs for nearly 2 months with 11 teams. Plus 28 members of the Black Ferns squad have received professional contracts, meaning better training and career development support. We may not like the Kiwi's at times, but they really do know how to do some things right!
We have made a big step up this year with the Super W competition, but in my opinion it needs to run longer, teams need to play each other home and away. There was interest from the fans and those fans are likely tuning into the Wallaroos matches, where in the past they may not have. I will be honest here, in the past watching the Wallaroos games I didn't really know too many of the players. But on the weekend I recognised a lot of them from watching the Super W comp. I don't know about you, but I'm looking forward to seeing them play again on Saturday.
Let's crunch some numbers
There has been a lot of talk about results recently, so I thought I'd look into this a bit more in depth. These are the results for the Wallabies since the 8th of November 2014.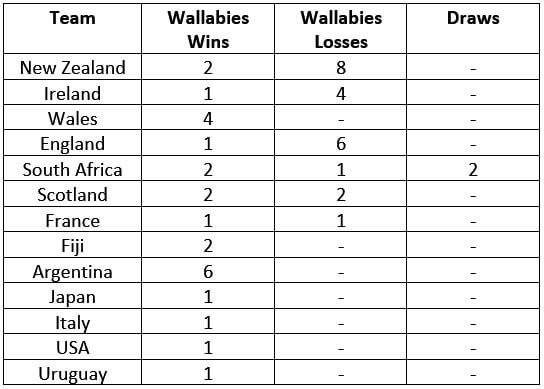 In the first 12 months with Cheika as coach, which included the Rugby World Cup, the Wallabies played 16 matches. They won 11 of these and lost 5. We won the Rugby Championship and made the Semis of the World Cup. We were relatively happy. In 2016 the Wallabies played 15 games. They won 6 and lost 9. Not the follow up year we had hoped for. In 2017 the played 14. Won 7, lost 5 and drew 2. A 50%-win rate. This year there have been 4 tests so far, with the Wallabies winning just one of them, so a 25%-win rate. None of that sounds fantastic, but let's break it down a bit further.
Since Cheika took the reins the Wallabies have played 49 test matches. Of those, they have won 25 matches, sitting at a winning rate of 51%.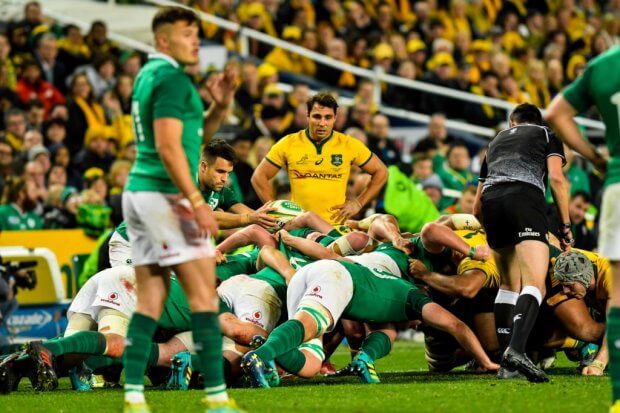 Let's break it down even further. Against teams ranked in the top 10 we have played 45 matches. We have won 21 times, lost 22 and drawn 2. That is a win rate of 46.6%.
Against teams in the top 7 we have played 35 matches. We have won 12, lost 21, drawn 2 at a win rate of 34.2%.
Against the top 5 ranked teams we have played 26 matches. We have won 8 of those and lost 18. 30.7%.
One of the biggest problems with this? Which teams are we most likely to face in, say, the knock out stages of the World Cup? Those ranked 6-10 or those in the top 4? It's all well and good to say that playing the All Blacks so frequently throws the percentage out, but realistically if we want to be the best we should be able to beat the best, or at least be competitive. Our rate against England and Ireland isn't any better.
Thank goodness for our 4 wins against Wales. Unfortunately, they are in our pool at the World Cup, so it would be unlikely we face them in the early knock out round. So if we take them out of the picture we have a win rate of 19%. A less than 20%-win rate against three of the top 4 teams. And let's not forget, Wales finished 2nd in the 6 Nations this year, so beating them isn't a given.
Here's hoping those numbers can pick up – and quickly.
Passengers, if you look to your right side of the flying carpet you will see the Cuckoo's nest……and in the distance a Unicorn
So here we are again. This time it is a little bit different. Look or listen to most of the media and its unrestrained. The patience and benefit of the doubt has gone.
The signs are now becoming apparent that Rugby Australia's cash cow is sailing into troubled waters. A product that is unable to deliver after multiple attempts. Promise after promise and yet no significant results. If it was a TV program it would be axed. How many reboots can you do before you call it dead?
One of the saddest parts of this tale is that there is a significant amount of diehard rugby supporters who love the game. Another hearty serving of fresh steaming faeces on a silver platter and  yet a fairly decent crowd,  (who I suspect in the back of their collective minds were half expecting what they got), still turned up willingly. On top of that the ratings were also ok. But again, those that care got let down.
How many times? The answer to that could actually be another question; what is insanity?
These players; are they really going to deliver? We have been banging away at this with the same core group, same types of  "new" players, churning through lots of cattle almost like we are sampling a box of chocolates but its yielding the same results.
These coaches; are they really going to deliver? We have promoted them from part to full time, added more coaches including importing (repatriating) expertise from abroad  and has it made a difference?
This Wallabies program; will it really deliver results? RA keep giving Cheika more and more resources. More players in camp, more time in camp, and what has it done?
So about that Unicorn; if we ever catch it will it the be the mythical beast that will be defecating cash to support our game or will it turn out to be an ass.
The irony!
At least they can't say we're not generous
So, we cut a Super Rugby team, and a few NRC teams. But its ok as we are bolstering the numbers in the Kiwi NPC.
After watching some of the NPC and seeing names like Dargaville, Mayhew, Ready and Debrezceni it got us wondering, how many and who have headed over to the Kiwi player improvement program.
Thank you to Brett McKay and Nic Darveniza for providing the names of the players.
Northland: Jack Debreczeni, Jack Straker (Qld GPS)
North Harbour: Nic Mayhew, James Dargaville
Manawatu: Fa'alelei Sione, Junior Laloifi
Canterbury: Sef Fa'agase
Auckland: Robbie Abel
Counties: Nigel Ah Wong
Southland: Andrew Ready
Hawke's Bay: JJ Tualagi
(This is really only some of the players we are talking about. There are others who have been over there for a few years, some who came over here but have gone back and some went over there at the start of their career)
Now one thing to understand about this is if you are currently contracted you are not permitted to play in the Kiwi NPC.
Looking at these players they may not all be Super Rugby starters but they are certainly well above club standard. What it does do is highlight an issue with Aussie rugby and its pathways and may even be part of the reason why the standard of Aussie rugby is declining.
The reality here is between Super Rugby and the NRC there is a significant difference in standard. The NRC has shown it's a step up from the club competitions but its still not high enough to be a genuine comparative second tier. Having said that it now is the main pathway for "Aussie" players to step up. 
You know my views Brett. It's a really great competition and to be able to train full time and play high quality rugby in the no1 country is a no brainer. Not to mention representing passionate communities with years of tradition behind the jersey….

— Dave McDuling (@davemcduling) August 19, 2018
Now we all know about the likes of Pete Samu and how his time in NZ has improved his game. This is the key reason these players are heading over. But in saying that, these Aussies players (or Aussie eligible) must be half decent as they are being welcomed and are starting in the Kiwi NPC sides.
When your bleeding unwanted players to a higher standard second tier competition it does go some way to explain why the standard of players and the pace of development are lower on this side of the ditch.