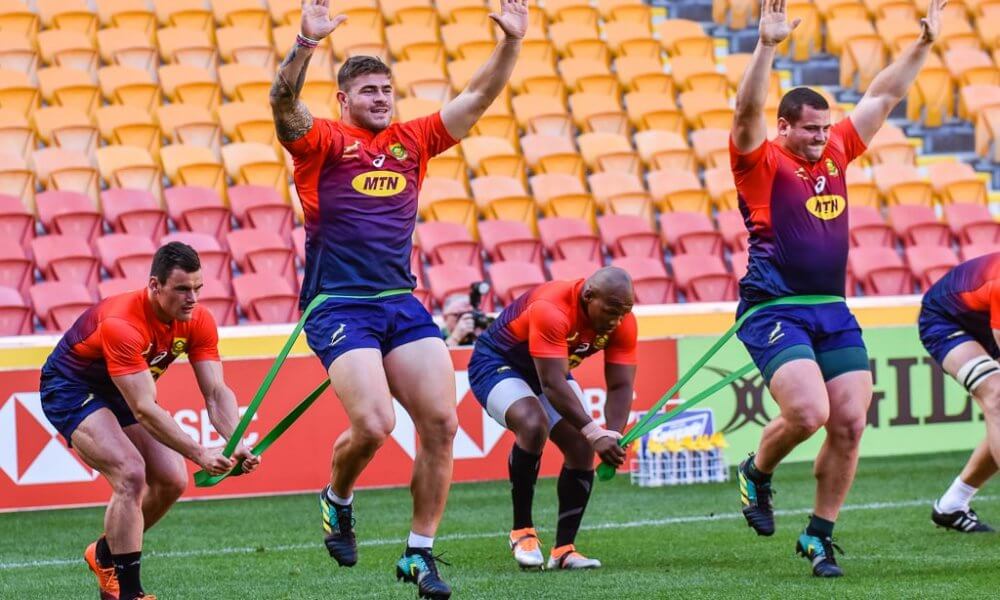 Welcome to a weird feeling top 5 this week. A win for the Wallabies, but not the usual celebrations. We spend a bit of this week's edition digging into why that is. We also choose our good, bad and ugly moments from the weekend for you, talk necks and watch highlights of the other test from the weekend.
The Good, The Bad and The Ugly
Good – There has been some fantastic rugby being played in the NRC. I know I've said it before, but how awesome are Fiji to watch when they are in full flight? Not so much for Brisbane city fans, but for the rest of us – wow.
Bad – Some of the NRC scores have been blowouts – not enough time for teams to gel? It's always going to be a risk when you mix a bunch of Super Rugby players with club players and give them just a few weeks to train.
Ugly – The site of a half empty Suncorp Stadium. I don't know about live at the ground, but on TV it looked terrible. Getting such a small crowd to a Rugby Championship match shows that there is something seriously wrong. Are people fed up? Are tickets too expensive? A combination of both and more? Whatever the reason, something needs to be done.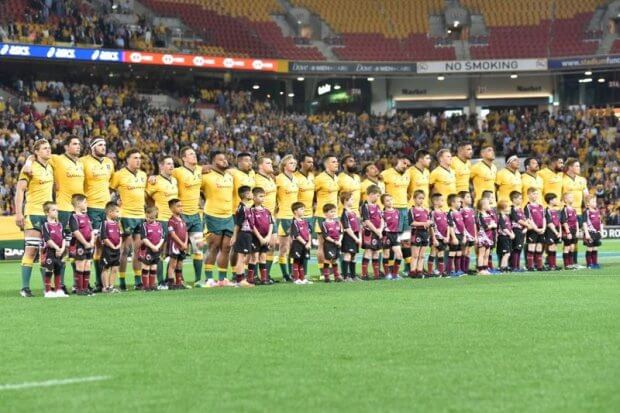 Protect the neck!
After the second Bledisloe Cup match there was an outcry over the referee (and World Rugby) not doing enough to protect the neck. Coaches, ex-players, current players and the press are screaming for something to be done to protect player's necks, because neck issues could prematurely end a player's career. The neck is just something you don't mess with. I don't think this is something that anyone disagrees with.
Three times in the first half of the match, David Pocock was treated by Wallabies medical personnel for neck problems. Yes, treatment for his neck three times. In the first 40 minutes.
Now this might not be a popular tack that I am going to take, but I am not going to get stuck into the block who grabbed him around the neck. I am not going to whinge that the referee should have done more to stop it. I just want to focus, for a minute, on the fact that Poey was treated for neck issues 3 times in 40 minutes, was in obvious pain, and yet remained on the field for the full 80 minutes.
Remember this, from April?
How about this one, from July?
Hurricanes forward Gareth Evans escapes judiciary with a warning after dangerous neck roll on David Pocockhttps://t.co/UFWuXf2QuT Image via @PhotosportNZ pic.twitter.com/ChxOEqVKtn — 1 NEWS – Sport (@1NewsSportNZ) 1 July 2018
So this is a player who has been treated for neck issues on the field a number of times this season. Yet despite being treated three times on the field during this match, he played another 40 minutes. Apparently he was so stiff after the match that he had to turn his body as opposed to his head to speak with reporters. Now he could have serious issues, there is talk about his longevity as a player being threatened and everyone is up in arms about it.
My question is – if the neck is so precious and not to be messed with, to be protected like everyone is (rightly) screaming about, why didn't they take him off the field rather than risk further injury? It might not have guaranteed he would have been right for the game against South Africa, but it sure has hell would have made sure his neck wouldn't be at risk anymore in the All Blacks match.
Then again on Saturday night we saw a player being treated for neck/back injury. Taniela Tupou went down really awkwardly in a scrum and appeared to be in a hell of a lot of pain when he was in the hands of the trainer. Jackson stopped the game because he said he thought it looked serious. But again, the player, in obvious discomfort, played out the remainder of the match. A prop who goes into heavy contact and puts his neck under a lot of pressure in nearly every play. Now maybe it wasn't as bad as it looked. Maybe, as someone actually suggested, being a younger guy he has a low pain threshold. Maybe it was just a stinger that he managed to shake off. I don't know.
But those of you who saw the footage after the game may remember the vision of Tupou actually wincing when a team mate tapped him on the head. It didn't look like something he had shaken off, he was clearly in a lot of pain. In his neck. The same neck that coaches, ex and current players and the team captain say MUST BE PROTECTED.
The neck should most definitely be protected. Opposition players, the referee and team officials all have a part to play in doing so, and right now it looks as though not many are doing the job.
Just how bad was it?
Just for a moment, I'm going to focus on the Boks.
Hand's up who enjoyed watching the game on Saturday. And I mean really enjoyed watching the rugby that was on display, regardless of the result. High quality, skilful, fast passed, entertaining?
Let's have a look at a few things for the Boks.
17 turnovers conceded. Many of them were when they were in really good attacking opportunities. At least 3 were 15 metres out from the try line.
3 out of the first 4 attacking opportunities were screwed up – 1 knock on, one poor lineout throw and one really dumb penalty for tackling beyond the ruck.
Willie Le Roux – 15 possessions (9 passes, 6 runs for a total of 24 metres) and 4 turnovers conceded. That was just Willie Le Roux.
De Klerk –9 runs for 9 metres. 4 turnovers conceded. Made 2 tackles, missed 2 tackles. 3 penalties conceded, including really dumb ones like trying to kick the ball away from Genia as he picked it up from the scrum.
That's just a few things, while it doesn't sound great, there's nothing really terrible there, right? Well it gets better.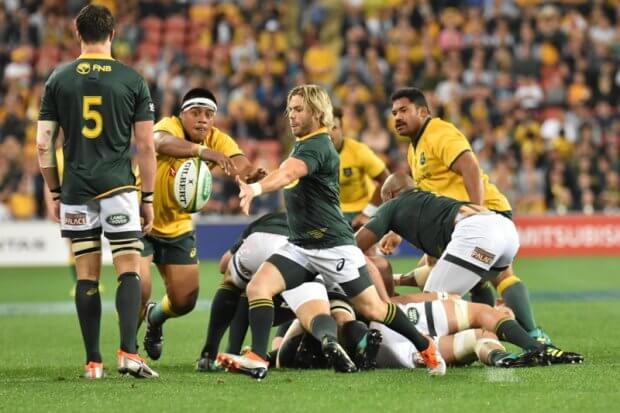 All The Dumb Things
In the 18th minute of the match the Boks went for a quick lineout, deep in their own half. Unfortunately there was no support for the player and he made it maybe 10 metres before being tackled into touch, handing possession back to the Wallabies.
At 32 minutes there was just about one of the most stupid line outs I have seen. Who goes for a long, over the top line out 5 metres from your own line? They practically hand wrote the invitation for the Wallabies to score!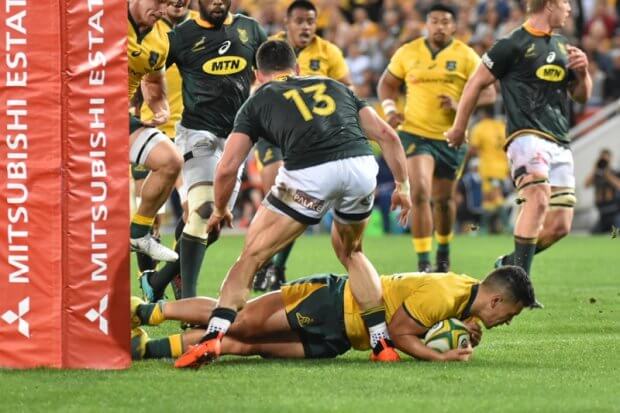 Not long after they were looking good, staring to get back on attack when Le Roux did a weird little chip kick that went to nobody except possibly the camera crew over the sideline.
Just before half time, they held out the Wallabies attack despite being under sustained pressure. The Boks got possession and with 12 seconds left on the clock before half time did the sensible thing, showed good awareness of the time and how to manage the game and just held on to the ball until half time so they could safely put it into touch. Well I bet that's what their fans wished they did. But no. Instead they showed little to no awareness and put up a really stupid box kick, giving the Wallabies back possession, which led to a penalty that Hodge slotted with a mighty kick.
Not long after half time, after another sustained effort in defence, the Boks finally did really well to get possession, cleared it from the 22 and decided the best option was to put up a cross field kick, that was too long and went out.
Finally, at 61 minutes, and down by 2 points the Boks were again starting to look threatening. They were putting the Wallabies under pressure, driving towards the try line when Jantjies put through one of those little grubber kicks that everyone hates. It was overcooked, went out and gave the Wallabies an easy exit, taking all the pressure off.
Sadly, with all of those really poor options, the Boks still has a chance to win the game in the final minute.
Is there anyone who still wants to put their hand up and admit to enjoying the quality of rugby they watched?
For those who missed it
There was a cracker of a game before the Wallabies. The score blew out in the end, but the Pumas put up a lot more fight than I saw from our boys at times. Next week could be a real stumbling block for the Wallabies.