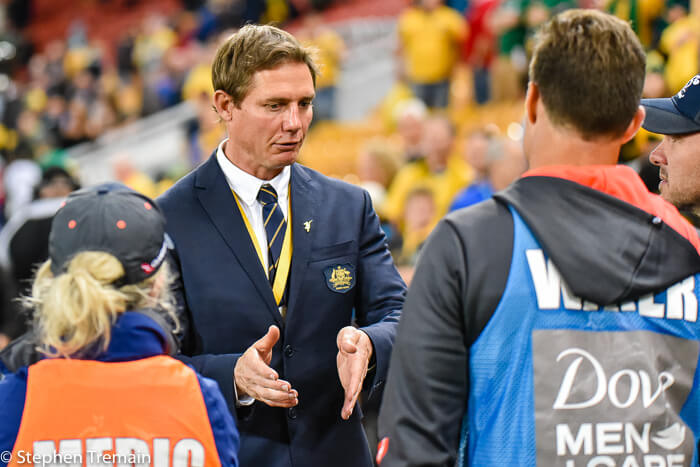 Welcome to the penultimate edition of the Tuesday Top 5. This week we try and lift our spirits by reminding ourselves that we won, but then let them fall again once we realise that it wasn't exactly a convincing win against a weaker opposition. Anyway, the good, bad and ugly is back, we sort of recap the game and raise a few discussion points, check in with our old mate Stats, spy on the competition and fantasise about the perfect scrum.
The Good, The Bad and The Ugly
Good – We finally recorded a W. I don't think I really want to say more than that as it will start to drift away from being good into a blur between the bad and ugly. But there were some decent enough performances in amongst the fellas to stop us from being totally bummed out.
Bad – David Pocock suffering another neck injury (being described as just a stinger). He has had a really bad run and I am hoping this one isn't too bad. But having said that, I desperately hope that the Wallaby coaches aren't so desperate to play him against England that they rush him in. If he has the slightest twinge, discomfort, stiffness etc I would prefer he is rested. Yes, it could mean a big blow to our already shaky chances, but big picture. One game against England v his career.
Ugly – I'm sorry. I don't want to keep being negative, there is already so much of that around at the moment. But the reality is that the Wallabies, the way they play, the selections that seem to make little sense is doing damage to rugby in Australia. So many people are losing interest. We just keep getting dished up the same rubbish time and time again and fans are over it. Is there a game plan? Does it involve players running sideways? Do they practice basic skills in training until they are second nature? Do they have a Plan B or C incase Plan A doesn't work? Is there a Plan A to begin with? If any of these things are happening, it isn't showing during their matches. The Wallabies set up as a whole is my ugly.
What do we make of that?
Ok. We won. But what can we make of it? Was it a stellar performance that proved the recent losses were anomalies? In a word, no. Emphatically no. Yes, it was a win, but had the opposition been tougher it might just have easily been a loss.
Did we learn anything? Well we know for sure (most of knew before hand really) Foley is not a 12. Our basic skills are still well behind where they should be for a national team. Turnovers kill us, poor decision making (FFS, take the tackle. You don't always need to go for the miracle offload) and lack of consistency.
The thing is, none of that is new information. We have been dealing up that sort of rubbish all year and almost all of that is mentioned after each and every game as things to work on. So clearly things aren't changing there.
The positive? Our defence held. In fact, I keep seeing splashed around the place that this is the first time in 11 years that we have conceded less than 10 points in consecutive test matches.  Last year our defence was a mess, so that's an improvement. (But the fact that one of those consecutive matches was a loss doesn't really seem to make it all that meaningful.) So yes, our defence was better. But thank goodness for the referee or we could have been looking at a smaller margin. Rightly or wrongly, the Wallabies got lucky that it was called back. 
Also there were some good individual performances. AAC played better than most were expecting him too. Should it be a concern that someone who has been away from the Wallabies for so long comes back, trains with them for a few weeks and is then close to being best on ground? Is AAC really that good or is there something seriously amiss that he can come back and outshine most of them?
But then there were some poor performances too. Am I alone in thinking that Israel Folau doesn't look that interested? He was back in his favoured position, against a team that isn't as strong as others we have played – he should have been tearing it up. But instead he was getting run down.
To be honest, I don't think this game really told us anything useful. We will find out much more about where we are really at when we face England this week. England came within a point of beating New Zealand and beat South Africa by a point. And the last time they played Italy the score was 46-15. 
Some stats – just for the fun of it
Just out of interest – these serve no real purpose – here are some of the stats from the Wallabies matches since the start of the Rugby Championship.

The numbers look a little all over the place, don't they. We went from woeful tackling to fantastic tackling. No tries to tries a-plenty. No possession to an abundance of time with the ball. They are consistent in their inconsistency.
The one number that does remain relatively consistent, however, is the turnover conceded count. Around that 18-20 mark seems to be where we like to sit. Luckily we don't play teams that like to score from turnover ball very often! Notice the numbers for two of the three games we have won? Fewer turnovers = better result. Who'd have thunk it. Against Italy we still gave away a heap of ball, but got the win as the Italians weren't able to make us pay for our errors the way the All Blacks are.
As mentioned last week, our average tries per game is pretty poor. 2.4 at present, a number that was helped hugely by the games against the Pumas and Italy. So while there are shouts about how great we are defensively at the moment, it doesn't mean much if you can't score the points to go with it.
How are our competitors travelling?
Our main Pool D rivals both had relatively easy games this week, against some of the tier 2 nations. Wales played Tonga, currently ranked 12th, and took out the match with a record score and winning margin, 74-24 after being level on 24-24 just after half time. The real test for Wales comes this weekend, when they meet South Africa. Definitely a match to keep an eye on.
Our other main competitor, Fiji, played another Pool D team in Uruguay. I think it's safe to say that Uruguay won't pose much of a threat at the World Cup (though I'm sure stranger things have happened) and they didn't really look that competitive in this match, with Fiji running out winners 68-7. This weekend Fiji play France which will give us a better insight into how they are travelling at the moment. it will be interesting to see if they have improved since their loss to Scotland.
Probably the most awesome thing I have seen this year ….
This is the from the Brazil v Maori All Blacks match a couple of weeks ago. It has been doing the rounds, so you have probably seen it by now, but it is so awesome it deserves to be shown again!