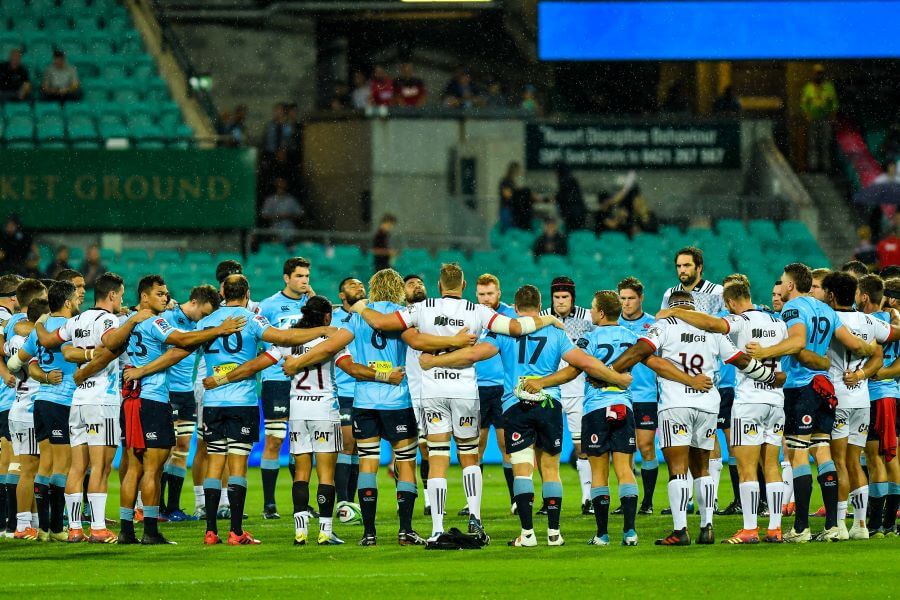 Well it's Tuesday, which means it's Top 5 time. you know the drill. so let's get right to it this week.
The Good, The Bad and The Ugly
Good – How unpredictable is this season?! So the Reds beat the Brumbies, the Brumbies beat the Waratahs, the Waratahs beat the Crusaders, the Crusaders beat the Chiefs, the Chiefs beat the Bulls, the Bulls beat the Sharks, the Sharks beat the Rebels, the Rebels beat the Brumbies, the Brumbies beat the Chiefs …. Can anyone make any reliable predictions about what is going to happen? I hear it's screwing with some people's tipping …
As a bonus good, it was great to see the Force back in action against the World 15 last week. Seeing Nick Cummins and Digby Ioane on the rugby field again, with the likes of Andy Ellis, Wyatt Crockett and Leonardo Senatore was really enjoyable to watch.  As a side note, Deegan is looking really good at number 10!
Bad – I almost feel sorry for Michael Cheika, trying to work out who has form and who doesn't. The teams and players are all over the place. Plus Nathan Gray must be squirming in his seat next to Cheika a bit at the moment, watching how much the Tahs defence has improved since he left (good for the Tahs, bad for Gray). And a final bad, six weeks into the season and it still doesn't look like there is a 10 who will rival Foley for the Wallabies spot. Cooper is still hit and miss, the Reds don't have a regular 10 yet, playing three different players there in their five matches, and Lealiifano is out of the equation.
Ugly – Some say it's an attempted cleanout and his hand slipped, other's say it was a pathetic cheap shot. Whatever you think of it, a closed fist to someone's head is never a smart thing to do, and there have been players red carded for similar in the past. Surely players know there are cameras everywhere and there is not much chance it won't get seen at some point.
How did the ref miss this ?
Red or yellow ?
A Citing this week ?
#REDvBRU pic.twitter.com/JZdMg4oORl

— Rugby (@MRrugbyworldcup) March 24, 2019
Report Card
Waratahs B+: To be honest I had a hard time with this one. I watched the game, saw what people were saying on Twitter and in the media and read the forums for comments. Putting all those things together gave me a grade range of C (passable) to A++++ (best performance ever, one for the ages, every player a stand out – seriously, I did read comments along those lines!) I thought they were somewhere in the middle. Not taking away from the fact that they beat the Crusaders (which is what lifted them from a B to a B+), but if they had met the Crusaders that turned up in any of their previous matches this year the Tahs would have been owned. 23 turnovers for the Waratahs, usually the Crusaders would make them pay for all of them. But the Crusaders gave away 24 of their own. The Waratahs won on the basis of their defence, not something I could have said in the past. They pressured the Crusaders and were pretty solid. Their attack was still hit and miss. Dropped ball (yes, I know it was wet, but these are professional rugby players and I'm sure it wasn't their first time handling a ball in the rain), passes over the sideline or behind the player and some ineffective running. Most of those errors came from their Wallaby contingent, which is a slight cause for concern. If they get their attack together, they will be tough to beat.
Rebels C-: Winning in South Africa is always a tough ask, made all the tougher with so many changes to the team, so the loss doesn't really come as a surprise. The Rebels clearly missed Genia and made some poor choices in attack, using the forwards for repeated phases close to the line when the backs were the ones giving the Sharks a bit of trouble, and were basically outmuscled and out played by the Sharks.
Brumbies F: Yep. An F. I can't actually recall if I have given out an F before, it is the lowest grade possible and an absolute failure. I don't think I can think of anything good to say about the Brumbies from the weekend. Their set piece was a mess, they had no defence to speak of, were completely ineffective in attack, couldn't hold on to the ball and managed to totally screw up their own maul at least twice through dropped balls. The writing was on the wall when they went 27 or so phases in the opening minutes with nothing to show for it, and the game was summed up by Simone passing the ball directly into Carter's head during one of their few attacking chances. I don't know where they will go from here, where they can go from here – there is so much for them to work on.
Reds B: The Reds set up that win with 27 phases worth of defence, not allowing the Brumbies to get anywhere. Their defence was solid throughout and their attack had the Brumbies in tatters. They did what the commentators would have had us believe is the impossible, halting the Brumbies maul and pressured Fiangaa into numerous mistakes at the lineout. I was really impressed with the way Hegarty controlled the match, his kicking was outstanding giving the Reds a huge advantage in field position. They would have received a higher grade had the Brumbies put up a bit more of a fight.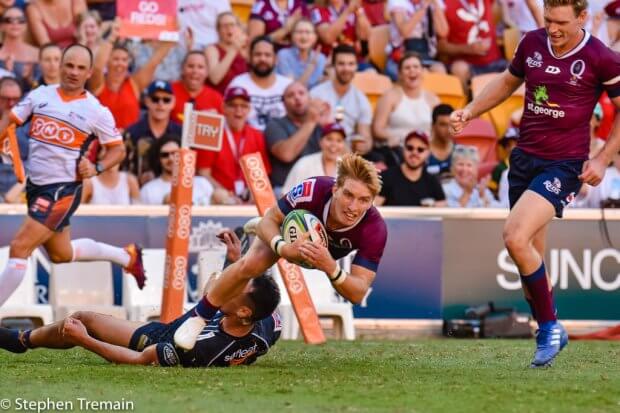 WALLABY RDO'S
Once again we saw most of the Waratah contingent of Wallabies playing out the full 80. Interestingly, last week against the Brumbies we saw more use of the bench and less minutes from the Wallabies. I'm not sure we'll see that happen too often! (although having said that, reports are saying that some of the stars will be rested from the game against the Sunwolves)
After 6 rounds, one third of the way through the season I thought we'd look at the total minutes our Wallabies have played so far. To be honest, it's pretty predictable for a number of players. All teams bar the Brumbies have had a bye, so for the Reds, Rebels and Waratahs the maximum number of minutes available so far is 400. For the Brumbies it is 480. I even put it a pretty graph for you!
Who stood out: Rodda had another very impressive weekend, dominating the maul. And I hate to say it, but Phipps was impressive in the 40 minutes he played. He was quick, mostly accurate with his passing and he controlled the game well. This week the Tahs dropped a bit when he was replaced in the second half.
Raised questions: Going for the unpopular opinion here, especially given some media reports are saying he is at his best, but Israel Folau. Yes, he scores lots of tries. Yes, he can catch a high ball. But he still struggles at the breakdown and if targeted by the opposition is easily turned over, his kicking isn't great and his passing game is rubbish. I keep hearing him touted at the best player going around, but he has an obvious skill deficiency. He passed the ball over the sideline at least once and dropped it cold. I'm not basing that on just this one game either. In the 400 minutes of rugby he has played this season I am yet to see the brilliance I keep hearing about apart from a few decent runs and catches.
Blotted his copy book: As a goal kicker – I'm going to stick with Foley. He was up from the 25% success he had last game to 50% but let's face it, the World Cup is one tournament where goal kicking will be absolutely essential. Running rugby, entertaining rugby will go out the window and it will be 100% about taking the points.
Also this week Folau Fiangaa, for the first time, put a foot wrong with some pretty poor lineouts. Hopefully this was just an anomaly as he has been going so well and is currently our best hooker.
General observations:
Kerevi is staking his claim for the number 13 jersey (even though he played at 12 on the weekend) and looks to be well on top of Tevita Kuridrani. He is more dynamic and puts more pressure on the defence. TK has a habit of running in a straight line, usually right into the defence and isn't making much ground.
I'd like to add James Slipper back into the conversation. He was one of the Brumbies best on the weekend, strengthening the scrum and was strong over the ball at the breakdown, gaining a couple of turnovers. He has been consistently good this year and would be a great asset to the Wallabies pack.
Matt Philip again put his hand up, dominating the lineout and working hard around the pitch.
Here's a newbie for the discussion – Bryce Hegarty. Did a good job at 10, plays a bit of everywhere ie a handy utility player, goal kicker, long place kicks etc.
Our Picks
Top tries – The Chiefs showed that they are back, the Reds gave a demonstration of how to capitalise on turnover ball and the Waratahs showed a bit of  flair.
What a waste – 27 phases, 3 and a half minutes of dull video and nothing to show for it.
Best Super Rugby Debut – This one has to go to Jahrome Brown. On the field for around 6 seconds of game time and he does this. I don't' know where to look for certain records, but surely that's the fastest try every scored on debut?
Shifting sands.
When it comes to Super Rugby have you ever wondered what we are really watching? Does it have any integrity? Can you see where your team will be next season or after that? What about the competition itself?
Right now, I think everybody is wondering what impact all this player resting is having on each team. The fact that we are playing with line ups and not putting the best teams out on the park really raises the question about the integrity of the Super Rugby competition. Especially when clubs are compromising results for no actual gain. There are not many other sports that would dare to do this, especially to the degree that its being done in Super Rugby without expecting a supporter backlash. I believe Paul Cully's article has a lot of merit. Unless you are willing to have some investment in the Wallabies which gives you some tolerance, this is not "that competition" where you can be an absolute fanatical one-eyed supporter who is all about their team come hell or highwater.
Last week we had the news that the Sunwolves have been cut. Noting they are contractually obligated to play next year you can't help but wonder what sort of team they will put together. Will they try to be competitive or will it be just to see out their obligations and raise more questions about the integrity of the competition? But then again, can we be critical that they aren't competitive considering every world cup year it's all a compromise anyway?
In Australia we are spoilt with sports, and there is an abundance of sporting history. But, alas, as the major sports talk about history, heritage and the like we are talking about the last change, latest change and what change is coming which is so uncertain we just don't know what we will be actually watching in about 18 months' time. Some may argue that sports need to be nimble and adapt to market changes and shifts in supporter trends but Super Rugby takes that to the extreme.
So, let's try and compare some apples. In 1996 both Super Rugby and the European Championship competitions were born. Both have many stakeholders (the European one far more so) so both are complex catering to a diverse audience. The European Championship underwent a significant change a few years ago but is still continuing on reasonably successfully. Super Rugby in the same period has undergone 4 major structural changes (AKA: team adding or cutting) and also some significant restructures in format. Sorry, I was trying to lessen the reality, but the first change was in 2006, followed by 2011, 2016, then 2018 and we all know that in 2020 it will be different again.  Now remember, these changes don't include the draw and format reshuffles.
At the end of the day Super Rugby is getting harder and harder to follow. Its constant change and comprise with the uncomfortable truth that after this "RWC warm up" season of Super Rugby there will be a massive player drain which will impact most of the teams. Then there is that elephant in the room that is the fact that in 18 months none of us really know what we will be watching. Nothing is signed off or locked in. Even then what is being touted is a mere 6 home games a year.  Yep, 8 hours of opportunity to watch your team without a screen per year.  For context, in Canberra we get 6 hrs of AFL per year and we don't even have a Canberra AFL team! Or the nearly 15 hours of home game time the Raiders will play at the venue they share with the Brumbies.
It is somewhere between scary, depressing, comical and astounding that in just over one and a half seasons we really don't know what will be. While SANZAAR tries to sell us comprise there is a risk that the lack of rugby will start to usher in the question or relevance. Is Super Rugby one step from being that novelty sport that visits town few times a year?  Worst case we could always play Super Rugby games as curtain raisers for the Wallabies.
But there is always a what if you are willing to entertain all possibilities. Other opportunities, a war of sorts, rebirth, revolution? Between SANZAAR and their Super Rugby, Global Rapid Rugby, potentially some either entrepreneurial or disgruntled parties or Rugby Union's wanting to invest in development or new commercial opportunities things could get interesting. If you dare to throw in to the melting pot references to the "Americas" where all money for the new Nations Cup is emanating from then it opens up some really interesting possibilities. For me, if I were playing investor, money from the Americas, access to New Zealand rugby teams, the corporate dollars available in Japan for potential sponsorship and finance and a few decent sporting market places like here in Australia you could certainly throw a decent competition together.
But, back to reality. Back to watching our compromise of a competition with an expiry date that will be reduced more and become more of a TV based game than something we can take our kids to regularly. And when we do take out kids, we can hope that they don't see it just like the circus. A bit of a show that rolls in to town occasionally.
But looking on the bright side, at least the competition is unpredictable this year!