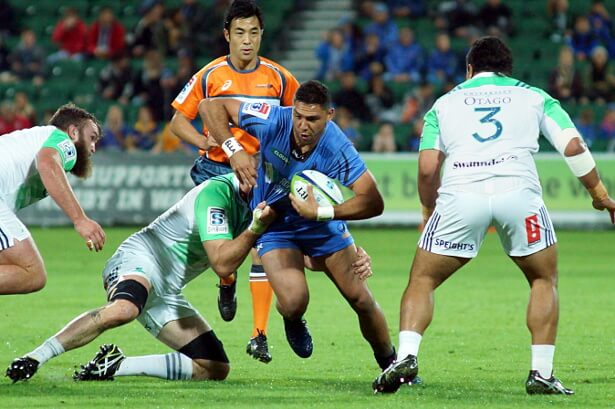 Thursday Rugby News has the Rebels re-signing, sassy kiwi police officers, the Wallaroos squad for Ireland, and Rona talking Wallabies.
---
Mafi adds to Rebels arsenal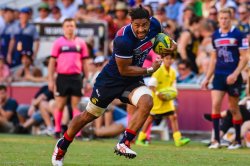 The Melbourne Rebels have had a crazy couple of days, with the selling of their club back to the VRU for $1, and their defiance in being cut from Super Rugby. While the whole Super Rugby scenario is a dog's breakfast, the re-signing of standout player Amanaki Mafi on an extended one year contract is certainly an encouraging sign for the Rebel Army.
Mafi was a standout for the club in an absolute disaster of a season, leading the club for minutes played (1145), line breaks and pilfers. He also led the whole competition in the forwards for run metres (1378m), offloads (30) and second for tackle busts (48).
Rebels chief executive Baden Stephenson was as happy as a pig in mud about the result, and so he should be, considering Mafi was highly sought after from the likes of clubs in Japan and Europe.
"We're thrilled that fan favourite Amanaki has chosen to remain with the Rebels in Melbourne for another year after a standout first Super Rugby season generated plenty of interest," he told Fox Sports. 
"Amanaki was the most dominant forward in the Australian conference and quickly established himself as a highly respected member of the Rebels squad with his consistent hard running and physical presence in the backrow a highlight in every game this season."
The Japanese international was one of only three Rebel players to feature in all fifteen games for the season, due to a horror run of injuries that saw the squad resemble a casualty ward at the end of the season.
"It was an easy decision to re-sign with the Rebels, since I've arrived everyone has made me feel welcome and my family and I love it here in Melbourne, it's a great city and my second home," Mafi said.
"I'm looking forward to next year because there is more I want to achieve with the club and we've got some great young players so I think the Rebels will have a great season."
Mafi will return to the Rebels following competing in Japan's Top League.
While the Rebels have had a crazy week, spare a thought for the Force who are still in arbitration with the ARU. God, what has Super Rugby become?!
Rona dares to dream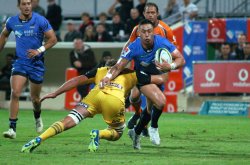 Speaking of the Western Force, they've had plenty of events of their own going on. In addition to going into arbitration, Twiggy has been giving the ARU plenty of lip, the club saw seven players nominated for Volvo People's Choice Team of the Year (the highest representation of any Australian franchise), and the RugbyWA board penned an open letter to the ARU, telling them to go stick their current national agenda where the sun don't shine.
However, it seems that their improved efforts in Super Rugby are finally being rewarded at the national level, with six players being included in the Wallabies squad for Bledisloe I. One notable inclusion is Curtis Rona, who less than two years ago was watching the same fixture at ANZ Stadium when he played for the Bulldogs. Now, he's lining up to play in it.
"I watched a lot of rugby growing up and obviously you see the classic games between Australia and New Zealand, you see there how fierce and big the rivalry is," Rona told Rugby.com.au. 
"To be amongst it is even more crazy and special.
"You're in the squad and you want to beat one of the best teams in the decade, one of the best teams in the world."
Despite being Kiwi-born, Rona is still keen as a bean to head on the field to face the All Blacks, and he has taken particular inspiration from two players in his team, Israel Folau and Bernard Foley.
"With Izzy, coming in, [and me] being a new guy, he helped me and showed me with all different situations on the field," he said.
"Also Nard (Foley) – he has the vice captain role and he has definitely stepped up a notch in his training and his involvement, on and off the field.
"I'm grateful to have players like them helping me along the way."
The other players representing the west include Adam Coleman, Dane Haylett-Petty,  Tatafu Polota-Nau, Tetera Faulkner and the ever reliable Billy Meakes.
Beldisloe I kicks off next week (already?! Blimey, that crept up on us!).
Wallaroos feeling lucky against Ireland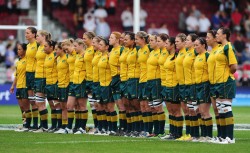 The Wallaroos will make nine changes to their previous side when they open their RWC campaign against hosts Ireland on early Thursday morning (which means you can go check out the result to see if the changes they made actually won the game, I don't have the benefit of knowing yet).
Coach Paul Verrell named a solid 23, including  Australian Sevens star Mahalia Murphy on the wing and Western Australia's Trilleen Pomare steering the side from flyhalf. Hopes are high that the Wallaroos will perform better this year after many years of encouraging development since the previous World Cup in France.
Veteran Shannon Parry will captain the team from breakaway with fellow sevens gold medallist Sharni Williams and hooker Cheyenne Campbell taking on vice-captain duties.
"We've made nine changes from the side that ran out against Canada in our final match of the Four Nations tour in New Zealand, and we added a fair amount of experience into the side with the return of our Sevens players and Mollie [Gray at breakaway]," Verrell told The Daily Telegraph.
"There has been a lot of exposure of the women's game locally in the lead up to the tournament, and after a week of preparation in Ireland, the team are hungry to get out on the field.
"Our lead up to the 2017 tournament has been the best yet, with state based training and the Four Nations tournament providing us with a great platform to build from."
The Wallaroos have a good record against Ireland in the World Cup,  having won their two previous World Cup matches against the host nation. Verrell has been quick to put pressure on the host nation.
"I think all the pressure is on them, they are the home nation hosting the World Cup," Verrell said when he chatted to Fox Sports. 
"(If) we're in front heading into that last 10, 15 minutes I think all the pressure is on them and that's what we're aiming to do.
"We'll be there to finish it off and put them away at the end."
The Irish have been in good form in recent months, finishing with a 4-1 record during 2017 European Six Nations. They also are ranked fourth in the world, one higher than the Wallaroos. Suppose we will all find out this morning if that form translated onto the field. Click here on the RWC page to see how they went.
Sassy Coppas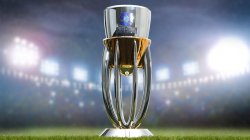 Some may view this last bit as a bit cheeky, but I had a chuckle reading it. The Crusaders arrived back in Christchurch to a rousing reception a few days back after winning their eighth Super Rugby title.
It seems that no one was more cheerful about it that the Canterbury Police Force, who posted an admittedly tongue-in-cheek post on their social media account. Blues fans, look away now:
"We're thrilled to report that an important item that had been taken from its home at Rugby Park, Christchurch has been found and returned to its owners," said the Coppas.
"It was located in Johannesburg, South Africa over the weekend. It has been missing for about nine years. Our thanks to the concerned members of the community from the BNZ Crusaders for their efforts in recovering this item."
"It has previously been seen in Hamilton, Dunedin and Wellington and even made it over to Australia and South Africa since it was taken in 2009. But not in Auckland. Not ever in Auckland since 2009. Unless you count going through the airport on its way to other places. But other than that, like, never.
"It arrived back in Christchurch last night and will be returned to its home where it will likely remain. Probably until the End of Time."
I'm just personally happy our police force didn't take to social media to rip our teams apart.
Some may take offence, but to be honest, Super Rugby has become that much of a joke that I will simply laugh and take it for what it is, in good humour.
It doesn't really surprise me that the cops had so much time on their hands to write this. As many Kiwis will tell you, not a lot really happens in Christchurch.