Thursdays Rugby News sees Drew Mitchell back in camp, The Wallaroos name their squad, Quade Cooper the Highlander and Gardner a potential for the big game.
---
RETRIEMENT THE RIGHT CALL FOR MITCHELL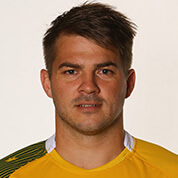 Drew Mitchell is back in Wallaby camp after a quick phone call from Michael Cheika asking the 71 test veteran to come for a run in Wallaby camp to help fill numbers and mentor the young blokes.

Seems like a good deal right?  Anyone who remembers fitness sessions might disagree and after a double fitness session on Tuesday, Drew Mitchell might not agree either.

"It sounds good in theory but when you actually start doing it, you start to question it," Mitchell said to Rugby.com.au 

"It's been good to be around, but it's also been really hard. What I am doing here? I am not sure."

Cheika was looking for some experience to help out with training, with the Waratahs still focused on their finals campaign Mitchell had the option to pull out of fitness drills, but wanted to be a team player so his partner didn't have to do all the work on his own. Unfortunately for Drew, his partner was Rebels Captain and on-field workhorse, Adam Coleman, who was under instructions from Cheik to flog Mitchell in the crawling drills.

"Cheik is big on when things get tough to not go all isolated and go within, and I was really impressed when things were hard, how much the boys rallied around each other, including myself.

"Because for those guys who are struggling, it's a lot easier to get through it when you guys rallying around you. I was impressed by that.

"It's been 15 months since I finished footy and about a year or so before that when I was last with this group, so it was nice. It's good to be around the squad.

"It's always a privilege and honour in whatever capacity to be around this group. But it also reinforces that I made the right decision.

Mitchell retired from professional Rugby 15 months ago, and though he stayed in shape (for his inventible run on The Bachelor no doubt) by training for triathlons, the gruelling training to stay Rugby ready seems to reinforce that he made the right call.

"There are some young guys here, but if I was capable to run around with the boys, maybe just to chime in and fill the numbers but also to maybe pass on a bit to the younger guys," Mitchell said about the young outside backs coming up in Wallaby camp

Mitchell has been mic'ed up for the whole time for a special feature on Fox Sports, Kick and Chase; so expect to see his shenanigans soon.
WALLAROOS SQUAD NAMED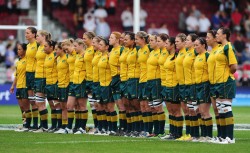 After a successful Super Women's Rugby season, the Wallaroos have named their squad to take on the Black Ferns in the opening match before the first Bledisloe in Sydney.
This is first time the Wallaroos have played the opener for the Wallabies on Aussie soil, having played the curtain raiser for Bledisloe 3 at Eden Park, where they fell short to the Kiwi's 67-3.
Times have changed since then, with the start of a the Super W competition, more money, time and resources have been devoted to growing our presence in Women's Rugby.
This will be the 50thtest played by the Wallaroos, which is nothing when compared to some of the women in the Six Nations Women's competitions, some of who boast 100 test caps to their names.
Coach Dwayne Nestor spoke to The Australian about the growing professionalism in the sport, and the need to be smarter if they want to beat the Black Ferns.
"The Black Ferns are now on contracts,"
"They're not huge contracts. They're not going to be able to buy a house with it but it allows them to go into camp for 50 days a year. Compare that to us: we'll be in camp for 10 days. We just have to be clever and innovative with our time."
"Any Tests we can get at that level, either against New Zealand, or playing any of the teams in the top five, can only make us stronger."
Despite there still being players from the previous World Cup, the squad is made up of relative new comers, with 13 debutants named out of the 28 named in the squad. The squad is also missing Sevens stars Sharni Williams and Shannon Parry, both unavailable for selection.
The Wallaroos with play the Black Ferns in Sydney on August 18thand in Auckland on the 25thof August.
Wallaroos squad for the NZ series: Mhicca Carter* (WA), Emily Chancellor* (NSW), Rebecca Clough (WA), Georgia Cormick* (Vic), Melissa Fatu* (NSW), Kendra Fell* (WA), Toa Filimoehala* (Qld), Fenella Hake (Qld), Grace Hamilton (NSW), Alisha Hewett (Qld), Evelyn Horomia (NSW), Fi Jones* (NSW), Atasi Lafai* (NSW), Kiri Lingman (Qld), Crystal Maguire* (NSW), Michelle Milward (ACT), Cobie-Jane Morgan (NSW), Mahalia Murphy (NSW), Hana Ngaha (Qld), Georgia O'Neill* (ACT), Shanice Parker* (NSW), Liz Patu, (Qld), Trilleen Pomare (WA), Sarah Riordan (Qld), Emily Robinson (NSW), Alice Tonumaivao* (Vic), Samantha Treherne (Qld), Darryl Wickliffe* (WA).
QUADE THE HIGHLANDER?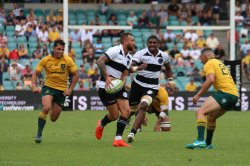 Not according to the Highlanders he wont be. After a tweet from The Otago Daily Times caught the attention of the Highlanders, the Dunedin team channelled their inner Donald Trump with a simple hashtag "#FakeNews."
With Lima Sopoaga leaving to join English team Wasps, the Highlanders are on the hunt to find a replacement, it just wont be the former Wallaby (via nzherald.co.nz).
ODT sought out a quote from the Highlanders, with Chief Executive Roger Clark stating the club hadn't even thought out the exiled Red.
"He is not somebody we have ever considered or would consider," Clark said.
"Nothing has changed for us. We are really happy with the two young guys we have got.
"They will play Mitre 10 Cup and we will obviously sign a third 10 at some stage.
"But we are in no hurry to do that."
The Highlanders recently resigned Josh Ioane and have signed up and comer Bryn Gatland, with an aim to fill the third number 10 jersey.
Cooper could be looking at playing another year for Souths, with Brad Thorn not budging on letting Quade back in, unless the Reds can strike a deal with one of the other Aussie clubs. One thing is for sure; he won't be catching a pass from Aaron Smith next season.
GUS SET FOR THE BIG STAGE
Australian whistle blower Angus Gardner could be the first Australian to referee a Super Rugby final since 1996, after he wasn't named to officiate a match this weekend.
That would seem strange to not give him a chance to back out his performance from the Waratahs Highlanders match, but according to Rugby.com.authere is method to this madness.
It would seem that the Referee who is booked in for the final is given the week before off, and it would be highly likely that Gardner has earned a call up.
It would be a showing of support for Gus from SANZAAR, especially after he was thrown under the bus during the June series for the red card for Benjamin Fall when the World Rugby Judiciary Committee deemed his decision wrong.
After there being much criticisms of Referees this season, with over officiating technicalities, seeking out foul play penalties and copious amounts of TMOs, Gardner displayed a level of professionalism and maturity in calling the quarter final that would be worthy of the big job.
South African Jaco Peyper will referee the Crusaders and Hurricanes in Christchurch, with New Zealand's Glen Jackson refereeing the Lions Tahs game in Johannesburg. With those big names in action this weekend it would seem logical Angus Gardner would call the Final in a week's time.
If the 15-test referee is selected, he will be the first Aussie whistle blower in 22 years to officiate the final, with Wayne Erikson being the first back in 1996.