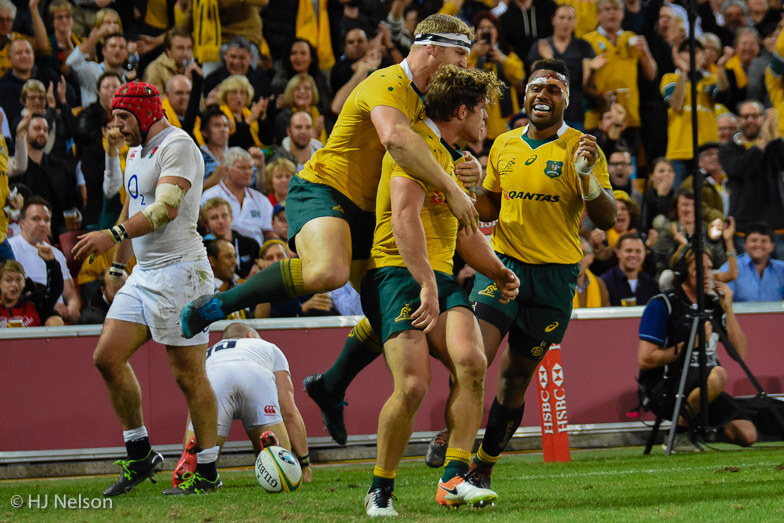 Thursdays Rugby News sees Pocock praising Naisarani, Shields tells NZ Rugby secrets, Beale bringing extra Budgy Smugglers, and the motivation for Fainga'a
---
POOPER DEBATE TO CONTINUE
David Pocock believes the "Pooper" debate will continue, with the growing talent around the Wallabies back row, in particular as the combination look to make it work for a second World Cup. But he is willing to leave that to Michael Cheika and his crew.

"I love playing alongside Hoops but I don't know [about the World Cup]," Pocock said.

"That's up to the coaches and what they think is going to be best for us as a team. I'll stay out of that one. I really rate Mike as a person, as a captain, as a player and love playing alongside him and we've worked hard at trying to get that combination working as best it can."

Height at lineout time and weight at the scrum has been a massive point of contention regarding the pairing; despite the fact Pocock and Hooper are often in the top performers for the Wallabies.

Pocock believes it could be development player Isi Naisarani to throw a spanner in the Pooper, comparing the 23-year old Fijian born No.8 to Wallabies cult figure Radike Samo.

"We saw at the Brumbies how damaging he could be out in the wider channels," Pocock said.

"He's got the classic Radike Samo ability to play the ball in one hand and get the offload away and can also be pretty damaging in defence.

"From what I've seen this year at the Brumbies he's someone who doesn't get too flustered about anything. He takes things in his stride so I'm sure he'll be able to step up. He's a pretty handy player.

"Next year a lot of it depends on his season with the Rebels and the growth he shows there but I'm excited for him."

Naisarani has had impressive Super Rugby and NRC seasons, being one of the best No.8s in the Australian conference. Currently unable to be selected due to residency laws, Australian rugby fans will wait until April to see if Naisarani is the missing link in the Wallabies back row.

Until then the Wallabies will most likely continue with "Pooper", with the battle for the No.6 spot being fought between Waratahs, Ned Hannigan and Jack Dempsey for the Spring Tour.

"I thought he made a great impact coming off the bench," said Pocock of Dempsey's performance in the third Bledisloe Cup match. "He's pretty abrasive and throws himself into it." Pocock added.

"Having said that, I think Ned has also been really good for us and is growing a lot as a player. That's what you want – to have a number of guys in each position."
INSIDER BRAD SHIELDS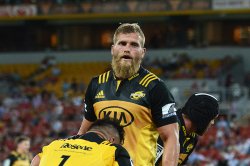 It may be a surreal experience for former Hurricane's captain Brad Shields, should he be selected to face the All Blacks on Saturday, as he stares down his former team mates and friends as they perform the Haka.
The feeling may also hit players like the Barrett brothers or Ardie Savea as they face down the man who captained them at the Hurricanes. Despite his relationship to NZ rugby, Ian Foster believes the team can see him as "just a loosey who plays for England."
It his connection to the All Blacks that is providing insight for the English team, according to Ben Youngs.
"Brad's knowledge is really important because he was at the Hurricanes," said Youngs. "He can tell us what the guys he has played with don't particularly like and the traits they have in their game. We don't just want to contain the All Blacks, we want to throw our game plan at them."
Something shared was that Beauden Barrett carries the ball more than any All Black on the field. Whilst this stat impressed Youngs, it doesn't come as a surprise when you see how the All Blacks and Hurricanes can score long range tries off their backs.
"I didn't know that until this week," said Youngs. "It's an amazing stat."
Australian rugby fans will be the first to say grabbing a NZ Super Rugby player doesn't automatically give you a winning edge, with Crusaders premiership player Pete Samu joining the Wallabies in the same vain as Shields and England.
Shields opted to move to Wasps in an effort to play for England after being overlooked for the All Blacks, despite racking up 100 matches for the Hurricanes and playing U20s for New Zealand.
The All Blacks assistant coach Foster told the media unfortunately when selecting a national team, players miss out.
"I guess the obvious answer is the selectors didn't pick him. When you're selecting a national team, there's a whole lot of good players that don't quite make it. I'm not going to give you reasons why we didn't pick him. But what we do know is that he is a quality person, he did a great job off the field at the Hurricanes and he was in the conversation a lot with us."
Shields is well aware he has a job today if he pulls on the white jersey, but knows that for 80 minutes they aren't his friends.
"What's the old saying: 'Enemies on the field and best friends after the game?' That's my mentality.
"I played with a few of the guys for a number of years so there are friendships and relationships there but you're out on the field to do a job.
"I don't think it's about proving a point. As soon as you start to overthink things, that will affect the performance of the team. I'll do my best for the squad and try to put my best foot forward, otherwise you'll look like a bit of a sham out there. You've got to perform or you're no good to anyone."
BEALES BUDGY SMUGGLERS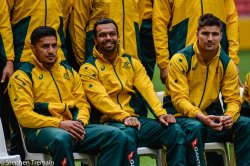 Kurtley Beale has plenty of great memories playing against Wales. He made his test debut in Cardiff in 09. He received MOTM and scored match-winning tries. Last year he scored an impressive try off a strip tackle.
Though it was a social media post of Beale's that made the last match particularly memorable, when he took a photo with the Patron of Welsh Rugby, the Prince of Wales, Prince William, wearing his Budgy Smugglers.
Beale is hopefully that the future King of England will make his way down to the sheds after the match, packing some spare pairs to give to the monarch.
"It'd be nice to see Prince William again, I have another pair of budgies for him if he comes in the sheds," he said.
"We'll see how we go. There is a few options there he can pick."
Beale is excited to get back to Cardiff and take on the team that he has never lost too, and improve on the poor season the Wallabies have gone through.
"Throughout the year there has been some inconsistency with our defence and attack and we are always striving for that 80 minute performance.
"This is a great opportunity to test ourselves against the Welsh.
"They had a great result last week and will be on their feet ready to bounce and excited by the challenge."
"The Welsh always have an exciting brand of rugby to play and I guess it's someone I enjoy playing against.
"There is a lot of scope there as an outside back or a playmaker to try and pick them off.
"I always look forward to an exciting match."
View this post on Instagram
THE WOMEN IN FAINGA'A'S LIFE
It has been an impressive year for Folau Fainga'a who just 12-months ago had signed an extended playing contract with the Brumbies after a strong NRC season.
12 months later and he not only made a Brumbies debut, but made a Wallabies debut and is now on a European tour.
The 23-year-old's mind is often with the three generations of women in his life that gather round a TV in western Sydney to watch him play. They might not be up in the middle of the night this week but they will still be in the front of his mind.
"Obviously my family back home is my motivation," he said.
"I've got a great-grandmother still alive, she's always crying every time she sees me on television.
"She just sees my face and she just bawls out crying and even when I FaceTime her, it's the same thing.
"They're my motivation for the Spring Tour."
Even with all the changes this year from playing club rugby to now being a Wallaby, Fainga'a was able to acknowledge just how different the levels are between Test and Super Rugby.
"It's very different to a normal Super Rugby game and how you prep.
"Games are a lot faster and there's a bit more oomph, that's what I've learned so far."
Fellow Wallaby and Brumby David Pocock has been impressed with the effort and development of the young hooker.
"I was very impressed with his growth and his form through the Brumbies season, (where he) obviously earned the opportunity here (in Wallabies camp) and step up how he has," he said.
"There's plenty to learn and I guess he's shown just how much he wanted to learn and we're starting to see that in his game.
"The young hookers we've got coming through can be around for a long time, it's very exciting."