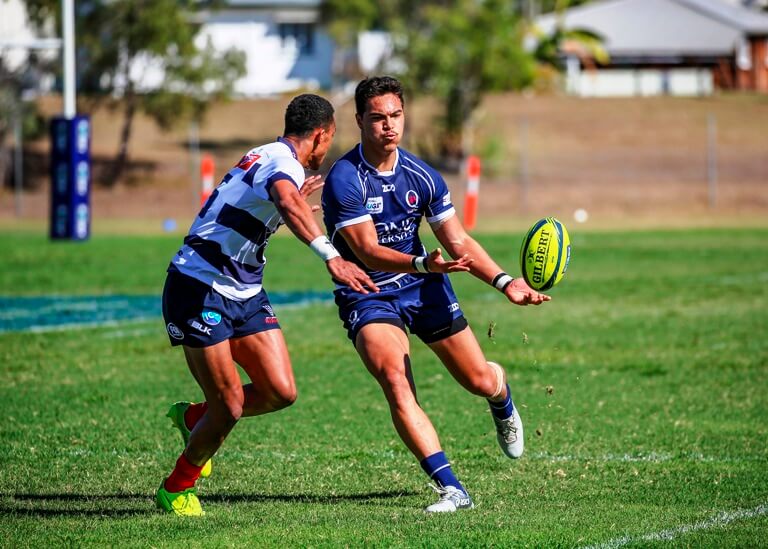 Thursday's Rugby News has the Reds' latest signing, men's Sevens gearing up for Dubai, injury and illness concerns leading up to Twickenham and Hansen putting the boot into the Wallabies.
---
Prodigal Son Re-Signs
Things have been tough for a long time at Ballymore.

After the premiership in 2011, the state's rugby fortunes have slumped to dangerously low levels.  Over the past few years in particular, the code up here has lurched from one disaster to the next.  At Reds/Super Rugby level, coaches came and went, crowds dwindled, players got suspended for various indiscretions and the results on the pitch matched the fiascos playing out in the background.

There's been little to toast.

In news that might both lift some spirits and in time prove to be key to rebuilding the club and code up here in the deep north, Reds outside back, Jordan Petaia has re-signed with the club for another four years, inking a new deal that will see him stay at Ballymore until the end of 2022.

Speaking about his new deal, Petaia paid tribute to the leadership and coaching group at the Reds, "I have learned a lot off Brad, he's taught me a lot this year and given me the opportunity at quite a young age so I'm very grateful for that," he said.

"Samu and the whole senior playing group at the Reds have helped me develop and improve as a player.

"I tried to set goals at the start of the year but obviously it's been just one step at a time. This year, I was just trying to make the pre-season with the Reds squad and then everything just came after that. So, I'll just keep doing what I'm doing, focusing on every little step and gradually improving and working on my game," the youngest-ever Super Rugby player for QLD added.  (He would have been the third-youngest Wallaby had his selection last week not been cruelled by injury)

Seems he already has a big fan in head coach Brad Thorn who added his opinion too, "He's a nice young man. He's humble and hard-working who loves his footy. After making his debut and playing 11 games for Queensland, we've got a taste of his talent.

"It's exciting to think how far his career can go and we look forward to him being here at Queensland".

For the sake of the game, and my sanity, let's hope it's the start of big things up here in the sunshine state.
Men's Sevens Squad Named for Dubai
It's over a week until the (technically 2019) World Rugby HSBC Sevens World Series (take a breath if you need) kicks off for the fullas in Dubai.

The women's series is on too, but they are one round ahead having already gotten things underway in USandA last month.

Being that's the case, coach Tim Walsh has named his squad and there's an addition to the back-room staff in the form of newly-retired former Wallaby.

Rob Horne has been brought into the squad as a manager, quite what the role will entail isn't easy to come by but there's a definite push to forge closer ties between the Classic Wallabies and the Sevens program, a relationship that traces back at least as far as 2016 where the Sydney Sevens hosted a QLD-NSW "Golden Oldies" style match.

Coach Walsh put it thusly, "Rob is just looking forward to getting back involved in Australian rugby and he has a lot to offer the team and the program,

"We want to have more engagement with former Aussie Sevens players and Classic Wallabies with this squad and with what we have done already the players have really responded strongly".

On a personal note, it's great to see this sort of cross-generational promotion from the code and great to see a guy like Rob Horne with a continuing role in the game.

The squad-

Lewis Holland (c)
Jesse Parahi (vc)
Nick Malouf (vc)
Ben O'Donnell
John Porch
Michael Wells
Liam McNamara
Tim Anstee,
Boyd Killingworth
Maurice Longbottom
Henry Hutchison
Lachie Anderson
Brandon Quinn

The Aussies kick of their matches by playing Japan on Friday arvo, our time.
Down with the Sickness (and injuries)
It seems the meal plans got mixed up this month.

Italy don't face the All Blacks until this weekend yet it's the Wallaby camp who this week have had to deal with an illness sweeping through their ranks.

Reports are that Folau has been lugging around the illness since days before the game (might explain a few things….) and a number of the squad have since been struck down.

It comes at an awful time for the team as they prepare to take on England at Twickenham.

Concerningly, the only guy actually sitting out training has been David Pocock, who is still nursing a neck injury.  Australia has coverage for Folau (amongst Foley and others who have also been unwell) but the Pocock hole might prove harder to fill.

Pete Samu is on tour with the team and is tipped to add to his two test starts if 'Poey' doesn't recoup in time.

He's got the pedigree too, having played for English club St Ives straight out of school, he reflected on his time over in the old Blighty,

"There was a game we were meant to be playing and it started snowing and I thought the game was going to get cancelled. I didn't get changed.

"Then the boys came up to me and asked me what I was doing and I said 'oh it's snowing'. They were like well we will be out warming up in five minutes and I was like 'oh f—' and got changed."

Don't worry mate, the forecast is for 6-10 degrees this weekend, so snow is unlikely.

England face their own injury concerns with winger Chris Ashton ruled out with a calf injury.

As is the custom, SBS and Fox will broadcast the match live, early on Sunday morning.
Early Bledisloe Mind Games Kick Off
It's not until August next year that the Wallabies will again face the Kiwis, but the mind games have seemingly already kicked off.

At least, we hope it's mind games.

The latest chat out of the land of the long white off-side line is the All Blacks pinning their recent woes (read: losing one test match) on Australia's recent run of poor form.

Beyond that, not only are Australia not good enough, we're not 'Northern Hemisphere' enough to steel the ABs for matches against the much-improved northern teams, with only the Bokke providing stiff enough and NH-enough competition for Hansen's liking.

And I quote, "There is no doubt the style of game that is played by South Africa is similar to the style played up here".

He continued, "There is definitely something missing because they (the Wallabies) are not quite right and are not performing to the level they can.

"But the more we play teams like South Africa, Ireland and England, France which we have done this year it is good for us".

It's odd that the Kiwi coach added France to his list of quality opposition given three-blot thumping his side handed out to Les Bleus in June this year.

To bring a little more balance to the article, it's only right to point out that Hansen did temper his comments with, "I still believe Australia are a really good rugby side".

For anyone's that ever worked in an office, as part of a big corporation, you've probably heard of the 'compliment sandwich', whereby you make-up something nice to say before criticising someone…..seem familiar?