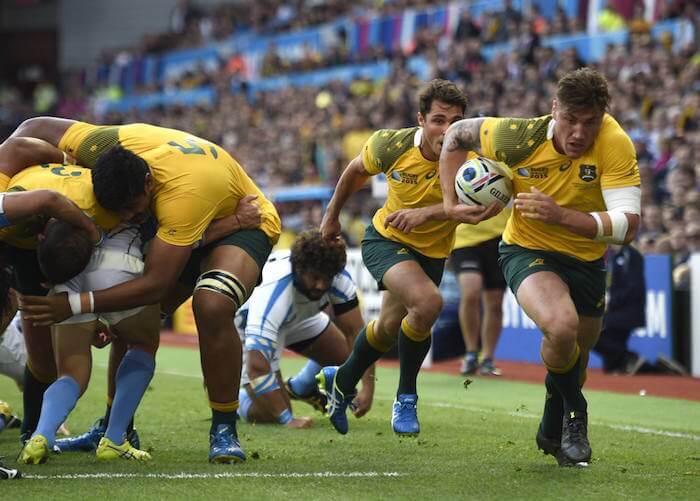 Thursdays Rugby News sees Heart break for Australian Rugby, Baa Baas name their squad, Analysis of Cheika's team and Sam Burgess blames egos for England World Cup performance.
---
MCMAHON SIGNS WITH THE SUNWOLVES
Just when you thought it couldn't get worse. It just got worse.

Former Rebel and Wallaby hard nut back rower Sean McMahon has signed with the Japanese Super Rugby side the Sunwolves for the 2019 season, all but confirming he will be out for the next World Cup.

RUGBY.com.aubroke the news, revealing that the Rebels, the Reds and the Force all approached the 24 year old in an effort to secure his services.

Sunwolves officials confirmed the deal was signed back in July for a one-year contract.

This doesn't complete rule out the chances for McMahon to return for the RWC, as he could sign with an Australian team for the 2020-21 seasons, thus making him eligible.

Money would be a major factor in McMahon staying in Japan, as his $800,000 Top League contract far exceeds what he could earn in Australian, with Wallabies David Pocock and Michael Hooper still playing (Hooper is on $1 Million plus).

McMahon's presence was sorely missed in the Wallabies camp during 2018, with Michael Cheika having a revolving door in the back row (minus Poey and Hoops), in particular his work around the field in both attack and defence.

Cheika has been regularly asked about McMahon coming back into the Wallabies fold, to which he has developed a standard response.

"We've been really clear with Sean about what we'd like," Cheika said.

"The ball is in his court."

Well McMahon appears to have taken that ball and set himself up nicely in Japan.

Despite being in the same conference as the Australian teams, it is believed that Australian players playing for the Moon Dogs still are not eligible to play for the Wallabies. Perhaps for this World Cup we will see the McMahon Law, which will allow him to come back.
BAA BAAS SQUAD NAMED
In the final match of the year featuring an international team, the Barbarians will take on Los Pumas at Twickenham on Saturday afternoon (Sunday morning in Australia.)
The squad coached by Springboks head coach Rassie Erasmus (Sounds like a Harry Potter character), has a strong South African presence, but also will feature three Australian players in Luke Jones, Rebels co-captain Tom English and former Rebel Jack Debreczeni. Crusaders Wyatt Crockett will captain the side.
Fijian Drua scrumhalf Frank Lomani has been named on the bench, which is an exciting prospect to see him at this level, given his intensity at NRC and the skills he picked up training under Will Genia.
The squad includes 13 South Africans have been named including Breakthrough player of the year Aphiwe Dyantyi and the South African captain Siya Kolisi. Argentinian big man Juan Manuel Leguizamon has been tasked with anchoring the scrum from the back in the number 8 jersey.
15 Jack Debreczeni (Chiefs)
14 Tommaso Benvenuti (Benetton & Italy)
13 Tom English (Rebels & Australia)
12 Damian de Allende (Stormers & South Africa)
11 Aphiwe Dyantyi (Lions & South Africa)
10 Handre Pollard (Bulls & South Africa)
9 Leon Fukofuka (Auckland & Tonga)
1 Wyatt Crockett (Crusaders & New Zealand, Captain)
2 Schalk Brits (Stormers & South Africa)
3 Trevor Nyakane (Bulls & South Africa)
4 Luke Jones (Bordeaux Begles & Australia)
5 Lood de Jager (Bulls & South Africa)
6 Siya Kolisi (Stormers & South Africa)
7 Pieter-Steph du Toit (Stormers & South Africa)
8 Juan Manuel Leguizamon (Jaguares & Argentina)
Replacements
16 Steven Kitshoff (Stormers & South Africa)
17 Malcolm Marx (Lions & South Africa)
18 Anton Peikrishvili (Cardiff Blues & Georgia)
19 Sikhumbuzo Notshe (Stormers & South Africa)
20 Jordan Taufua (Crusaders)
21 Frank Lomani (Rebels & Fiji)
22 Jesse Kriel (Bulls & South Africa)
23 Elton Jantjies (Lions & South Africa)
D-DAY LOOMS FOR CHEIKA
As the dismal 2018 comes to an end, so comes the final meeting of the year for the Rugby Australia board, to which the discussion of the fate of Cheika and his staff will most likely discussed.
This was reported earlier this week that there are potentially a few candidates to replace Cheika should the RA board swing the axe to start 2019 on a better not. Former Springboks coach Jake White and Scotland Director of Rugby Scott Johnson are considered frontrunners but around the Internet plenty of other names are out there.
Assistant Coaches at Super Rugby level have had their names thrown around and even Stuart Lancaster and David Nucifora's names have been spoken in the shadows after their success in the Irish competition.
Regardless of whom they pick it is clear from the reception from Fans, Players and the media that the time has come for Cheika and his merry men.
Avid Green and Gold reader and commenter Adrian even went, as far to say,
"It's pathetic that RA can't see all of the mismatch tactics and selections More complex than chess, but played with draft pieces and managed by a 3rd grade chess player."
Adrian raises a strong point with this, but even if you remove the emotion, and objectively look at the way the Wallabies have been selected and positioned, the writing is on the wall that the coaches are running around like chickens with their heads chopped off in an effort to cover themselves.
Ben Smith (No not that Ben Smith) and Nicholas Bishop have published articles in the past few days that highlight the need for change. Smith compares the poor set up to protect the clearance kicker that on multiple occasions this season have cost Australia tries. Bishop examines the poor set up of playing props in different positions have having Jack Maddocks cover the field out of position. The conclusion is quite similar and quite damning.
Michael Cheika has continuously said he has a plan for the World Cup, and that his plan may have kept him and his crew in the job. The last year and last few articles have shown that the plan is no longer working. The meeting on December 10thwill indeed be an interesting one.
FOXSPORTS Christy Doran published a humours yet potentially accurate prediction as to how that meeting will look.
BURGESS BITES BACK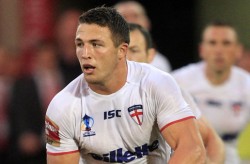 NRL Star and former England test player Sam Burgess has hit back at critics of the 2015 World Cup in a series of tweets claiming it was ego's that were responsible for the teams failure escape the "Pool of Death."
Head Coach Stuart Lancaster and Defensive Coach Andy Farrell were just some of the men to depart the English national side after the team went through their worst ever World Cup. Both men have gone on to find success after their departures.
Farrell will be the man to replace Joe Schmidt as Ireland's Head Coach after the World Cup, whilst Lancaster has helped Leinster continue to grow in the Irish and European competition.
Burgess has laid the blame at the players, though not naming names, for the failure of the team and not just one coach or player.
Burgess tweeted: "I seem to be getting a few tweets regarding the Rugby WC in 2015….Still. If people actually rewatched the games I participated in you will see I added to the team. What cost us an early exit was individual egos and selfish players not following our leader. Which ….
"Essentially cost the coach and other great men their jobs. Tournaments are not won by the coaching staff or one player. It takes a commitment from the full group. I guarantee you this, I was committed but others had their own agendas. I have fond memories of my time in RU
"And some great friends. One day I will tell my side of the story, but for now I love watching @EnglandRugby and cannot wait to see them as they prepare for the 2019 WC in Japan."
Burgess played 5 tests for England including 3 during the World Cup when he was playing Premiership Rugby for Bath.
He then returned to NRL after signing a lucrative deal with South Sydney