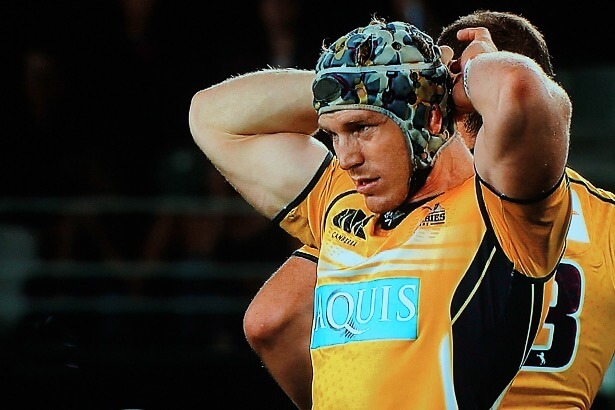 Thursday's Rugby News has changes for the Brumbies, changes for the Waratahs, Mafi's return maybe and a new women's 7 series.
---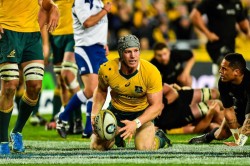 Poey Not Going
David Pocock and Michael Alaalatoa have been ruled out of this Saturday's clash with the Waratahs. Alaalatoa has been ruled out with a wrist issue, while Pocock's calf, neck and (probably) organs all need a rest from being pummelled.
Pocock has already missed one game this year, sitting out the Chiefs one, and it is thought that both players will miss 1 to 2 weeks.
Brumbies coach Dan McKellar is confident that the easily named Les Leuluaialii-Makin can fill in for Alaalatoa in the front-row, in what will be Big Les's second start in Super Rugby.
"One thing is Les will not die of stress, he's a pretty casual sort of guy and nothing fazes him too much, so I don't think he'll be too worried about the Tahs" McKellar said (via rugby.com.au).
"He's had a really good pre-season, he's been really well managed by our (strength and conditioning) staff and completed more sessions than he had in the last four or five years and he's had some good impact off the bench."
Tom Cusack is coming in for Pocock, as the Brumbies continue to sign flankers with only genital related names (remember Chris Alcock?).
McKellar isn't worried about having a 'sack on the side. "Poey didn't play against the Chiefs and we went all right that night, so we're confident in the guys that will step in," he said.
In other news, Lausii Taliaui (wing) and Irae Simone (centre) will return to the XV, while Jordan Jackson-Hope, Tom Ross and Mack Hansen will be on the bench.
In Comes Newsome
The Waratahs will also make a few changes to their team too this weekend, although not all are due to injury.
Alex Newsome will start on the wing in place of Curtis Rona, in what is otherwise the same starting XV for the win over the Reds.
On the mahogany oak that is the Tahs bench (lesser teams can only afford pine…pah! woe be unto them scummy teams), there will sit Nick Phipps, Ryan McAuley (in for Will Miller's injured ankle) and Cam Clark for the Brumbies game.
The reason for the Newsome change, says Daryl Gibson, is to attempt to get the Waratahs attack going.
"We are three games in and have so much growth left in us," Gibson said, according to rugby.com.au.
"As much as we have had two wins and a very close loss, we still feel like we are not where we want to be. We have plenty left in us, particularly in our attack and really getting all the skillsets we have in our team performing."
Nothing to see here, just a coach in his third year with a team, that has an all Wallabies-backline, struggling to score tries. No, wait! Here's Newsome:
"A few of the guys coming late back into the program from the Wallabies and it takes a few games to get that cohesiveness back with our ball plays and everything," he said. "So I think it's just a natural thing. You saw last year it took us a while before we got that attacking flair down pat.
"Against the Sunwolves we probably did fall into that trap of playing like them, who like to play a lot off turnover ball, and we recognised that and we knew coming up against the Reds, who are such a physical side and have a big pack and a few big ball carriers, that we had to focus on that and not get too loose in our attack. Otherwise we'd pay for it.
"With our backs, we want to get our hands on the ball as much as possible (against the Brumbies). The Waratahs typically play a very attacking style of rugby so as much as possible we want to keep that game plan."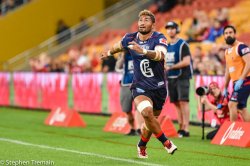 Japanese Mafi
There's stirrings in Japan that Amanaki Mafi – the former Rebels gun who assaulted teammate Lopeti Timani – may be selected for Japan at the World Cup, and perhaps the Sunwolves this weekend, despite his ongoing court case.
The JRU have said that they won't consider picking Mafi until the court in Dunedin, where the assault took place, comes to its conclusion. But with the matter dragging on, Mafi's lawyers may ask for the case to be dealt with after the World Cup.
Mafi plead not guilty in September last year to a charge of injuring with intent to injure, a charge that carries a maximum penalty of five years jail. Until now, he was involved in a mediation process with Timani but the Herald reports that has broken down. That breakdown has put all these events into motion.
After leaving the Rebels last year, Mafi moved to NTT Shining Arcs. Initially banned from training with his new team, it would be quite the turnaround if he was picked for the Sunwolves this weekend.
Arguably Japan's best player, the 2017 Australian Super Rugby player of the year would be of great value to the Japanese playing squad if could be there for the World Cup.
The case is called for March 27 in the Dunedin District Court. Mafi has been excused from appearing.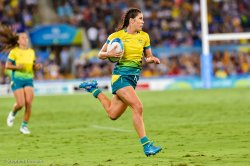 Whoa-man
From next season, the 2019-20 season, the women's sevens series will have two more legs, with the Hong Kong and New Zealand sevens expanding into a combined mens/womens tournament.
Also for the first time, the women's series will play on consecutive weekends, in both Dubai/Cape Town and New Zealand/Australia.
Aussie captain Sharni Williams is obviously excited: "Coming after international women's day, it's good news great that World Rugby and Rugby Australia and all the companies are really jumping on board and all recognising women and what they're capable of doing," she told rugby.com.au
However, there are a few concerns about the workload, given that 2020 is an Olympics year. The current 2018-19 season is the sole qualifying season for the Olympics, with the points from this season and next counting towards seeding.
The big issue is the back-to-back weekends, with evidence from the men's series showing exhaustion and injuries are much higher on the second weekend.
"It's certainly good to have more tournaments and more competition, that's a big positive," said Australian Sevens high performance manager Scott Bowen, who rugby.com.au says is thinking of expanding the 18 regular women's players to 25, with the help of the Aon Uni 7s.
"Certainly the back-to-backs are a bit of an unknown. We have done them previously, in 2014 and 2015, we did Atlanta and Sao Paolo. And we performed really well in both of those legs, especially the second legs.
"It will certainly have an impact physically and mentally. You'll end up having to grow your squads, we will take on more full-time athletes to be able to cater for the extra work load and also enable you to maybe be selective who is playing in what tournaments."
"In an Olympic year, the Olympics is a one-off event. We don't actually have to be conditioned around playing back-to-backs. So it may be that your key, core best players don't play in both legs of a back-to-back. We'll see. We may look to manage that."
Next season, the women's series will be in Colorado (standalone), Dubai (combined), Cape Town (c), NZ (c), Sydney (c), Hong Kong (c), Langford, Canada (standalone) and Paris (c).
It has also been confirmed that Sydney will host the Australian leg of the sevens for the next four years. Oh dear.