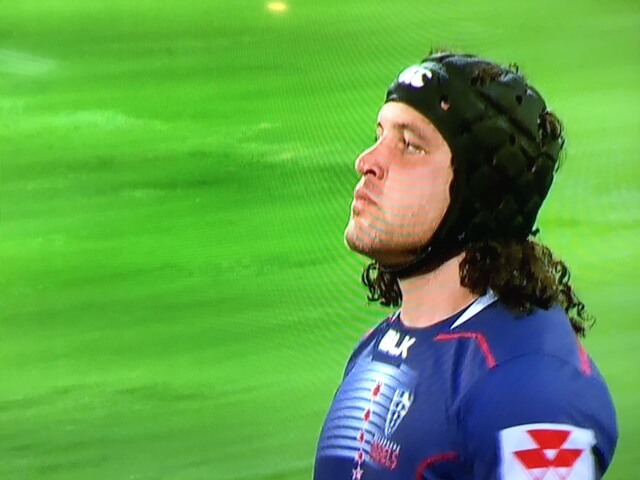 Thursdays Rugby News sees Cheika opening up, Reds make some changes, Defender gets more time than attacker, and Rangi hasn't given up on Wallabies dream.
---
CHEIKA BREAKS HIS SILENCES
After making is first appearance in public via the Green and Gold Podcast, it appears Wallabies coach Michael Cheika is making up for lost time as he continues to do plenty of media during his European come back tour.

Speaking as a special guest on the Off The Ball Roadshow in Dublin, Cheika had the chance to open up about many things including his Lebanese heritage, his time in fashion and not knowing who Beyonce was. I am sure she doesn't know who he is either.

He also had the opportunity to open up about some Rugby related stuff, including the difficult decision to sack Wallabies attack coach Stephen Larkham.

"[It was] tough. For a friend, maybe not anymore, I'm not sure," Cheika said. "One thing's for sure, I don't blame anyone for anything, I always take responsibility and that's what you do as a head coach when things aren't going right for you because you want to protect those people. And at the same time you need to do things to shake it up a little bit.

"So [it was] very tough but I just think that sometimes you've got to make those [decisions]. It wasn't just him there were four or five others that we made changes to in the team and I'm sure that when we go to the World Cup the team will be in the right position and feeling the right way, partly because of some of those changes of what's come in and what we've needed to change."

The decision to remove Larkham, High Performance Manager Hayden Masters and "four or five" other staff came after some serious reflection post the Wallabies worst season winning four out of 13 matches.

"More challenging myself as to what will be the thing I do now to make the change?" he said. "After the season I spent a week really detailed, just myself, going through, removing the emotional connections, going through exactly what I needed to do to make sure that this season was bright and more enjoyable and that we don't live the peaks and troughs. That we just build and build and build until we get to where we want to go."

That building stage led to the controversial fitness camp back in January, that Cheika has now broken his silence on.

"Even though the Super Rugby coaches mightn't have wanted me to, we went to a nice big hill, had a DJ playing at the top, pumping out the tunes, and they were just running up and running down," Cheika revealed in a live podcast recording at Dublin's Olympia theatre last week.

"The Sydney Roosters came down too, they ran hills with us at the same time. That's all they needed, to say 'this is the stuff you don't want to do that you've got to do'."

It was the same model that Cheika used as coach of the Leinster to turn that team into European champions. The idea of doing stuff you don't like.

"Success will come when you do the things that you don't really want to do all the time," he told an Irish sports podcast in Dublin.

"All I did with these guys [Leinster] was just guide them into the things they didn't want to do all the time, made them do it initially until then they started to want to do it. From there it took on a life of its own.

"I used to tell them 'you've got to run up there and you've got to smile while you're running up there. That's pretty forced but I did the same when I took the Wallabies into camp."

The camp first drew attention when a pattern of soft tissue injuries was noticed, where David Pocock, Nick Phipps, Dane Haylett-Petty and Adam Coleman all returned to their Super Clubs carrying similar calf injuries.

Rugby Australia announced a review of the camp and the training procedures.
REDS TEAM NEWS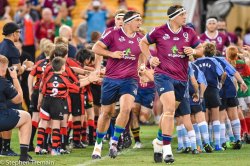 Reds coach Brad Thorn has made some big changes to his side as they look to get back on the winners list when they host the Stormers on Friday night.
Wallabies winger Sefa Niavalu will start at 13 with Samu Kerevi coming in to the no.12 jersey. The move comes after Chris Feauai-Sautia tweaked his hamstring against the Rebels, ruling him out for the match.
Recent debutant Jack Hardy will make his first Super Rugby start on the wing.
Reds attack coach Jim Mackay backs the move of Kerevi and Niavalu in the centres, suggesting that more ball to Kerevi at 12 would lead to more front foot forward attack.
"And then you've got Sefa there, who's played a lot of 13 as well, firstly at Wallabies and in NRC he had a season there as well," Mackay said.
"Just with the team we're playing, that will give us a lot of stability in defence to stop them getting over the advantage line and in attack as well it gives us some real power for go-forward rugby.
"And Jack's earned his opportunity there."
"The more he gets the ball, the better for us," Jim Mackay said.
"Samu's ability to play through the line and then you've got Sefa on his shoulder, we're excited about that opportunity as well.
"Moving Sefa in, he hopefully gets more touches of the ball.
"This year, we've seemed to play our best rugby when we've had two more strong, direct carriers there.
"We're coming up against a team that has big, strong centres and big back rowers, so while it's not always an attack-focused mindset, there's considerations around defence as well."
Back rower Angus Scott-Young was a late omission with concussion, after he failed his HIA against the Rebels, forcing a bit of a shift in the forward pack. 
"He could have played at a pinch with another day or two but with a head injury, we're just looking after his welfare.
"And he'll be coming with us to South Africa and we'll need everyone over there."
Harry Hockings will start in the second row with Lukhan Salakaia-Loto moving to blind side flanker.
"It does stretch things but at the same time, that's opportunities for others," Mackay said.
"We're fortunate that Lukhan can play equally well in the second row or backrow, so he shifts to the backrow and Hockings comes up which gives us good lineout presence as well.
Reds Team to face the Stormers:
1. JP Smith 2. Brandon Paenga-Amosa 3. Ruan Smith 4. Izack Rodda 5. Harry Hockings 6. Lukhan Salakaia-Loto 7. Liam Wright8. Scott Higginbotham 9. Tate McDermott 10. Bryce Hegarty 11. Jack Hardy 12. Samu Kerevi (c) 13. Sefa Naivalu 14. Filipo Daugunu 15. Hamish Stewart
Reserves
16. Alex Mafi 17. Harry Hoopert 18. Taniela Tupou 19. Angus Blyth 20. Fraser McReight 21. Moses Sorovi 22. Duncan Paia'aua 23. Isaac Lucas
BRITS GETS FOUR WEEKS
http://Embed from Getty Images

Bulls and Springboks hooker Schalk Brits has received a four week suspension for his involvement in a punch up in the Bulls match against the Sharks.
He won't be available until the start of May.
Interesting however is that his Sharks counterpart Akker van der Merwe, only received three weeks despite being seen as the instigator. 
Brits escaped the potential six weeks sentence by pleading guilty and being deems to act in self defence, but was unable to get it down to three weeks like van der Merwe, due to having been charged with striking twice before.
Both players were red carded at around the 60 minute mark of Saturday's match, after van der Merwe leaped onto Brits, and exchanged punches with him on the ground. The Bulls went on to win the match 19-16.
Brits later posted a photo on Instagram of van der Merwe and himself sharing a beer after the match with the caption: Tough game out there tonight!
What amazing game that we play and we can laugh and have a beer afterwards. #enjoyyourweekend
SANZAARs Judicial Committee has come under question lately with many of their decisions, and this is no different, with many on social media questioning how a man acting in self-defence can receive a greater punishment than the instigator. 
The Judicial Committee last week found Queensland Reds back rower guilty of striking James Slipper but only gave him a warning despite making contact with a closed fist to the back of Slippers head.
REFUSING TO GIVE UP ON YOUR DREAM: THE RANGI STORY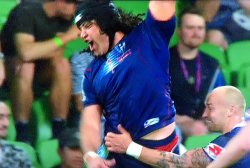 Despite being in standout form for the Melbourne Rebels this season, hooker Anaru Rangi hasn't had any contact from Wallabies coach Michael Cheika about a chance at becoming the Wallabies hooker.
The World Cup is 6 months away and after last season, the Wallabies No.2 jersey is still very much up for grabs but it appears it might not be for the 30 year old Rebels player. 
Brumbies Folau Fainga'a appears to be the favourite for the spot along side veteran Tatafu Polota-Nau who came back to play two matches form the Waratahs.
Fellow Rebels hooker Jordan Uelese, how as in Wallabies frame in 2017 is still a month away from returning to the game after his ACL injury.
Rangi has said all he can do is keep working hard, keep performing week in week out and hope to catch the eyes of the selectors.
"It's still a huge carrot that I'm chasing," said the Kiwi-born, who qualifies through residency.
"I hope it's form that matters most, and hard work, and as long as I keep doing that I reckon I still have a crack.
"It's still fairly early days so I'll keep pushing hard."
Before making his Super Rugby debut for the Western Force in 2016, Rangi had been working as a builder and last season he won the Rebels Players Player award.
Unlike previous years, the Melbourne team has strong depth in the hooker stocks, with Rangi as their first choice, but with Uelese coming back, former Brumby Robbie Abel off the bench, and former Waratah Hugh Roach putting pressure, each player has to work hard for that starting spot.
"There's massive competition here every week, competing, scratching and clawing to get every minute you can on the weekend," Rangi said.
"When you're training at that kind of intensity, come the game it's almost just like another training run."
When he went professional Rangi changed his diet and gave up the midweek beers, but now the Rebels are hoping he can add some more bulk to his 117kg frame, but Rangi is concerned it might affect his work rate around the ground, which has been so valuable to the Rebels and is what keeps grabbing the attention of the fans.
"The conditioning team wouldn't mind if I put a bit of weight on but I like to be busy out there and the work-rate thing is a big thing for me," he said.