Thursdays Rugby News sees McCaffrey wants players picked on merit, Reds make a big call, NZRU Boss steps down, and Rebels look too mentally toughen up.
---
FOCUS ON THE FIELD NOT THE GYM
Brumbies back rower Locky McCaffrey has been a standout for his team and in the Australian competition throughout the season. Yet it appears he is still not on the radar of the Australian selectors, after failing to receive an invitation to all three Wallaby camps this year.

McCaffrey has spoke to the Fox Rugby Podcast where he has implored selectors to look at what a player is achieving on the field, and not what they can do in the gym as he looked back on his unconventional story in professional rugby.

Growing up McCaffrey was a Sydney Schoolboy and Australian U20, playing one game for the Waratahs in 2010, seven for the Force in 2012-13 and eight for the Brumbies in 2014.

Unable to get sufficient game time in Australia, McCaffrey headed over to England, signing with the London Welsh.

"I wouldn't recommend it for every player," McCaffrey told the Fox Rugby Podcast.

"Every player has a different journey and way of getting to where they want to be.

"Going overseas isn't the first choice when you're 24 and trying to play Super Rugby and make it to the Wallabies.

"So it wasn't by choice that I went overseas and I'd never pretend it was.

"I went over to a team on minimum wage and we lost 42 games in a row.

"So it wasn't a great year but I got a lot of rugby under my belt.

"I played nearly 100 Premiership and European games in three years and I think what that did is you get to show your skills as a rugby player."

McCaffrey performed exceptionally well in the Championship team that he got offered a Premiership contract with English powerhouse club Leicester under Aaron Mauger. It was his time in the Premiership competition that he really began to see the difference between Australian Rugby and English Rugby.

"A lot of Super Rugby in Australia, over the last five years, from my perspective, if you're a good athlete and you're good in the gym and you're fast over 20m etc, you normally get the first jersey," McCaffrey said.

"And overseas, especially the rugby I played in England, they weren't too worried about what you lifted in the gym or how dynamic, how explosive you were or what your speed test was.

"They just looked at you on the field and if you played good rugby they kept picking you.

"Luckily for guys like me who aren't the best athletes and aren't these huge, explosive ball carriers, it gave me an opportunity to not get judged in the gym or the training paddock and I had coaches that judged me for what I did on a Saturday afternoon.

"Which definitely helped my case and in seasons over in the UK, where you play upwards of 40 games a season, they're a lot more focused on what you do on the pitch than anything you can do at training."

The length of the regular season, combined with the Heineken Cup means players have more opportunities to show off their skills on the football fields, as opposed to the gym or training field. Super Rugby seasons run for only 16 matches, with a preseason that runs almost the same length.

McCaffrey returned to the Brumbies last year to see the difference.

"So it's probably a different way of looking at seasons.

"Obviously the amount of games over there helps you get a bit more game time where if you're not in the starting team in Super Rugby, the seasons can go a lot quicker.

"So I wouldn't tell anyone to go overseas before you've had a real good crack here which I tried my best, but at the same time you look at a lot of players that go overseas and all of them sort of turn into better rugby players."

"Guys like Will Skelton, everyone's talking about him now and everyone back here was saying he's too slow or he's not fit enough or this or that — always negative things — and he's gone over and he's a European and English champion and now everyone's talking about bringing him back," McCaffrey said.

"It's interesting, I would love Australian rugby to judge players in the 80 minutes on game day instead of continually in the gym or how they look or their skinfolds.

"I guess that's the world we live in and professional sport has pretty high standards."
CHANGES AT THE REDS
The Queensland Reds have named their squad to take on the Blues on Friday as they play for pride, with the finals now officially out of contention. Something that assistant coach Jim McKay said cannot be undervalued. 
"Pride's massive for us. We have actually talked about it this week," he said.
"The guys have been fronting, especially the last month. We've been putting in the work, we've been putting in the effort.
"Yes, we've come up short but we've got to keep pushing.
"Every game is special. This game is no different. 
"And we want to get a bloody win. We're really determined just to get across the line and get a reward for all the effort we've been putting in."
Injury to their standout player Tate McDermott has paved the way for Scott Malolua to have his run on debut, a week after he received his starting debut.
"Tate picked up a slight knock last week. It would have been touch and go whether he played but we just moved on early in the week and Scott deserves his chance." McKay said
"He's clearly one of the better nines in the Brisbane competition and it's a terrific pathway and recognition of the work he's done.
"He played well for us off the bench, he knows our systems and it's a really good opportunity for us and he'll bring a lot of energy."
Malolua beat out Moses Sorovi, who at the start of the season was the first choice no.9. Sorovi will come off the bench.
"Mo comes back off the bench and we know what Mo can do," McKay said.
Izack Rodda and Alex Mafi make their way back into the starting line ups, with Lukhan Salakaia-Loto rested under the Rugby Australia resting policy.
The Blues will be without two of their All Blacks, using this match to rest Rieko Ioane and Patrick Tuipulotu under the resting policy in New Zealand.
REDS (15-1): Bryce Hegarty, Jock Campbell, Chris Feauai-Sautia, Samu Kerevi (c), Filipo Daugunu, Matt McGahan, Scott Malolua, Scott Higginbotham, Liam Wright, Angus Scott-Young, Angus Blyth, Izack Rodda, Taniela Tupou, Alex Mafi, JP Smith
Reserves: Brandon Paenga-Amosa, Ruan Smith, Gav Luka, Harry Hockings, Adam Korczyk, Moses Sorovi, Duncan Paia'aua, Hamish Stewart
BLUES (15-1): Melani Nanai, Matt Duffie, TJ Faiane, Ma'a Nonu, Tanielu Tele'a, Otere Black, Augustine Pulu, Akira Ioane, Blake Gibson (c), Dalton Papalii, Scott Scrafton, Gerard Cowley-Tuioti, Ofa Tuungafasi, James Parsons, Alex Hodgman
Reserves: Leni Apisai, Marcel Renata, Lua Li, Tom Robinson, Josh Goodhue, Jonathan Ruru, Harry Plummer, Levi Aumua
Referee: Brendon Pickerill (NZ)
NZRU BOSS STEPS DOWN
After more than 25 years in rugby administration and 12 years as New Zealand Rugbys CEO, Steve Tew announced he will stand down.
Tew has had a long and successful career throughout his time in rugby, serving as the chief executive of the Canterbury Rugby Union and Crusaders Super Rugby franchise before joining New Zealand Rugby in 2001.
He replaced Chris Moller as chief executive in 2007.
Under his leadership, New Zealand have won back to back Rugby World Cups, including hosting in 2011, then more recently in Britain in 2015.
"After much reflection I've decided that this is the best time for me to make way for someone else to lead New Zealand Rugby into the future and a new phase for our national game," Tew said in a statement Wednesday.
"There are new and exciting changes coming as a result of the upcoming new international calendar; a changing broadcast environment as well as a new All Blacks head coach to be appointed, so it's the right time for me."
Tew is leaving at a challenging time for New Zealand Rugby, with the new broadcast deals up to being negotiated, and participation in the male game on the decline. Female participation in New Zealand has been on the incline recently, which is a positive for the game.
All Blacks coach Steve Hansen praised Tew for his efforts and believes he is the best CEO in New Zealand sport.
"On behalf of the All Blacks, I'd like to thank him for his unwavering support for the team and management. It's no coincidence that his time in the job has coincided with one of the most successful periods of All Blacks rugby. He'll be sadly missed by the entire team, who have always enjoyed his company, support and passion.
"Personally, I'd like to thank him for all the support and wisdom he has given me throughout a very long association. He gave me my first job as director of the Canterbury Rugby Academy and then various coaching roles following on from that. But he's been much more than just a great boss – he's been a very supportive friend – and I'm immensely proud to call him a mate.
 REBELS LOOKING TO BUILD MENTAL STRENGTH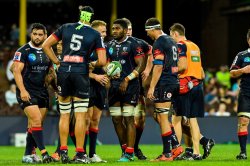 With their season on the line, and the toughest opponent (outside of Egon Seconds) a head of them, the Melbourne Rebels have turned to Tom Dawson-Squibb, a renowned mental leadership coach to improve on their flaws and stay focused for the final two weeks.
Not only do the Rebels gave to overcome the mountain of the Crusaders in Christchurch, but play host to the Chiefs the following week, a team who pulled the come back of the year to beat the Crusaders in Suva.
Assistant coach Kevin Foote spoke about how the team has used Dawson-Squibb throughout the year and called upon him after last weeks loss to the Waratahs.
"It's a focus on how we prepare ourselves," Foote said when asked how the Rebels would approach the clash against a team likely to already be gearing up for post-season play.
"We've got a great mental leadership coach, Tom Dawson-Squibb, who does a great job of getting our heads in the right place, setting the tone for the week and then we stay true to that.
"Don't get distracted, don't think about things that aren't going to put you on that course – you stay true to things you believe in and that takes care of your mental space.
"If you start thinking outside the box, if you start drifting and getting distracted, then that's when you can get yourself into trouble.
"So with the work of Tom, the coaches and everyone involved, we stay on course."
The Rebels still have players to be rested under the Rugby Australia policy, with many believing this would be the ideal match to rest players, writing it off as an automatic loss to field a full strength side against the Chiefs.
"I don't actually think we've got that luxury," he said.
"We started really well but we haven't gone so well later on in the comp, so for now, we just have to take every game as it comes and we're just thinking about the Crusaders at the moment and not the Chiefs.
"Obviously we're going to have to see who presents well after some knocks and bruises and there's some guys who need some Australian rugby rest but Dave will handle that and we'll put our best team forward."