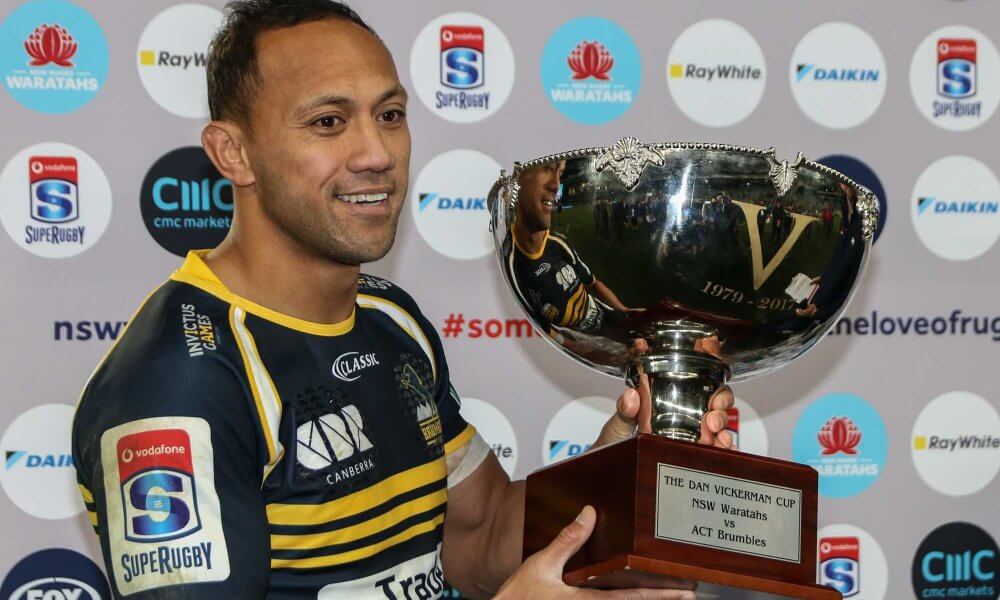 Thursday's Rugby News looks at the Brumbies inspiration heading into the finals, some good news for the Junior Wallabies, further sanctions for a Waratah and debate rages about the optimal amount of Super Rugby teams
---
Rise for Christ(ian)
The Brumbies are committed to sending out their inspirational captain and fly-half Chrisitan Lealiifano as a winner, with their first test coming on Saturday in the form of a quarter-final clash with Sharks.
Lealiifano has been a stalwart for the Brumbies over the past decade, serving as an inspiration both on and off the field during his journey back to rugby from leukaemia.
His announcement of his departure from Australian rugby came on Monday, where he revealed that he is set to join NTT Communications in the Japanese Top League next year.
This has motivated the players to send him off to Japan with his inaugural Super Rugby trophy, according to fullback Tom Banks.
"All the boys know how special he is to the group and how special he has been to the group now for a number of years," Banks said. "You can just feel the amount of respect he has in the group when he's holding the (room)."
"He's going to be a massive loss for this team and that's why we need to stand up and do this for him. It's one of the sole focuses of the team, to send him out with a title he deserves."
This was shared by injured Wallaby David Pocock, who was full of praise for his childhood friend and how he was able to provide players with a perspective outside of their rugby bubble.
"Someone like Christian, who has played his whole career here, he is the heart and soul of the current Brumbies team. You (as players) want to send him off on a good note," said Pocock.
"[Lealiifano] makes people feel at ease. Guys want to be around him. To sum him up, he takes rugby seriously but doesn't take himself seriously at all. I think that's a special thing. To see him back playing like he is, in such good form, it's inspirational actually. He is an amazing guy."
The Brumbies will be hoping for a strong performance throughout the finals as they send off Pocock along with Sam Carter and Henry Speight, who have already announced their intentions to leave the club after the season.
One down, one to go
The Junior Wallabies have received a timely boost, with halfback Michael McDonald free to play after receiving no further sanction following his red card against the Pumitas in their semi-final.
McDonald appeared before the judiciary panel after being sent-off just before half-time for a second yellow card, with the panel deeming no further sanction was required for his indiscretion.
However, the Junior Wallabies still face another trip to the judiciary, with hooker Lachlan Lonergan facing the panel on Thursday morning after being cited for a shoulder charge.
Lonegan was instrumental in the semi-final victory, diving over for a try during the second half fight back, however, has been cited for striking Argentinian no.8 Juan Bautista Pedemonte with his shoulder under law 9.12.
If Lonergan can escape suspension, this should provide coach Jason Gilmore with a full allotment of players, with fly-half Will Harrison expected to recover from a concussion sustained during the side's final pool game against England.
Gilmore was proud of the side's defence structure and intensity over the tournament, highlighting it as their key metric for success heading into the final.
"I suppose playing 78 minutes a man short and then you get it again for 50 minutes of this game, (that defence has to be on point) and it is certainly something we're going to continue into that next game," Gilmore said.
Gilmore was full of praise for their opponents, France, who will be looking to go back to back after winning the tournament last year over England.
"France won it last year, they're defending champions and they'll want to hold on to the trophy. They're a big side and they've got a couple of boys back from last year, so our forward pack have to aim up to let our backs do their thing."
Captain Frasier McReight was confident that the side could cap off their strong six month period with a win, noting that the strong culture built by Gilmore and the coaching staff as the main point of difference from previous years.
"I think our biggest attribute is our culture, our team environment. We do everything together, we're very tight and that helps massively when you're competing, you're sweating and you're bleeding for your mates for 80 minutes."
Latu's further sanctions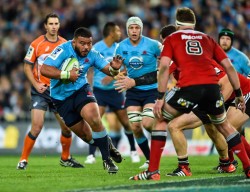 Tolu Latu has been banned for four games and fined $5000 by Rugby Australia's integrity unit.
Latu was found drunk and asleep at the wheel of a moving car in the early hours of May 16th near Rugby HQ.
The suspension comes after he was fined $1300 and had his driver's license suspended for three months after fronting court last week.
"At the conclusion of the court proceedings, the Rugby Australia Integrity Unit found has determined that Latu had committed a mid-level breach of the Professional Player Code of Conduct and has issued a sanction that includes a four (4) match suspension and a fine of $5,000," the governing body said in a statement.
"The financial penalty took into account that Latu has already accumulated out-of-pocket expenses totalling approximately $7,000 as a result of the court proceedings. Latu will also be required to participate in any counselling and/or alcohol education programs as deemed necessary by Rugby AU and/or the Waratahs for a period of 12 months."
His suspended period will be backdated to cover the three games that the Waratahs had already stood him down for, ensuring that he will only miss Sydney Uni's Shute Shield clash with Eastwood this week.
Whilst this seems like a slap on the wrist, Rugby Australia has deemed it satisfactory due to the circumstances facing Latu, along with his actions in taking responsibility for his conduct and acceptance of guilt.
"Other factors were considered in arriving at the sanction, including Latu's personal circumstances leading up to the event as well as his failure to disclose the incident to his employers before it became public via the media," the statement said.
"It was also acknowledged that Latu took responsibility for his conduct and made a public statement, accepting responsibility and appreciating the seriousness of the situation and the impact on his team and the sport and that he had pleaded guilty at the first available opportunity to the two criminal offences."
Four into three
The disappointing finish to the season for the majority of the Australian Super Rugby teams has thrown up the question regarding the optimal amount of teams in the competition heading forward.
This had led to some suggestions from ESPN writer Sam Bruce that the number of teams should be reduced from four to three.
The article references the lack of success that Australian teams have had against NZ and South African teams- with teams only managing to win 10 out of 32 games in the past two years.
Whilst this is a damming statistic on paper, this figure is a significant improvement on last year, highlighted by the Waratahs being one of two teams to beat the ladder leading Crusaders this year, and fails to mention the dozen or so matches within that batch that Australian teams were competitive in, coming within seven points of winning.
The article references the quotes by Stephen Holies on Fox Sports Super Rugby Wrap, who criticises the current structure of Australian rugby that makes it too easy for players to become professional.
"We finished third – the Brumbies – then 11th, 12th and 14th; we can't applaud mediocrity," Hoiles said on Fox Sports Super Rugby Wrap. I think competition for spots and salaries will drive standards through the roof, I just think it's become a little bit too easy to make a professional squad in Australian rugby at the moment."
It goes onto to mention the brain drain that is facing Australian Rugby, with players such as Will Genia and Bernard Foley expected to join the long list of Wallabies that are heading overseas (which is the common cycle after a World Cup for most teams, generally followed by the creation/development of new talent).
However, the thoughts of a rugby "crisis" have been greatly exaggerated in the words of Mark Twain, according to the RUPA (and myself).
"Both the Queensland Reds and NSW Waratahs won Super Rugby championships when there were five Australia teams, and this year all four Australian teams were in contention for finals heading into the latter stages of an extremely tight competition," RUPA Chief Executive Prataal Raj told ESPN.
"We believe that the focus needs to be on keeping Australian talent playing here at home for the four existing Australian teams, providing the best possible platform for success in Super Rugby, for the Wallabies, and for the overall growth of the game."