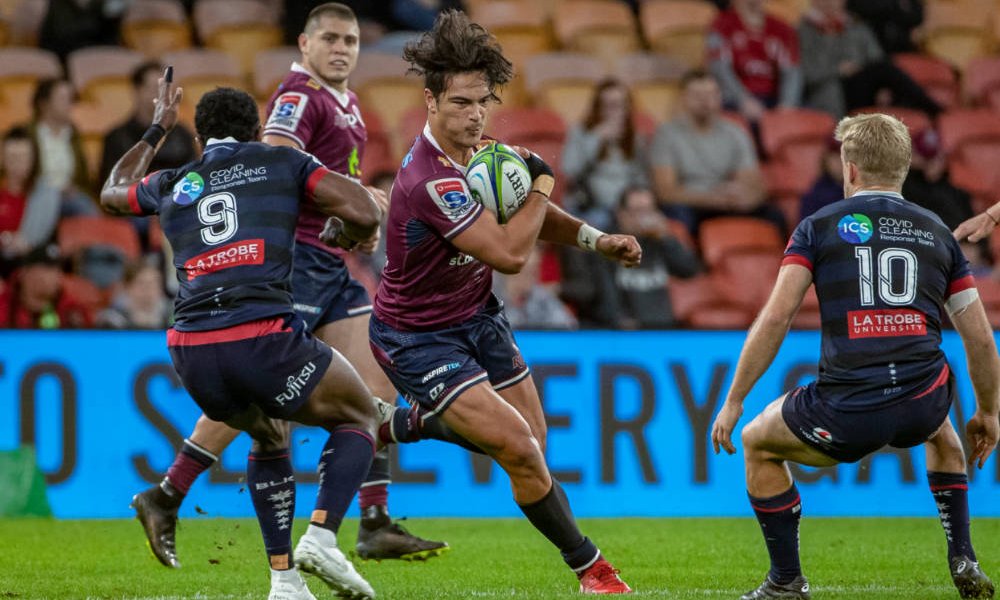 Thursday's Rugby news looks at the Super Rugby AU playoff between the Rebels and the Reds, proposes a return of the Probables V Possibles trial, as a beloved Tah moves West, and fans are left in the dark about the Rugby Championship.
---
Paying-off potential
Two teams with plenty of potential will be looking to cash in when the Melbourne Rebels travel to travel Suncorp Stadium to take on the Queensland Reds in the first ever Super Rugby AU playoff on Saturday night.
For the Rebels, they will be looking to put their star-studded backline to good use.
This will be the Rebels first finals of any kind in Super Rugby, and their Wallabies players have to step it up in order to clinch a Grand Final berth.
Meanwhile, the Queensland Reds are starting to put together the pieces and can be a formidable side when they get the ball rolling. Coach Brad Thorn has shirked the "young team" tag for the last couple of seasons, and this year above any other would be a golden opportunity to nab some silverware.
It's true that senior players are few and far between at the Reds, but it is also true that most of their young guns have been in the system for a while, and need to repay the faith for Brad Thorn, who is quickly running out 're-building years.'
Thorn seemingly instilled the virtues of a winning attitude into the squad at training this week and Reds rookie Fraser McReight says the squad was hyped up for finals footy after getting the backing from the coach.
"(Coach Brad Thorn) sort of gives you a bit of confidence in his own rugged terms, a license to be energetic, be a pest," he said.
"My big growth was picking and choosing my battles against quality opposition, who can clean you out really easily.
"I've been pinged multiple times but it's a learning curve … and it's my job to go hunting for the ball."
A crowd of 26,500 will be permitted to attend the match, with the Reds hopeful for a strong turnout.
Best of the best
There are growing calls for a Probables V Possibles game to be scheduled before the up-coming test season.
Bringing back the Probables v Possibles trial could provide quality content for broadcasters and give the wider playing squad meaningful game minutes leading into a unique test window, with so much of the international schedule undecided. Already Western Force and NSW Waratahs players picked in Dave Rennie's PONI squad have been asked to stay and prepare for national duties, and a squad of 46 players is expected to be announced following the conclusion of Super Rugby AU.
The enlarged squad is due to the fact that the Wallabies won't have the luxury of being able to call on troops from outside the COVID-19 quarantine bubble. A Probable V Possibles match would at least give the wider training group something to do beyond holding tackle pads.
As opposed to a State of the Union game, which would exclude quality players from outside of NSW and Queensland, a Probables v Possibles match would provide the spectacle of some tasty match ups going head-to-head for the right to don a gold jersey. Sio V Tupou, White V McDermott, O'Connor V Toomua, DHP V Banks.
Michael Cheika held an entertaining Wallabies trial back in 2018, under lights at Leichhardt Oval in Sydney in front of a healthy crowd of nearly 10,000 spectators.
Last weekend's North V South match was a roaring success, and Rugby Australia needs to capitalise on the national profile of the Wallabies as much as possible.
It was also proposed by Matt Toomua, among other players past and present, that a Pasifika V Super Rugby All Stars could provide quite the spectacle, as well as engaging with Australia's fervent Polynesian supporter base.
Whatever format, a match up between the best Super Rugby players fighting for higher honours is an exciting prospect. What should the match up be called?
Moving West
The Western Force has announced the signing of Wallabies prop Tom Robertson.
Robertson arrives from the Waratahs after playing 62 games for the NSW side, and has 24 Wallabies caps to his name.
In fact, the 26-year-old became Wallaby No. 898 after making his debut in Perth at HBF Park in the 36-20 Rugby Championship victory over Argentina.
The Dubbo Kangaroos junior said the opportunity to work with Force head coach Tim Sampson was a major factor in his decision to head west.
"One of the main reasons why I wanted to play for the Force next year is Tim Sampson, who I think is world class," Robertson explained. "Tim has a great reputation within the rugby community, and I can't wait to learn and play under him."
"I've played with a lot of the Force players before, the likes of Fergus Lee-Warner and Kyle Godwin, who are great guys."
"I'm really motivated to help the Western Force squad grow. Western Australia has a lot of young rising talent, and the Force has shown this year that they can play great rugby."
Force head coach Sampson said Robertson's ability to switch to either side of the scrum would prove invaluable to his side.
"He's a versatile prop, who can play at either tight-head or loose-head and will be a great addition to the quality of front rowers within our current squad," Sampson said.
"Although still young, Tom comes with experience and we look forward to welcoming him to Western Australia, a place I am sure he has fond memories of after making his Wallabies debut at our home ground back in 2016".
The Force plan on making a number of other player announcements in the coming weeks.
In the dark
The details of this year's Rugby Championship are hopefully set to become a little bit clearer, with a conference call planned between the SANZAAR partners today to resolve confusion surrounding the tournament.
Administrators have yet to nail down plans for the annual test championship, with organisations from South Africa, New Zealand, Australia and Argentina all coping with the Covid-19 pandemic at different stages.
All Blacks coach Ian Foster named his first squad on Sunday, and new Wallabies coach Dave Rennie plans to unveil his squad after the Super Rugby AU final, but so far, all that is on the schedule is tentative plans for a Bledisloe Cup series.
SANZAAR has not released much information beyond saying that they plan to run the championship in a 'hub' scenario in the November-December test window. The only viable countries to host it would be Australia and New Zealand, with six Argentine players testing positive for Covid, and South Africa remaining typically non-committal about the whole thing as they only just now return to rugby.
Some reports suggest New Zealand will host the other nations for the duration of the tournament starting in November, while others suggest that Australia could pinch the hosting rights. It still remains very much up-in-the-air, and some pundits are getting frustrated. Sir John Kirwan blew up about it on The Breakdown on SkySports.
"What's upset me the most, is, we have created an amazing environment in New Zealand. Even this last lockdown was only in Auckland. Our Prime Minister said the other day it can happen, so I don't know why the tournament is not here. How can Fiji go to London?," Kirwan said.
"So why aren't we having this competition in New Zealand? With England, with whoever it is. We've made all this sacrifice to make it the safest country in the world and what is happening? I've heard it's going to be in Brisbane. Fiji is going north. What is happening?"