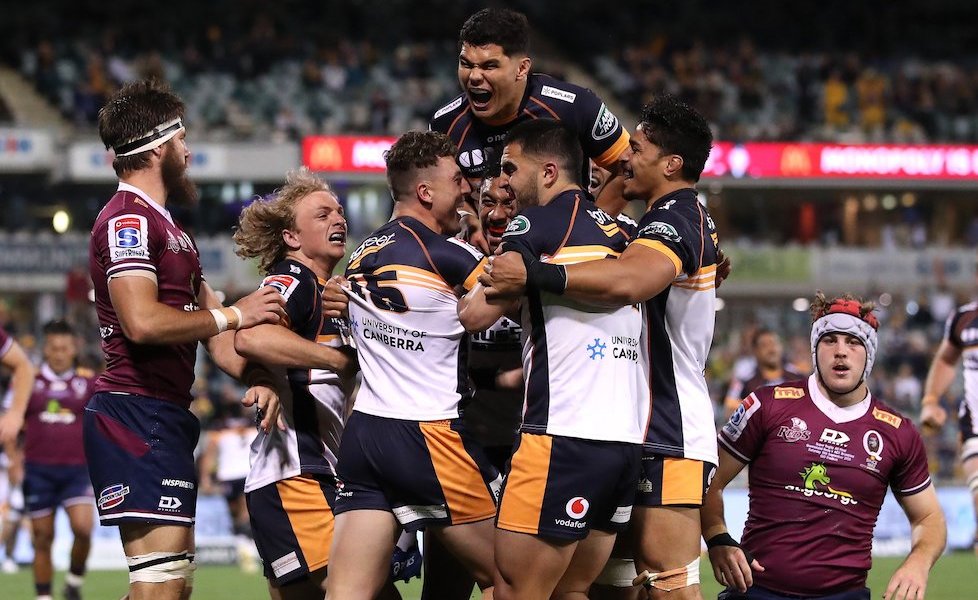 Thursday's Rugby news looks at the draw for the 2021 Super Rugby AU season, as the Western Force bolster their squad with some home-grown talent, while SANZAAR hands down its ban for All Black Ofa Tuungafasi and signing rumours emerge from Waratahs camp.
---
Super Rugby AU is back
Rugby Australia has confirmed the draw for the Super Rugby AU 2021 season. All 22 matches in the tournament will now be shown live through Stan Sports, set to launch next year with Rugby Union as their flagship offering.
The Western Force will return to the five-team tournament, with the competition to run for 10 weeks, followed by a finals series which sees second place to host third in a qualifying final on 1 May to earn the right to take on the minor-premiership winner in the Grand Final on 8 May.
"What a way to start 2021 and our new partnership with Stan and Nine," Rugby Australia interim CEO Rob Clarke said on Wednesday.
"Our players are raring to go and are really keen put on a show for fans, with Super Rugby AU to light up living rooms right around the country.
"Super Rugby AU was terrific in 2020 and will get better next year as this next crop of Australian Rugby stars continue to develop, and they are complimented by some genuinely talented international players who have since arrived on our shores."
The Sydney Morning Herald is reporting that Rugby Australia and New Zealand Rugby will announce a trans-Tasman competition following their domestic competitions.
A six-week competition, in which the five Australian teams will play each New Zealand franchise once, is expected to be fast-tracked for 2021. The two top teams will then square off in a trans-Tasman Super Rugby final.
Home-grown talent
The Western Force has pinched back one of its young Western Australian players, after signing Australian U20 World Cup player Michael McDonald to a two-year contract.
McDonald made his Super Rugby debut this year for the NSW Waratahs after crossing the Nullarbor for more playing time. Now he is back at the club that started it all.
"It means the world to me to be back in Perth and with the Force. I absolutely love the place, so to be given the opportunity to pull the Force jersey on again is amazing," McDonald said.
"I'm very passionate about this club. I grew up supporting and watching the Western Force since moving to Australia from Ireland when I was 13."
Originally hailing from Ireland, McDonald is keen to link up with Irish rugby legend Rob Kearney, who was recently announced as the marquee signing for the upcoming season.
"It's a dream come true to potentially line-up for the club alongside Rob Kearney. As a kid I watched him play for Ireland and Leinster for years. I'm really looking forward to learning as much as I can from him," McDonald said.
This follows news that flyhalf Jake McIntyre will join the club on a two-year contract from French Top 14 side ASM Clermont Auvergne.
Prop suspended
All Blacks prop Ofa Tuungafasi has been hit with a three-week suspension by SANZAAR following his red card in the first half of Bledisloe IV at Suncorp last weekend.
He hit Wallabies wing Tom Wright with a dangerous high shot.
SANZAAR's judicial committee has slapped Tuungafasi with a ban that will rule the prop out until the beginning on next year's Super Rugby Aotearoa.
The three-man SANZAAR judicial committee deemed that Tuungafasi contravened Law 9.13: "A player must not tackle an opponent early, late or dangerously."
"Having conducted a detailed review of all the available evidence, including all camera angles and additional evidence, including submissions from the player and from his legal representative, Stephen Cottrell, by majority decision the judicial committee upheld the red card under Law 9.13," said a SANZAAR statement.
This means Tuungafasi will be out of action up to and including 20 February, a week before the Blues kick-off their season against the Hurricanes in Wellington.
The ban on Tuungafasi for three weeks is similar to the ban handed to Wallabies loose forward Lachie Swinton, who was also red carded on debut following a head high tackle on All Blacks lock Sam Whitelock.
Swinton was handed a four-week suspension for also contravening Law 9.13.
Swinton's punishment was reduced from its initial six-week due to various mitigating factors, of which included the player's early guilty plea.
Exodus continues
The NSW Waratahs look set to lose more experience in their roster, with Karmichael Hunt and Cam Clark joining the long list of departures in 2021. The Sydney Morning Herald believes Hunt and Clark have not been offered deals to stay.
They join the likes of Wallabies captain Michael Hooper (sabbatical), Waratahs captain Rob Simmons, Ned Hanigan, Damien Fitzpatrick (retired), Tom Robertson, Tom Staniforth, Jed Holloway, Ryan McCauley, Michael McDonald and Pat Tafa heading elsewhere.
Having a broadcast deal sorted earlier might have helped the Waratahs secure talent, but the team is now committed to supporting their group of rising stars.
"You probably are going to lock in players a lot easier [had a deal been done] because they're certain about their future," Waratahs general manager Tim Rapp told SMH. "The uncertainty was the biggest thing that has affected people's decision-making.
"We are losing some really quality people and some quality players who have got a bucketload of experience within that group. That's definitely something you can't shy away from. It's fact. But we've got guys in and around Wallabies squads, which is going to be of benefit to them and us when they come back with us.
"It's been conflicting, your emotions to it all, but at the end of the day you understand that they've got to do the best things for themselves. There's a large number of people in time who I think will come back after they've had their opportunities elsewhere."
Is there any club rugby players that the Waratahs should sign to bolster their squad for next year?