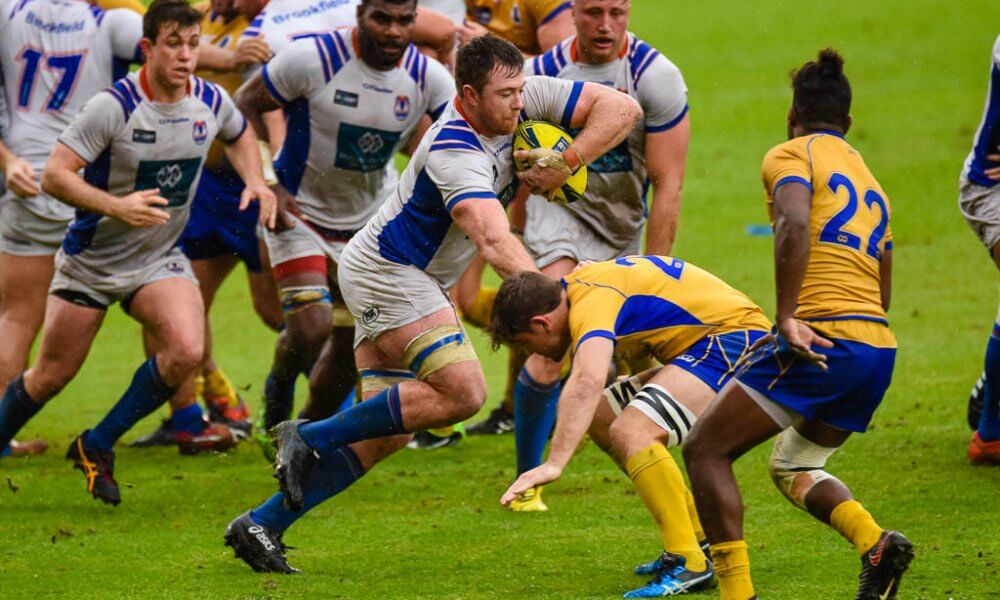 Thursday's Rugby news see a replacement for Uelese, NSW to field two teams in the NRC, Aussie U20s call in back up and Dave Wessels talks Rebels Vs Force
---
LATU NAMED AS UELESE'S REPLACEMENT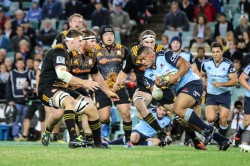 When Rebels hooker Jordan Uelese was ruled out of the June Series with an ruptured ACL, Wallabies coach Michael Cheika had to find a replacement.

With our experienced hooker stocks running low, Cheika moved to select four-capped hooker Tolu Latu, the equal highest capped hooker in Australia.

This would seem like an odd move for Cheika had he not already picked a handful of out of favour, injured or suspended players, so it makes sense he would pick the guy who hasn't held onto his Waratahs Jersey.

"He's been out of favour at the Tahs for a lot of the year and he's coming back into favour a little. His two or three games he's played, I think he's had a good impact and he's been excellent since he's been in camp," said the coach.

The out of favour Waratahs hooker appears to have found favour with Cheik, as Latu hasn't started for the Waratahs since round 15 2017 and was left out of the 2017 Spring Tour squad all together.

"Right now he's our most-capped (Four caps) hooker in Australia, so he's got that little bit of experience playing in the big match atmosphere," Wallabies coach Michael Cheika said of Latu. (Via ESPN)

All hope is not lost for Melbourne Rebels hooker Anaru Rangi, who could potentially join the squad despite not being picked as Uelese's replacement. Right now Cheik wants to focus on his already two uncapped hookers.

"Anaru Rangi has had a really good season with Melbourne too so he's definitely not out of the equation. I'm just keen for the two uncapped hookers (Paenga-Amosa and Fainga'a) to have a little experience around."

With a lack of experience, I would have been looking for a guy who has played a handful of 80 minute performances with the same intensity each week, someone like that might be a little more useful, even if it is off the bench.

Michael Cheika is expected to name his team to face Ireland this afternoon.
AND THEN THERE WERE TWO
NSW Rugby plan to field only two teams in the 2018 NRC competition this year, The Sydney Rays and New South Wales Country Eagles, meaning no more Greater Sydney Rams. (Via Rugby.com.au)
The Rams are the second NSW team to be cut from the competition, after the Sydney Stars were disbanded post the 2015 season.
This follows the current Queensland structure of City and Country teams.
NSW General Manager Tim Rapp believes the move will all for a more defined pathway in NSW rugby, along with reigniting a traditional rivalry between City and Country teams.
"The decision to move to two teams means that our pathways are more defined and aligned with our overall High Performance goals of creating opportunities for our players and support staff to be involved at a higher level. At the same time, we are bringing back the rivalry that underlines Sydney and NSW Country contests like never before," Rapp said. (Via nswwaratahs.com.au)
By reducing the number of NRC teams, it will see Waratahs players distributed evenly, leading to be better competition and rivalry.
"There are players who are proud of their heritage, be it Sydney or NSW Country and that's what this competition is all about. Seeing NSW Waratahs players representing their team will add extra spice to the derbies in particular."Tim Rapp said when speaking to the media.
The move will definitely strengthen the NSW teams, though it is interesting, given that Rugby Australia is keen to grow the game that they think cutting teams will fix it.
The NRC is a great platform for Rugby to grow. You can see there is an interest in it, but like all good things they take time to grow. Hopefully RA can work out what they want the NRC to be so we can continue to enjoy rugby even longer in Australia.
REBELS VS FORCE: A MOMENTOUS OCCASION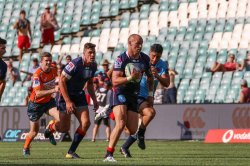 For the first time in a long time the idea of the Melbourne Rebels versus the Western Force can be focused on the Rugby. The Rebels are heading west to take on the Force in a World Series Rugby match on Saturday 9thof June (same night as the Wallabies vs. Ireland.)
It will be a homecoming for a few of the Rebels players and coaches,
Speaking with melbournerebels.com, Rebels Head Coach Dave Wessels had this to say about the event
"We get a special game (this) week, we get to go and play the Western Force in Perth,"
"It will be a momentous occasion for both clubs because it's really a sign that rugby people want to put things that have happened in the past behind us and we want to move on and try to support each other and try to support the game that we love."
Wessels takes a lot of pride in the fact that the Rebels are the only Aussie conference team to play the Force this season, something that is really important to him given everything the two clubs endured last year.
Wessels is expected to name a large number of former Western Force players to make the trip west this afternoon. Billy Meakes and Matt Phillip are already packing if you follow their Instagram accounts.
For those of you still wondering what separates World Series Rugby from Super Rugby (besides Twiggy Forests money), there is a handy cheat sheet via melbournerebels.com
The rules are designed to keep the game moving faster, turning it into a bigger spectator event.
There are rolling substitutionswith teams able to make 12 changes, as opposed to the regular 8.
The scrums can only last 60 seconds; something designed to speed up the part of our game that separates us from other sports. This put the responsibility on players to keep the scrum up.
An even quicker line out, with attacking teams able to throw the ball once they are set up, regardless of where the ref or defending team are.
And finally there is the Power Try. What is that you ask? Well its like a Super Goal in AFL. It is a reward of 7 points (9 if converted) for scoring in a spectacular fashion.
A Power Try is scored when the attacking team score through continuous play starting in there own 22. If there is no change in possession or penalties taken then a 7-point try is awarded.
The match will kick off Saturday at 10pm AEST.
AUSSIE U20s CALLING IN REINFORCEMENTS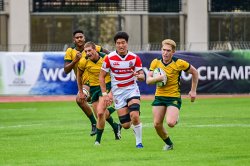 Injuries and the June Series have allowed Reds Rising stars Hamish Stewart, Harry Hockings and Jordan Petaia to be called into the Australian U20s team for their must win game against New Zealand.
The Reds trio will replace the injured Len Ikitau, Trevor Hosea and James Ramm. Prop Lawrence Tominikowill also miss the game after receiving a three match suspension for a dangerous tackle against Japan.
The Aussies went down to the Kiwi's in the Oceania U20s competition in April this year, fall 43-28. Junior Wallabies coach Jason Gilmore has said that Oceania loss was a line in the sand for his team that continues to improve.
"Leading into the World Cup, we hadn't played together as a group for a while, so they were a bit rusty, but certainly you can see the growth from the Wales to the Japan game." He said (Via  rugby.com.au)
TEAM
IN: Hamish Stewart, Harry Hockings, Jordan Petaia
OUT: Lawrence Tominiko, Isiah Latu, Rory Suttor
Harry Hoopert, Queensland
Efi Maa'afu, Queensland
Tom Ross, ACT
Angus Blyth, Queensland
Harry Hockings, Queensland
Michael Wood, Queensland
Fraser McReight, Queensland
Josh Kemeny, NSW
Tate McDermott (c), Queensland
Hamish Stewart, Queensland
Jordan Petaia, Queensland
Isaac Lucas, Queensland
Semisi Tupou, Victoria
Matt McTaggart, NSW
Mack Hansen, ACT
Reserves
Matt Faessler, Queensland
Sama Malolo, Victoria
George Francis, NSW
Esei Ha'angana, Victoria
Pat Tafa, NSW
Ryan Lonergan (vc), ACT
Bayley Kuenzle, NSW
Will Harrison, NSW