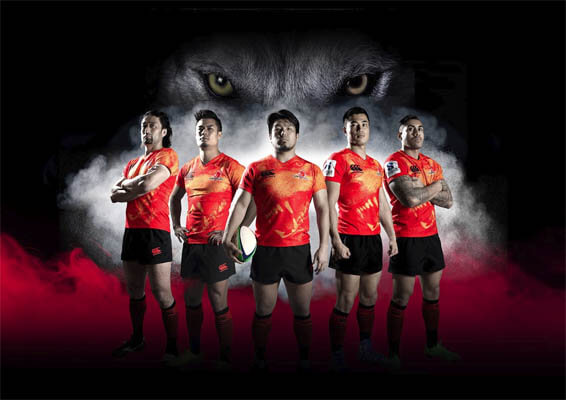 On Friday I recorded a podcast with Rich Freeman, a British rugby writer living in Japan, for the the Dropped Kick-Off pod. It was just me, Nick W was off at the Nickelback or Boyzone concert or something.
During the chat, I asked Rich about the Sunwolves, their past, present and future, the upcoming World Cup, and for a few tips about what to do and where to go in Japan.
However, technology got in the way and now I've lost the recording. So in place of the podcast, there's this article. Hopefully it makes up for it. If not, maybe you could put it in a text-to-speech program to get that podcast feel.
The Sunwolves Importance
The Top League, Japan's major rugby competition, is made of teams backed by companies e.g. Panasonic Wild Knights, Mitsubishi Dynaboars. Historically, rugby in Japan has been focussed on company clubs and universities.
While there are a few famous imports in Japanese rugby, many of the players are employees playing for their company team, or are playing rugby professionally and hope to have their club time rewarded with a job after they retire.
The Sunwolves, in contrast, were a team that anyone could belong to. While many people at club games are supporters who have "come to do their duty" – i.e. cheer on their company – the Sunwolves games had a "completely different atmosphere", according to Rich.
The Cut
Rugby politics played a huge part in the Sunwolves demise, according to Rich. As Australian rugby fans know well, introducing a new, higher layer (Super Rugby) on top of the existing base (the Top League) results in a lot of grumbling.
Reports about the reasons behind the Sunwolves demise focussed on the JRFU's contribution to the Sunwolves.
They were asked to pay a fee "no one else was asked to pay" to play in the competition; although, as Rich said, if the current powers-that-be in the Japanese rugby were fully supportive of the Sunwolves, the money (said to be about $US 7m) could be found. This fee was said to be for a 'participation fee' and for the logistics expenses of the other teams.
Another force at play was the SARU. The South Africans "were never that keen on the Sunwolves joining the first place", hence the Singapore games.
Compounding that was the bitterness (!) caused by a Japanese official voting against South African interests 3 times at World Rugby meetings – including for example, voting for France to be 2023 World Cup hosts instead of the republic.
When push came to shove during the recent broadcasting rights negotiations, South Africa pushed hard on Japan to pay their extra fee.
When the JRFU replied that actually the will to underwrite the Sunwolves – who Rich says have only started making a profit and paying the players, previously the players were being paid by their club teams – wasn't there anymore, the South Africans then turned to Rugby Australia and the NZRU and told them that the Sunwolves' fee would come out of their rights money.
That's when the Australia's and New Zealand's heads turned. The Sunwolves were out.
Check out Rich's article for the full, fleshed-out detail.
Future Possibilities
A ringing question asked on the GAGR pod was, "What are the players, fans, and staff going to do next year?"
"Good question," said Rich – aw shucks, thanks Rich – "No one really knows.
"Why, if you're a Japanese rugby player, would you go play for the Sunwolves for 1 year when you could gain favour at a Top League team, or continue your development somewhere else?"
Broadcast rights negotiations are to blame for the odd timing. The Sunwolves' cutting after the 2020 season corresponds to the end of the current TV agreement.
This agreement is just for Super sides; meanwhile World Rugby might be putting together another agreement – the mooted Nations League. This, Rich informed me, could be the game changer.
If the Nations League, or something similar, came in which resulted in Japan joining the Rugby Championship, the domino effect of that could directly threaten Super Rugby.
"The Top League currently runs from around October to January. So if Japan were to get into the Rugby Championship, these international games would take place in June, July, August. Those months are pre-season, so the Rugby Championship for Japan would basically be pre-season games for the players.
"So one idea being thrown about would be to move the Top League to start in January or February – which would put it in direct competition with Super Rugby. Super Rugby might then have a problem on its hands keeping all its players, as the Top League can offer better wages."
It's interesting to think of the possibilities if the Top League was moved next to Super – and Rapid Rugby (no chat about whether Japan is looking towards Twiggy or not) – in the rugby calendar. NZ and Australia have been eyeing off Japan as potential expansion path, where riches can be found to fight off the growing threat of European club money.
"There's also been rumours of club teams, from America say, coming into to play with the Japanese," Rich continued, dulling the fantasy a bit. "Not confirmed at all, but there's rumours."
The Sunwolves getting cut the season before the World Cup is obviously a shame.
"Who are those people in Japan going to follow after the World Cup, after all that goodwill and interest you'd expect to be created by the World Cup, going to go if the Sunwolves are getting cut?," said Rich.
Asked how long it might take the Japanese to decide what their next step is, with memories of the Rugby Australia's playing-hard-to-get about the Force decision, Rich said it'd take a long time.
"Knowing this place, it'll go to several committees, committee after committee, until it will go to a council made of experts, until they make their decision [as to what the JRFU do next]."
The World Cup and Visiting Japan
Finally, onto some good news. The Rugby World Cup in Japan is only months away – the first game is on the 20 September – and Rich predicts it'll be a great experience for fans.
"It'll be efficiently run, the Japanese are very welcoming, so it'll be great for fans. I've even heard some talk that there'll be beer-ordering system of service in place for the games, fans will be served beer in their seats. It'll be great, no doubt about that.The trains are great too. It'll be easy to get around"
As someone who has recently travelled to Japan, I concur! Japan's ridiculously efficient – as Rich said, one train driver got in a lot of trouble once because his train was 20 seconds early. In Japan, if the train is meant to arrive at 2:43, it arrives at 2:43. Not 2:42, not 2:44.
Rich recommends foreign visitors get the JR Rail Pass – only available outside of Japan (so buy it before you get in) – which will get you on intercity bullet trains for free. It will also get you for free on JR subway lines in Tokyo (but not the private lines).
If you want my personal recommendations:
Go to the Robot Restaurant in Shinjuku in Tokyo;
Tokyo is massive, and sometimes it feels a bit spread thin. I found the smaller cities (like Hiroshima) more enjoyable
The JR Pass really comes in handy
If you are to stay in Tokyo, stay in or around the Shibuya/Shinjuku areas. To the left of the imperial palace, you'll find most things worth doing are around these two spots. As a plus, they're both on the main train line. If you're young,
Roppongi is the nightlife area but in Rich's words, "it's a bit seedy"
Japan isn't the high tech wonderland you might think it is. For example, cash is used there more often, and most bullet trains don't have WiFi for even their 4h+ journeys
Japanese people don't tend to wear sunnies or shorts. Be prepared to get shocked
The food is AMAZING
More about Rich
Rch writes about rugby for Kyodo News, and is the colour commentator for Sunwolves home games. You can find Rich on Twitter, at @FreemanrugbyJPN
He also seems to be a keen fan of great rugby lids.