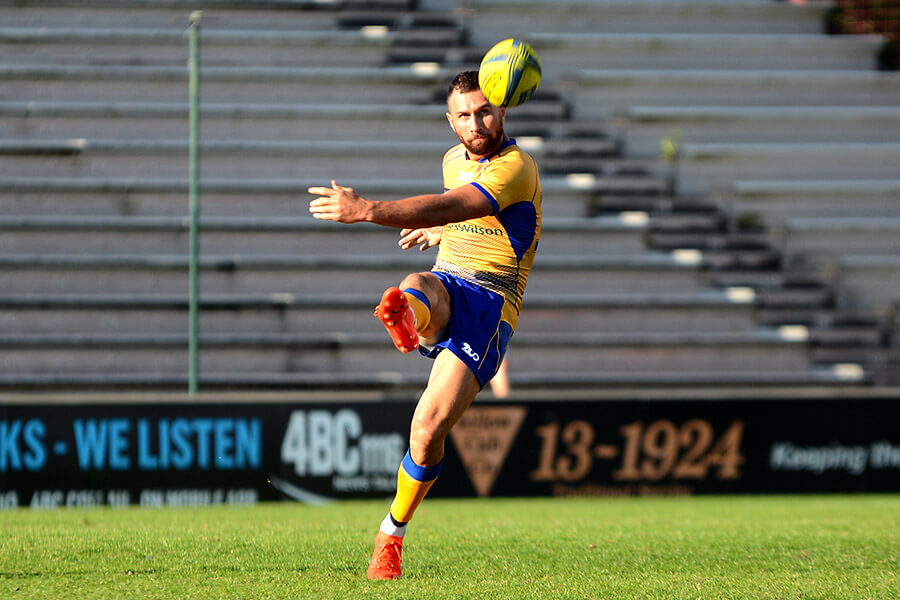 In this week's edition of the Top 5 we talk NRC, more NRC, a bit more NRC, check out some videos … from the NRC … and quickly hop on over to Europe for a check in on who's where.
Welcome Back NRC
This weekend saw the opening round of the 2017 NRC, and what a round it was. We saw a nail biter in Canberra, an (alleged) ear biter in Brisbane and tries a plenty! Seriously … there were LOADS of tries!
I really enjoyed the opening round of NRC, and don't want to get negative about it, but the crowds looked a little on the small side (though it's always hard to tell from TV depending on where the cameras and crowds are). Based on the Super Rugby crowds I wasn't expecting huge numbers, but was hopeful that the crowds would come.
I'm not sure about other states, but I know that here in Canberra there was little to no publicity for the match. The Vikings and Brumbies Facebook and Twitter pages plugged it, but outside of that there really didn't seem to be much in the media at all. It's a real shame, because the match we watched on Saturday had it all, 13 tries, both teams getting decent leads only to be dragged back and a close finish. If we want to attract non-rugby people to the matches, it would have been the perfect game to get them coming back.
The Perth crowd looked the biggest, I've heard estimates of around 5000 on the hill, which looked pretty packed.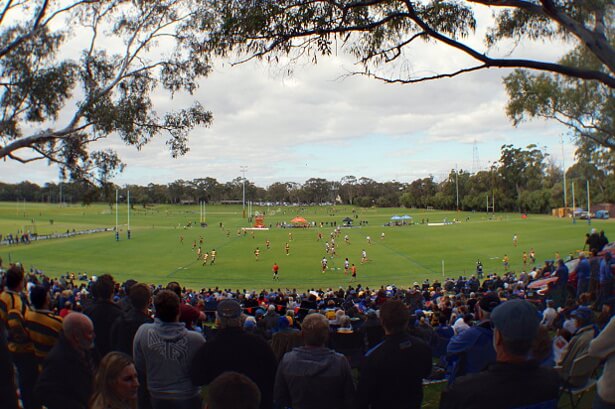 We know that there are rugby fans in Australia, the Shute Shield and Queensland Finals showed that, so … where are they? Is club allegiance so strong that they will not support any club other than their own? Sadly I know this is the case for many in Canberra, they are fans of a different club, for example Royals, and will never support a Vikings branded club. Is it the same in Sydney for, say the Rats? Will Warringah fans ONLY support Warringah?
Or is it just that people don't know about the NRC?
Either way, I hope we see some big crowds this year, if the opening round is anything to go by, those who go to the games will be treated to some wonderful rugby like these 2 blokes were.
Tries, tries and more tries (and some other stuff)
This year the scoring system reverted back to the standard 7 points for a converted try and 3 points for a penalty, after last season 8 point tries and 2 point penalties were trialled. Last year we saw a lot of tries scored, teams were shunning penalty shots in favour of going to the line. We assumed this attacking rugby came from tries being worth more points. But in the first round of this season, 47 tries were scored compared to 32 in round 1 last season. So dropping the number of points back to 7 definitely hasn't stifled the attack. In fact, let's do a quick comparison of the opening rounds of last season and this season.
Apart from the number of tries scored, all of the other stats actually look pretty close, except for the cards handed out. One of the draw backs of making penalties only worth 2 points last season was that teams were much quicker to give away penalties in the red zone, feeling pretty safe in knowing their opposition wouldn't take the points. This in turn led to a number of cards for cynical or repeated infringements. This year we saw fewer penalties and fewer cards.
There were more penalty kicks taken in this round than all of last season. In some cases, going for a try may have been a better option (I'm looking at you Eagles!), but in at least one case it was a smart move, when Hawera stepped up to take a kick at goal to put the Vikings 8 points in the clear with minutes left on the clock and all but securing the win.
Un-surprisingly the only stat which really isn't better this year than last is the missed tackle stat. Here's how the individual teams fared.
Qld Country (Missed 14 made 90 – 86.5%)
Rams (Missed 24 made 135 – 85%)
Vikings (Missed 27 made 141 – 84%)
Rising (Missed 28 made 97 – 77.6%)
Fijian Drua (Missed 35 made 119 – 77%)
Eagles (Missed 30 made 98 – 76.5%)
Brisbane City (Missed 30 made 88 – 75%)
Spirit (Missed 30 made 85 – 74%)
Plenty of room for improvement from all teams!
Bula Fiji!
The Fijians made their highly anticipated NRC debut against Brisbane City on Saturday. While they didn't get the win, there were signs there that when they get it right they will be tough to beat. They have some flying backs, fullback Peceli Nacebe showed with his opening try that he is pretty darn quick (see highlights video below). Discipline let them down a bit, with a couple of yellow cards, and defensively they had a round high missed tackle count of 35, but their attack definitely looked threatening and they ran in some very good tries. As the season goes on they will be a team to watch out for.
 NRC Match Highlights and top tries
In case you missed any of the matches, here are the best bits.
Canberra Vikings v Queensland Country

Brisbane City v Fijian Drua

Greater Sydney Rams v NSW Country Eagles

Perth Spirit v Melbourne Rising

Top Tries from Round 1

Northern Hemisphere Rugby
The Guinness Pro 14 and Aviva Premiership kicked off this weekend up in the North, while the French Top 14 had its second round of competition. Many rugby fans were interested in seeing how the new additions to the Pro 14, the Kings and the Cheetahs would go in their new competition. It was never going to be easy for the two South African teams, with a short turnaround from Super Rugby, the Currie Cup still being played in South Africa and delays in bringing together squads all working against them. Both teams went down in their opening games, the Cheetahs losing to Ulster 42-19 and Scarlets getting over the Kings 57-10.
Apart from the South African teams, it's always interesting to see how the Aussies who have headed north or moved teams fare in the competitions. For those interested, here is a list of the most recent Aussie additions to the European teams (including players who have moved from one NH team to another).
Pro 14
Jarrad Butler (Brumbies) Andrew Deegan (Waratahs) – Connacht
Scott Fardy (Brumbies) – Leinster
Paul Asquith (Rams) – Scarlets
Christian Lealiifano (Brumbies) – Ulster
Aviva Premiership
Nic White (Montpellier) – Exeter Chiefs
Nick Malouf (Aussie 7's) – Leicester Tigers
Ben Meehan (Rebels) Jake Shatz (Rebels) Saia Fainga'a (Brumbies) – London Irish
Rob Horne (Waratahs) – Northampton Saints
James O'Connor (Toulon) – Sale Sharks
Will Skelton (Waratahs) Kieran Longbottom (Sale) – Saracens
Michael Dowsett (Southland Stags) – Worcester Warriors
French Top 14
Jake McIntyre (Reds) – Agen
Leroy Houston (Reds) – Bordeaux Begles
Peter Betham (Leicester Tigers) – Clermont
Liam Gill (Toulon) – Lyon
Phoenix Battye (Béziers) Mitch Inman (Rebels) – Oyonnax
Jonah Placid (Rebels) – Toulon
Zack Holmes (La Rochelle) – Toulouse