Welcome to yet another Tuesday Top 5. It rolls around pretty quickly, doesn't it? Lots of stuff as usual, good, bad and ugly stuff, grades, Wallaby stuff, a bit of a look at the backs from the weekend and our picks of the best stuff.
The Good, The Bad and The Ugly
Good – At least we have one team carrying the torch for Australia. The Rebels are sitting on 18 points with 4 wins and 2 losses. That puts them at third overall on the table (ignoring conferences), which is the best an Aussie team has been in a while. Plus they have a game in hand over the Crusaders who are on top.
Bad – On Friday night we saw a perfect example of what is wrong with Australian rugby. The Waratahs rested Foley and gave Mack Mason the start. Since signing with the Tahs in 2017, this was Masons fifth appearance and his second start. Two appearances in 2017 for 101 minutes, ZERO appearances in 2018 and named in the match day 23 five times in 2019 prior to the Sunwolves game. Out of the five matches he was named in, he got 0 minutes off the bench in three of them, and a total of 10 from the other two. In two- and a-bit seasons he has played 131 minutes of rugby. This is a player who was touted as the next wallabies 10. He was even brought into the Wallabies development squad in June 2017. I'm sure we can agree his performance in the match on Friday was … well underwhelming, but whose fault is that? He has done pretty much nothing with the Waratahs but train and play a couple of trial matches in two and a half years. What this guy needs is match time alongside the players who are regular starters, but he will no doubt be relegated back to the bench only to be brought on in the last five or ten minutes of matches, providing the Tahs have a handy lead and look unlikely to lose. Regardless of what you think of his ability, this is a good example of why we are losing young players overseas. He won't develop without game time and we won't find out if he is a dud investment and tying up a potential opportunity for another young player.
Ugly – Conversely to the place of the Rebels, the Australian conference currently has three teams in the bottom four. The Reds, Brumbies and Sunwolves are sitting right down the bottom of the ladder. But they are still doing their part for the Aussies, with the Reds and Brumbies helping out the Rebels by contributing to three out of their four wins.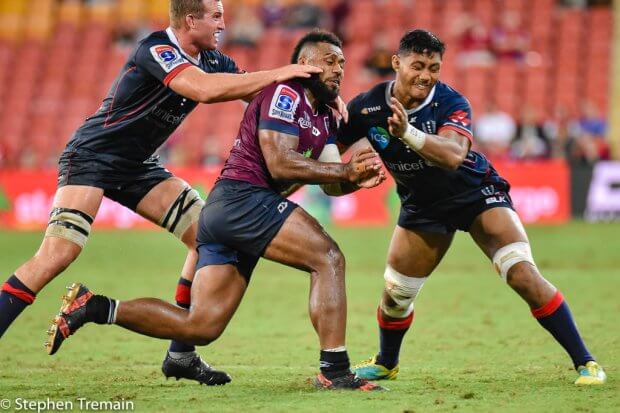 Report Card
Waratahs D:  Big questions have to be asked about the Waratahs backline. 16 out of the Waratahs 22 missed tackles came from the backs. 15 out of the total 22 turnovers came from the backs. This is concerning seeing as three of these players are most likely going to be at the World Cup and another is on the list of hopefuls. They were only missing Foley and AAC from the backs, and while they may have made a difference (Mason was responsible for a sizable chunk of turnovers), it is still not good enough. No matter how good a player is in attack, if they can't tackle they are a liability. But it wasn't just the backs who were terrible in this game. There was no one who stood up and took charge of the game. Hooper tried hard and tackled his heart out, and Simmons had a fairly solid game, but they need more than just those two to stand up.
Rebels B: The Rebels did enough to get a good win over the Reds. They heaped pressure on the Reds and forced them into silly mistakes. They were aided by some pretty poor play by the Reds, but still did the hard work. It will be interesting to see the Rebels come up against a full-strength team who is playing well, as good as their results are so far they haven't exactly faced top opposition yet. Their maul is looked really dangerous, and Cooper combined really well with his backs and put a lot of pressure on the Reds defence.
Reds D-: Another inconsistent performance from an Aussie team. They strung two wins together against the Sunwolves and Brumbies, and fans had high hopes going into this game. But they didn't live up to them, falling short in most areas of the game. Their maul defence fell apart, lineout was repeatedly stolen or disrupted (all credit to the Rebels jumpers for doing a good job there) and they dropped the ball at will. Brumbies fans were left wondering where this Reds team was last week, Reds fans were left asking where was last week's team this week.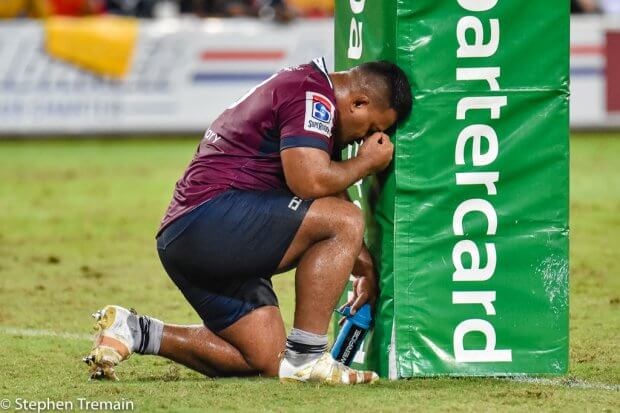 WALLABY RDO'S
As you can see, the usual suspects all played the full 80 again. We had Foley rested and the brumbies contingent on a bye leaving just 3 players who have played the maximum minutes so far. Folau, Hooper and Kuridrani have all played the full 80 every week, followed closely by Kerevi who has missed just 5 minutes, Maddocks, Banks, Hanigan and Simmons. Perhaps unsurprisingly, Jake Gordon's minutes are dropping each week now that Phipps is back.
Who stood out: Genia proved once again that he is miles ahead of the next in line for the number 9 position. He is probably the only player to come back from overseas who deserves to walk right into the Wallabies (but I'm sure he won't be the only one who does).
Raised questions: Beale and Folau. These two are meant to be part of the Wallabies backline and stars for the Tahs. But they contributed so little to this game. Beale missed his customary tackle that let in a try and Folau was once again unable to ignite the backline. Folau had some huge stats this week, 106 metres, 11 defenders beaten, 3 clean breaks, but balance that out with the 1 tackle made and 2 missed and 3 turnovers conceded. In fact 6 of the Tahs 22 missed tackles came from just these two players.
Blotted his copy book: Phipps not only blotted his copy book, he ripped out an entire chapter. His play was nothing special, but that screw up just before half time? Where was he getting his information that the half had ended? The siren hadn't gone. The ref hadn't blown the whistle…… aren't one of those two things at least required for half time, if not both? Back to his actual game – 3 tackles, 2 missed tackles, 2 penalties conceded and 3 turnovers conceded.
Ned Hanigan – where do I start? There was one try when I swear he just watched the Sunwolves player run past him while he jogged along, then there was the dumbass penalty with a few minutes to go that basically let the Sunwolves clear the danger zone and retain the ball for the remainder of the game. He put no pressure on defensively and I barely recall seeing him with ball in hand (although when I check the stats I can see why that is. 4 carries for 2 metres gained. Oh dear.)
General observations:
The Backs. I'll go into a bit more detail about this in a minute, but we have had it shoved down our throats that the backs can't perform behind a beaten forward pack. Well I'm starting to think our Wallaby backs might be the problem after all – so many big names that deliver little. Like I said, I'll go into that soon.
Who do we think should be added into the Wallaby conversation? Well QC is an obvious one, his combination with Genia has gotten the Rebels out of trouble a few times. Plus his goal kicking is trumping Foleys at the moment too. Jones and Philip are continuing to show good form not only for there good work in the line out, but work around the park.
The conversation around wing possibilities has both Sefanaia Naivalu and Alex Newsome worth a mention.
When it comes to that "utility" player, the left field option I want to put out there is Bryce Hegarty. Over the last few weeks he played really at both 10 and 15.
The backs – what's going on
I'm just going to throw some numbers at you.
15 out of 22.
16 out of 22.
13 out of 20.
9 out of 13.
3 out of 7.
They look like pretty good stats, right? Well let's find out what they really are.
15/22. The starting backs for the Waratahs made conceded 15 turnovers between them. The Waratahs had a total of 22 turnovers for the match.
16/22. The starting backs for the Waratahs had a combined total of 16 missed tackles. The Waratahs had a total of 22 missed tackles for the match.
Do you see where this might be going?
9/13 – Rebels backs/total for Rebels turnovers conceded.
13/20 – Rebels backs/total for Rebels missed tackles.
And the 3 out of 7? Well that is Samu Kerevi's missed tackles compared to the total number of missed tackles for the Reds.
Now I want you to think for a moment about where our Wallaby backs come from. Beale, Folau, Phipps, Hunt (on the radar) Genia, Hodge, Maddocks, Koriobete, Kerevi … all of them contributed to those poor stats.
There's no denying most of those players have good skills when on attack. Maddocks reads the play well and knows how to put himself in the best position to get the ball. Folau can catch a high ball and score tries. When Beale is on song he can put players through gaps and find the gaps himself. Hodge has a huge boot. Hunt goes hard into contact. We don't see this consistently (but that is a whole other issue) but on defence? If I'm on the opposition and I have seen numbers like these, I know where I will be targeting when I have the ball.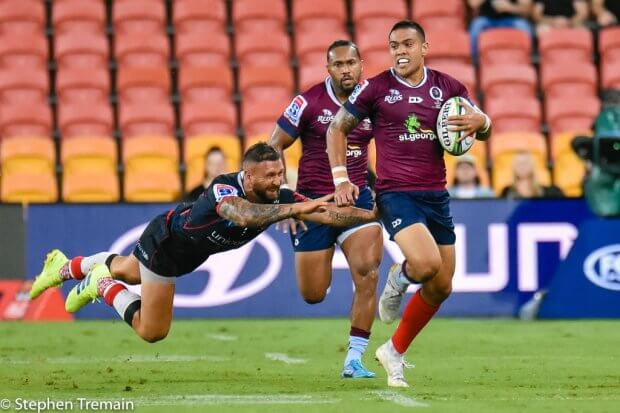 Our Picks
Top tries –  The Blues  scored a beauty in their match against the Stormers. I love a good fend! I've also included Masirewa's second of his three tries.

Best goal kick – This one is a bit of no brainer, although if you are a Waratahs fan it will probably make you cry as it was the 2 points that gave the Sunwolves the win. But honestly, how good is Hayden Parker?!

via GIPHY
Best (?) try celebration – we saw it three times on Friday night, and I still have no idea what it is.

via GIPHY
It's yours! – The dummy run from Folau fooled everyone, including three of his teammates!

via GIPHY