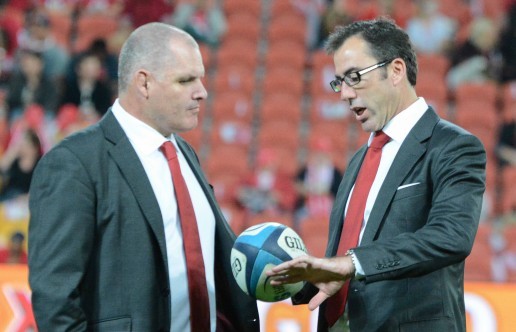 Tuesday's rugby news has new Queensland coaches, a close loss for the Sevens, the Brumbies confident of retaining Larkham and Tuilagi's return downplayed. 
---
Sevens beaten by Fiji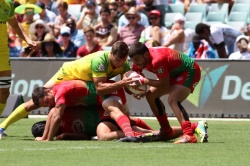 Fiji have scored a length-of-the-field try and turned the tables on Australia in the final minutes of the USA Sevens final in Las Vegas. Australian Quade Cooper looked all but certain to score with three minutes remaining and Australia one point clear, but the ball was stripped from him.
Fiji's Savenaca Rawaca then picked the ball and ran the length of the field to score the match defining five-pointer in a phase that began in Fiji's goal line, sealing a 21-15 victory. The match nevertheless showed the form that teh Australian side are in, this being the first time the team had played in consecutive Cup finals since 2010.
Graham sacked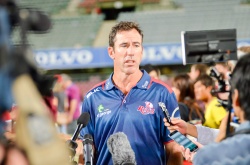 Reds head coach Richard Graham has been released from the remainder of his contract with immediate effect. Graham, who was head coach for the past three seasons, will be replaced by co-interim head coaches Matt O'Connor and Nick Stiles.
Graham said: "I am in a high-performance environment and the results haven't been to a satisfactory standard. I have to accept that and move on." With just 9 wins and 23 losses going into this season, the odds were always against Graham lasting – especially after pre-season injuries to his three top players Kane Douglas, James Slipper and Liam Gill.
Larkham un-poachable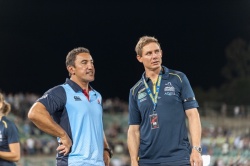 The Brumbies are "confident" that the Reds will not be able to poach Stephen Larkham as they look for a replacement to Richard Graham. The former Wallaby playmaker would be an obvious choice for the struggling Reds franchise, being off contract at the end of the season while leading the Brumbies to the top of the Super Rugby Ladder and playing a vital role in the Wallabies World Cup final appearance.
"I think the chance of him going to Brisbane are none and zero," Brumbies chief executive Michael Jones said."A) he wouldn't want to do it, is my guess, and secondly I'm pretty confident that we'll re-sign him because we've already had quite an extensive discussion."
Coach dismisses Tuilagi return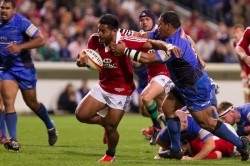 Leicester Tigers boss Richard Cockerill believes Manu Tuilagi is not ready to play for England in next weekend's Six Nations clash with Wales. The 24-year-old centre, who scored one of Leicester's four tries in an incident-packed 31-27 Aviva Premiership win at home to Exeter, looks set to be involved in the game at Twickenham after being recalled to the squad.
Cockerill thinks he needs another five or six games before he is ready to play Test rugby after 15 months out injured. "You can put him on the bench for impact in the last half-an-hour or so, but what if someone gets injured and he has to play for 75 minutes?" Cockerill said. "He is still finding his playing legs but he is playing well and doing some good things.