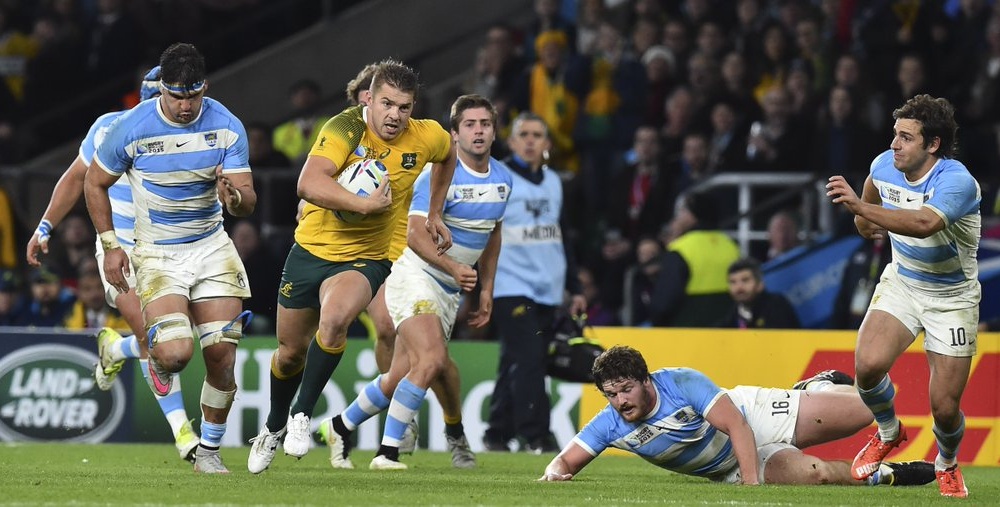 Easter Tuesday's Rugby News has a retirement, Lopeti Timani banned, a love-in between Nick Stiles and Alex Mafi, and upsets galore at the Singapore Sevens.
---
Mitchell Retires
Drew Mitchell announced his retirement from rugby last night.
Taking to Twitter, Mitchell wrote this:
So it's my turn to call time on my rugby career!
I've been very lucky to have had the experiences I've had in our great game.

Thank you

— Drew Mitchell (@drew_mitchell) April 17, 2017
That tweet then goes to awkward places, with Matt Giteau calling Mitchell "babe". Hmm
Mitchell, 33, holds the 3rd-place record for most tries at World Cups, only one try behind the record of 15 tries shared by Jonah Lomu and Bryan Habana.
Making his debut for the Reds in 2004, the QUEENSLANDER then moved onto the Force in 2007, and then the Tahs in 2010. During his time in Super Rugby, he made 109 appearances and scored 37 tries.
In 2013, he packed up his bags for Toulon, where he made oodles of dosh. During his career, he accrued 71 caps for the Wallabies and scored 34 tries. He also turned up at the 2016 Shute Shield final.
His biggest achievement, however, was having the opportunity to be Ben Barba's teammate.
Timani Out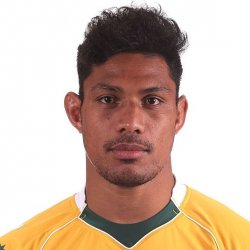 Lopeti Timani has been done for four weeks after the mysterious Sanzaar displinary committee – who are totally fine with Beauden Barrett being sin-binned for the same offence three times already this season – deemed Timani's kneeing of Rory Arnold to be naughtier than first thought.
Timani was shown the slice of cheese for his efforts, but the Sanzaar disciplinary committee have ruled that that was not enough.
Timani pleaded guilty to the charge and has been suspended from all forms of the game up to and including May 13.
If not for Timani's clean record and guilty plea, the backrower could be have been facing 8 weeks.
Stephen Larkham also had a bit to say:
"It's a knee to the head, that's a red card isn't it?" Larkham said, according to rugby.com.au.
"I don't know I guess they'll deal with that afterwards but you don't want a guy to get sent off to win a game, you still want to play well."
Mafi Good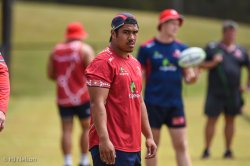 Nick Stiles reckons Alex Mafi is one for the future. Mafi made his starting debut against the Kings, partly due to Stephen Moore's poor form and Andrew Ready's looseunitness.
Despite being only 20, Mafi has been in line for a Reds debut for a while, with repeated shoulder injuries getting in his way.
"He was as nervous as I've seen in a guy starting, making his run on debut," Nick Stiles told rugby.com.au.
"I thought he was great. He's been in our program for three years, unfortunately he's had a lot of shoulder reconstructions in that time.
"What we like about him is his athleticism and his footwork and he's a footballer, he can read the game really well. The confidence he'll take out of that is enormous.
"I'm giving a lot of minutes to the next crop of footballers," Stiles said, as if he was trying to, like, save his job or something.  "We had Alex start, Lukhan Tui start, Izaia Perese start, these names that will only get more dominant in Queensland rugby."
Mafi's debut only lasted 45 minutes, but that hasn't stopped Stiles from yapping on about him. Wait a minute, is he just trying to treat Ready mean to keep him keen? No one does that to any of my Twitter followers!
"I thought [Mafi] dominated really well through his right side which is important for a hooker, to lock that side of the scrum down," Stiles said.
"To get that tight head was a real confidence boost for the lads at the start because the reality is we've lost six games in a row.
"To come out and get a really rewarding turnover and a try on the back of it was great.
"It comes from hooker the scrummaging power. If he's not doing a good job with his height it means you cant really be dominant."
Canada Win Sevens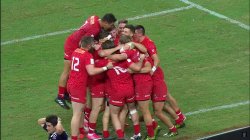 Canada has won a World Series Sevens leg for the first time. No, really. They won in Singapore. You know who was the runner-up? USA.
In fact, the only non-weird result was the All-Conquering Aussies coming 4th, a crappy pass in the dying seconds denying them the Bronze medal. (That instead went to England).
"I thought we played some really good rugby on day one and the win over South Africa in the quarter final showed a lot of character and a lot of belief," he said.
"We went into the semi-final game full of confidence but came up against a very good USA team who blew us off the park and that was disappointing.
"The last game against England, we had two tries a piece, had our chances but couldn't finish it. But as a young squad they're doing some good things and I am proud of them."
The Aussies won all of their group games, beating Kenya, Argentina and Samoa. In the quarters, they faced competition leaders South Africa. Friend's charges rolled them 19-17.
In the semis, the USA put on their rocket skates, beating our fellas 40-7. Then, in the bronze playoff, England won 14-12.
That's right. Fiji, South Africa and New Zealand all missed the cut into the top four. Fiji had to face South Africa (who they beat in the Hong Kong final only last week) in the 5th-place playoff semi, and lost 19-14. The Kiwis then saw off the Saffers for 5th.
Meanwhile, Wales saw off Scotland in the all-British Trophy (aka 9th-place) final.
---
Recommended Reading