Tuesday's Rugby News has Sean McMahon possibly doing one, Matt Giteau to Japan, the ARU's coaching summit not a summit, the Vikings bought out, and the results from the Paris Sevens.
---
McMahon Doing One?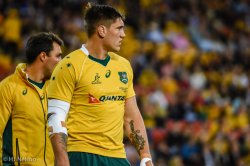 Sean McMahon might be doing one at the end of the season, reports The Australian.
McMahon, who has 15 caps at only 22 years of age, is considering offers from Japan, as well as Europe. He is reportedly unimpressed so far by contract offers from the Australian Rugby Union, and this news story might actually be a sneaky way of his agent drumming up interest.
"A spokesman for the ARU said Cheika did not believe that McMahon had yet signed any overseas contracts but was aware of the Japanese interest," says the report.
"With the Japanese season partially overlapping the Australian season, McMahon might choose to make himself unavailable for selection from October. Theoretically, he still would have scope to return to Australia in time to win World Cup selection in 2019.
"McMahon's intent to move offshore to continue his rugby is not believed to be tied to the current speculation about the ARU's plans to cut one of its five teams, but there is a sense that his departure could be part of a stampede for the exit. Indeed, even if the Rebels somehow do survive to play on in Super Rugby next year, the belief is that the club is effectively as good as doomed.
"Although there is a moratorium on contracting players, the belief in the Melbourne club is that the Waratahs, Brumbies and Reds have been able to secure about 25 or 26 players for their 2018 roster and will now wait to top up their squads from whichever club the ARU chooses to axe.
"With so many Rebels players coming off contract, and with so many off-field staff fearing for their own jobs, the club is haemorrhaging personnel beyond the capacity of head coach Tony McGahan or general manager of football operations Baden Stephenson to stop it."
Oh, and Matt Giteau, who is leaving Toulon, will sign for Japanese team Suntory Sungoliath next year.
Not A Summit
Ben Whitaker, the ARU's Head of Performance, has played down talk of a coaching "summit', saying that it's more of a coaching apogee than a summit. No, wait that's not it.
"In my diary it's a meeting. It just happens to have more than two people in it," Whitaker told AAP (via Fox Sports). "One of the things that we do regularly, and we certainly don't put it out publicly, is use various people internally and externally to test and guide strategy.
"This is not abnormal. It's topical, clearly it's timely, but it's been blown out a bit. Timing around other things going on probably led it to being talked up a bit.
"They'll sit in a room with myself, Michael Cheika and Mick Byrne and give us some experiences. It'll be a great couple of hours. I'll need to keep the stop watch on a few of them because it could through to middle of the night."
Whitaker said the likes of Cheika, Byrne, Bob Dwyer and Dick Marks will be picking each other's brains.
"We've chopped and changed in the last five years, eight years etc and I think everybody acknowledges the need to come together and look at a targeted approach over a time frame and you don't deviate from it,"
"We run a coaching development program nationally, which I don't oversee, nor does Michael Cheika. We have an involvement, but we don't oversee it. That's nationalised so every state union picks up that plan and model and they deliver it in their regions in their states.
"So this is more to say if we were to shift some of the focus and these sort of things, how did we do it previously in the national coaching plan, which was constructed a little differently to how we have it today?"
Whitaker is confident there'll be change for the better.
"I see better than hope. I see belief," he said. "We've been there before. We've got an outstanding head coach, outstanding staff both here and at the Super teams.
"If we had to be super critical, we'd say (a lack of) alignment would be an issue and there is strong belief that we have the potential to get back and win."
Vikings 100%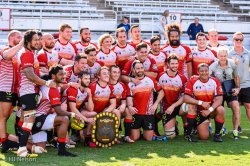 The Vikings Group, who learnt their name to the Canberra Vikings, have bought a full stake in the NRC team, the Canberra Times reports.
The Canberra Vikings were originally set up as a rugby-a-trois between the ACT Brumbies, Vikings Group and the University of Canberra. Now, the Vikings Group have struck a deal with the Brumbies and the ARU to take over the NRC side.
The Vikings Group, who have pumped into $1 million into the side over the past four years, will now take over all responsibility for the side, including the financials. That'll be a big relief for the Brumbies and the ARU, who has been pushing for more private ownership.
The new ownership will also take away some of the angst in the capital's rugby circles with regards to the name and the colours of the Canberra side, a far departure from the blue-white-gold of the ACT Kookaburras. The Vikings name and red-white-black colours will remain, but they will pay homage to the Kookaburras sometime this season.
The NRC draw has been finalised, and will be announced today sometime.
South Africa Win Sevens
South Africa have won the 2016-17 World Sevens Series, after taking the gold in Paris. It's South Africa's first title since 2008-09, which is a surprise given they've finished 2nd in 5 of the 7 seasons since.
The Blitzboks beat Scotland (!) 15-5 in the final, which is doubly weird because Scotland beat South Africa 19-12 in the group stages.
The Darkness beat "The Soap Dodgers" 12-5 in the bronze medal match.
Anyway, to the main show. After playing really well in Singapore, the Aussies have slumped to 10th place in Paris, losing to Argentina in the Trophy Final.
Drawn with Fiji, Samoa and Russia as first seeds, Andy Friend's charges beat Russia 19-12, and lost to Samoa 14-21 and Fiji 14-31.
In the Trophy quarters, they beat Japan (28-19) and in the semis, Wales (14-12), before getting smashed by the Argies (33-12).
"We were totally outplayed by Argentina. We weren't cohesive and we paid the penalty," Friend told rugby.com.au.
"At the end of the day we need to look at how we prepared and came into the tournament.
"[Next week] in London, we're going to have to fight hard because we want to get out of the bottom eight and back into the top eight, and win quarters, semis and then get into the final which we haven't done all year."