Tuesday's Rugby News has a good Wallabies culture, a determined Quade, a coaches convention and Damian de Allende shouldn't have been sent off.
---
WBs culture best
Will Genia has probably seen some rubbish Wallabies cultures in his time, so it's probably a good thing when he says the current 'bies culture is the best he's ever seen.
"It's the best environment I've been a part of in the time I've been in a Wallaby group," the $800,000 man told the SMH.
"Everyone has a buy-in and a say in how we do things. Everyone holds each other accountable as far as the standards, it's a really good group to be a part of. The biggest thing I enjoy is that guys want to get better and improve."
All those sand hill runs and blindfolded business and everything else, Genia reckons, did the group a whole lot of good in terms of team cohesion, lung capacity and also getting on telly for the novelty news factor.
"We've had a little bit more time to develop what we stand for as a team," Genia continued. "We've got something we want to live by as far as what it means to be a Wallaby and as time has gone on we've been able to add to it but also hold ourselves accountable to living by it, on and off the field.
"Over time it's become more organic, as opposed to something that is forced.
"It's a great thing when you have young guys like [Izack] Rodda come in and buy into it straight away, as a senior playing seeing that you feel like it's very conducive to being open to everybody."
The ABs are now on the horizon again and Genia has come up with a masterful theory on how to beat the Kiwis – play well and pressure them into errors!
"If you can consistently pressure them throughout the 80 minutes you can score points and also pressure them into errors," Genia opined, furiously scratching away on a chalkboard.
"There's no secret it's going to be tough but we prepare as though we want to win, we prepare as though we want to be the best in the world.
"I'm not afraid of saying it, because why would you do it if you didn't have those aspirations? We're not shying away from the fact it's going to be a very tough challenge."
Quade Twirling Towards Freedom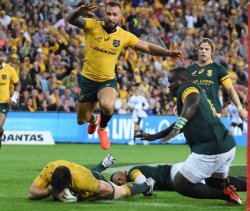 The Australian Barbarians team is set to take on the Australian Wallabies team in Sydney on 28 October, and Baabaa captain Quade Cooper ain't fussed about the big Cheika fella.
Cooper hasn't played for the Wallabies since June, and his selection as captain of the Barbarians was news to Cheika. In fact, Cooper revealed that Cheika hasn't talked to him since the winter.
"At this stage I am [planning to play for the Barbarians] – I haven't heard anything else," Cooper told the Courier Mail.
"Unless I am called into camp, which I doubt as the Rugby Championship is over, I am just looking forward to playing for Brisbane City and getting the opportunity to suit up and throw the ball around for the BaaBaas.
"I have never had the opportunity to play for the BaaBaas. I have played against them a few times and it's always a fun game.
"It's always hard on the lungs, chasing the ball around. It's always been a fun game to be a part of but I've never had the honour to suit up in the BaaBaas. I am looking forward to that."
Cooper is also looking forward to being coached by Alan Jones.
"He's a great bloke. I have met him a fair few times, I have kept in touch and he has chatted to me in some tough times," Cooper said.
"Being overseas and being back in Australia, he has always had an ear and been someone to talk to. I am looking forward to playing for him as well.
"Every time I have chatted to him about football, his philosophies about the game are very much to keep the ball up off the ground, not trying to set up rucks and that sort of thing. Trying to keep the ball alive and keep the ball up off the ground and keep the game flowing. That's the sort of thing I like about rugby.
"When you speak to Alan, he is a very charismatic guy, he is very out there and passionate. I am looking forward to playing with him."
Talking of coaches, Cooper was also asked what he thought of Brad Thorn.
"He has already been hands on for the last few years so we know what he's all about. He's no nonsense. That transition will be pretty smooth," Cooper said.
"From a players standpoint, first and foremost, I have nothing but respect for him. For the type of player he was on the field and the type of guy he was off the field, and the success he had as a player and the success he had as a player and the teams that he played with that were successful, I have nothing but respect for him."
Coaches Summit For Real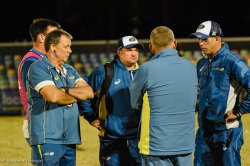 For the first time in a bajillion years, all of Australian rugby coaching professionals and hangers-on will converge on one point – Sydney – to chat about stuff, like how to beat the All Blacks.
Sitting on the throne at the top of the table will Television Opinion Man and GAGR Friend Rod Kafer, who will holding the talking stick for most of the convo. Here is holding the talking stick with the Daily Telegraph:
"It is borne out of the fact that we had no Super Rugby wins against the Kiwis and 15 years of Bledisloe Cup losses," Kafer said.
"People at some point have got to say 'Maybe we need to do something a little bit differently', and I reckon we're at that point.
"Ben Whitaker's done a really good job of bringing the various constituents into one room and it's been a process of developing trust. It's early stages, and it needs to be proven, but there's certainly a higher level of trust and understanding in the game."
The attendees will mainly be the peeps from the four Super teams, like GAGR Super Fan Dave Wessels.
"There's been a series of coaching get-togethers but this is the first time we're getting all of the participants of high performance rugby in Australia together; head coaches, assistant coaches, team analysts, athletic performance, team managers, general managers of high performance," Kafer continued.
"We're trying to answer the question of what does the player of the future look like, and are we preparing for the player of the future; that will be a core concept of those two days. We've profiled about 30 coaches in Australia. We want to make change, change wants to happen, and they all want to get on with it.
"The profiling will identify skills gaps, and potential weaknesses that might exist within our current people, and what I'll then look at is try to plug those holes and fast-track the gaps that we've got by creating programs and education tools and self-learning opportunities for our coaches."
Part of this 'self-learning' and 'weakness identifying' will also include a leadership program for all staff present.
"As part of that leadership comes mentoring and ensuring that we align all of our coaches to mentors who might be able to value in areas they might not be that skilled in," he said.
"And equally, it's about ensuring that our coaches have the capacity to mentor a number of coaches underneath them so we get this sharing of IP (intellectual property) up and down the system."
No Red Card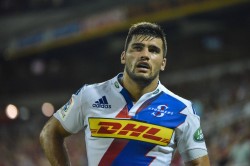 Huh. Here's one for the Big Boss, Mr Rowley.
Damian de Allende, the blue-eyed dreamboat centre for the Springboks, was sent off in controversial circumstances in the test against the All Blacks on the weekend.
de Allende was shown a red after he hit Lima Sopoaga late. Having tried to charged Sopoaga down, de Allende then continued charging on towards the All Blacks flyhalf, with his elbow out in front of him in a way that would like bracing to normal people and leading with an elbow to rabid All Blacks fans/referees.
de Allende then hits Sopoaga, with the pint-sized flyhalf's neck more or less being the height of de Allende's elbow.
From the resultant penalty, Sopoaga gave his side an 8-point lead with 5 minutes to go. The ABs ending up winning 25-24.
Now World Rugby has turned around and told de Allende is in the all-clear, according to Fox Sports.
The disciplinary committee found "that the offence did not warrant a red card in all the circumstances and has issued a warning. The player is, therefore, free to play and will serve no suspension."
South Africa next play Ireland on 11 November.
This Fox Sports article has footage of the incident; also keep an eye out for a rather clumsy 'fall' by ABs scrumhalf Tawera Kerr Barlow at the very start.