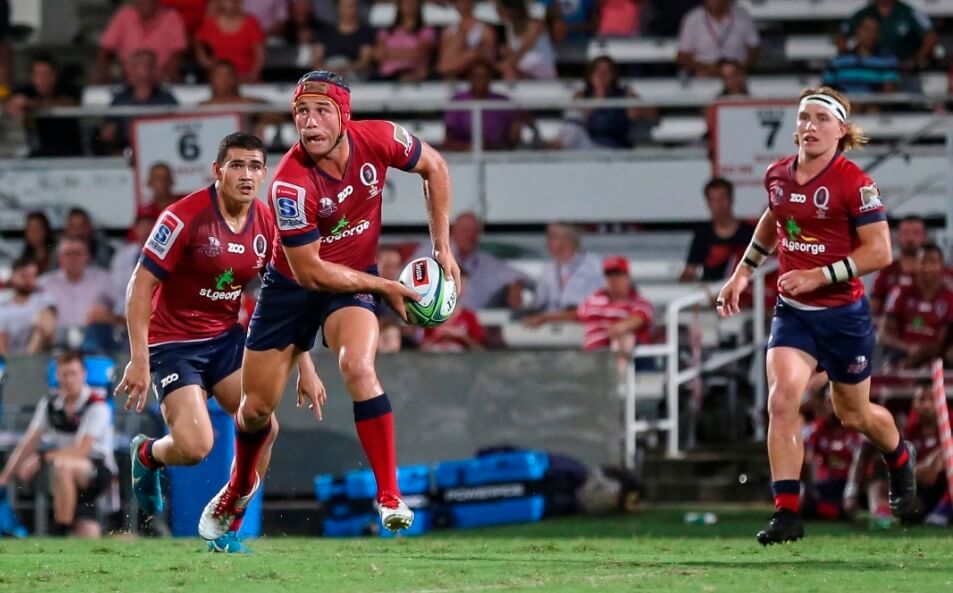 Tuesday's Rugby News sees more fallout from the Reds loss, more fallout from the referees, Sio out at the Brumbies and Wessels demanding more.
---
Red Faced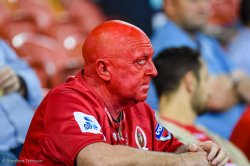 Last Friday was a tough night for Queensland fans, as the Reds were comprehensively outplayed by the Rebels down in Melbourne.
But, as many angry viewers took to social media, it could be widely agreed that it wasn't just the Rebels that made the loss so convincing. There was also the problem of ill-discipline, which seem to go together with the Reds at the moment like bacon and eggs.
For the last few years, even since the days of Richard Graham, the Queenslanders have been unable to shake a problem with discipline, and Samu Kerevi admitted to rugby.com.au that this problem cannot continue for the team, and that enough is enough.
Ten minutes into their season, it was no less that who was skipper Scott Higginbotham who was sent off for a high tackle. He is now set to serve a three week suspension, which was halved from the standard six week suspension due to his guilty plea and his previously good record.
"With respect to sanction the Foul Play Review Committee deemed the act of foul play merited a mid-range entry point of 6 weeks due to the Players direct contact by the Player's shoulder to his opponents head," said review committee chairman Nigel Hampton QC.
"However, taking into account mitigating factors including the Player's good record over a long career, the lack of injury to the victim and his guilty plea at the earliest possible opportunity, the Foul Play Review Committee reduced the suspension to 3 weeks."
"The player is therefore suspended for 3 weeks, up to and including the Saturday 17 March 2018."
Lukhan Tui could also be up for suspension too, which would be even worse for the Reds with upcoming matches against the Brumbies, Bulls and Jaguares around the corner.
"The discipline side – it wasn't intentional for those guys to be carded like that and I know the refs do a great job," Kerevi said of the decision.
"It's something they didn't intentionally do but it still hurt the team a bit.
"We are really trying to address that side (of their game) to make sure we don't end up in that situation again.
"It was a funny game – everything that could go wrong, did go wrong. For us it was hard to get a gauge on both our attack and our defence.
"Having 14 players and then down to 13, it was really hard to see where we are at.
"Two cards, down to 13 men and we still managed to score a try so for us it's just about building on that performance, taking any positive that we can out of it."
Speaking of Referees…
The Referees' performances over the weekend did raise plenty of eyebrows, with many players feeling the brunt of the disciplinary committee after there was a 'zero tolerance' for any contact with the head.
The Scotty Higginbotham red card was one of two major decisions that got people buzzing, with people both condemning and applauding the hardline approach that SANZAAR is taking in relation to contact with the head.
However, the Lachlan Boshier yellow card has also thrown a spanner in the works. With Ryan Crotty diving at the line, Boshier attempted to make a legitimate tackle, but due to the momentum inadvertently found his arm catching Crotty on the chops, which saw Crotty require treatment.
But even Crotty was surprised when a penalty try was awarded, on top of Boshier being sent to the sin bin for ten minutes for a dangerous tackle.
In the mind of Wallaby skills coach Mick Byrne, it is an apparent inconsistency that could affect the nature of the game, especially the usage of the red card.  
"The red carded player cannot return but he can be replaced which means there is still an extra punishment on the offending team because their bench is no longer a tactical bench with one player short," Byrne said to the Courier Mail. 
"From there, sure, send the player to the judiciary process post-game.
"Once a red card is issued in rugby today, it's the end of the contest because players are too good with fitness not to outflank a 14-man side.
"Consistency is the message that all players and coaches want … you don't want to see a three or four-week focus on a certain facet of the game and a different judgement over the last month of the season.
"I'm all for the head being sacrosanct but also understand there are accidental contacts.
"There were a couple of things in play last weekend … it was the opening round for the Australian and Kiwi teams, teams were setting a physical standard and perhaps weren't as accurate around everything first-up. And refs are not tolerating contact around the head."
Super Sio persevering
It's a side to rugby we don't often see. The pains and struggles of recovering from injury. For Scott Sio, it has been a consistent case of so near, but so far.
On the eve of the Brumbies match against the Sunwolves, Sio was ruled out with a calf injury. After suffering hamstring and knee injuries in 2017, this was the last thing he needed.
He isn't the only Brumby facing injury troubles, with fears that young gun Rob Valetini could be out for up to twelve weeks with medial ligament damage.
"We're really devastated because he is a young kid on debut and he's been fantastic in the last couple of years with us, so we really feel for the kid," Christian Lealiifano said of Valetini.
However, when Sio spoke to the media yesterday, he admitted that when it comes to injuries, he was taking it day-by-day, and isn't ruling out a potential return in Brisbane this Friday night.
"I think I'm always a chance to play but it's more up to the medical staff and them having confidence in it," Sio said to the Sydney Morning Herald.
"It wasn't my year in Super Rugby last season and this is a new injury so I'm not putting any timelines on it.
"It was good to get through training today [Monday] but we'll see how it progress and make a decision on Thursday."
Despite not having a good season last year, Sio did manage to get thirteen matches under his belt, which proves that once he get's back up again, he can stay fit.
"It's not an ideal start but having had as many injuries as I've had, I just have to trust the rehab process.
"I need to make sure when I come back that I'm good to go rather than pushing it too early in the season.
"These injuries are unfortunate and I'd like it if they stopped but that's the rub of the green sometimes.
"I came back this year ready to go and really excited to learn from this new group we've got and I just can't wait to play some rugby again."
The Brums will be looking to heap some revenge on the Reds, after their Queensland rivals beat them on the bell last year. Many big players being out the Reds squad bodes well for the away team, but then again, they were favourites last week and very nearly lost.
"Footy is fickle, one minute it goes well and the next it turns," said Christian Lealiifano.
"You train for that at high intensity and pressure, being able to cope with those moments.
"Local derbies are always going to be tough, the Reds have probably had the wood on us and it will be hard up there. We'll assess this one and prepare as best we can for what will be a massive challenge."
Never Happy
Just think, it's Friday night in the Melbourne Rebels change rooms, and you've just scored the biggest win in the clubs history. Surely you'd be celebrating, right?
Nup. Even despite demolishing the Reds 45-19, coach Dave Wessels handed the team and fans a hard dose of reality that the season has barely begun, and he sees that the team needs A LOT of improvement.
So much improvement, in fact, that he had them immediately training back on Sunday. The Rebels are coming up against the Sunwolves this weekend, and Wessels is not taking anything lightly. If anything, he's doubling down.
"I'm pleased that we won but we just have a lot of work to do," Wessels said on Monday. 
"I don't think we should underestimate the importance of winning for this group because they haven't won for a very long time and obviously some of the off field circumstances that preceded the game put a bit of extra pressure on us.
"But if you look at a couple of key parts of our game I think we need a lot of work there to be genuinely consistent and competitive, there is a lot of work to go.
"Anyone that is surprised by the Sunwolves' performance hasn't been paying attention over the last couple of months.
"They've got a very good coaching staff, they've recruited a lot of experienced international players and they're the national team.
"We think they're going to be a huge test this week and they're certainly much, much better than Sunwolves teams of the past.
"To beat the Sunwolves we have to play better than we did to beat the Reds."
The scrum was a big issue for Wessels, with the Reds holding their own despite being a man down for most of the match.
"I don't think technically we were very good and then, towards the back end of the game, we pushed them off the ball a couple of times.
"I think by that stage technically we were better and we were scrummaging as a pack rather than as individuals."
However, Wessels did have a lot of praise for one aspect of the game, being the pairing of Will Genia with young gun Jack Debreczeni. Genia was all class in an awesome performance, but the sharp improvement of Debreczeni and it's effect on the backline was what made Wessels happy.
"You could literally see the confidence and the relationship between them growing as the game went on.
"We are very happy with where Jack is at and I think he is happy, too.
"He's enjoying his rugby again, which is great."
The Rebels will be playing the Sunwolves in Tokyo on Saturday.