Tuesday's Rugby News has Brad Thorn loving scrums, Tom Banks signing a new Brumbies contract, everyone out to get Eddie Jones in England, and the results from the Vancouver 7s.
---
Thorn Loves Scrum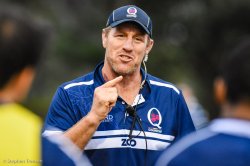 WE ARE RED coach Brad Thorn has revealed to the Courier Mail why scrums hold a special place in his heart as a coach – it's because they helped him settle in when he first converted from loigue to union.
"When I first crossed to play rugby I was frustrated with the rules and different things," Thorn said. "One of the first things I fell in love with was the scrum where I could just let out some frustration and go to work."
Rugby Reg's Reds have got off to a steady start, thanks to their strong set-piece – so strong that the Reds cooked the Bulls scrum so much the 8 South Africans turned into biltong.
But it's not only the scrum that's bringing the muscle in Brisbane. It's everyone – Izack Rodda, Tanila "Tongan Chris Hemsworth" Tupou, Jono Lance, Brad Thorn – it's everyone!
"(Izack) Rodda is going to play many Tests (at lock), Taniela has physicality to everything and Jono Lance was easily my man-of-the-match for his control and composure," Thorn said, probably while he did a really hard thing like turning a nail into a screw just by using his teeth.
"Brad has been a massive help and you want to add to the team as much as possible," bumside flanker Caleb Timu said, presumably stepping in for a quote as his coach was preoccupied with aforementioned screw.
"That's on and off the field because he really cares about people, we can feel that and respond as well. He's a really great guy with a great heart."
Vancouver 7s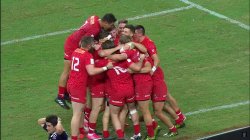 Australia finished 6th at the Vancouver 7s yesterday. They lost to England in the 5th place playoff, 31-14.
Here's capitan Lewis Holland:
"The fight was there all weekend," he said to News Ltd.
"Looking back we played some outstanding rugby at times and then there were times when we probably played our worst rugby.
"We just need to find that medium ground where when we are playing bad it's not horrendous and hurting us …
"It's a big ask for those young guys to step up. A lot of teams have experience now and 20 or so caps and these younger guys have got to step up.
"But we're professional athletes. We train for that, they train for that, so there's no real excuse. We can't keep saying we're the youngest team, we're inexperienced and we've got new guys coming through.
"There has to be a time where we just cop that and move on, other teams do, so there's no reason we can't."
The tournament was won by – who else – Fiji, who beat Kenya to gold, 31-12. It turned out to be a bit of a blowout, but at half-time the score was 12-12.
The South Africans beat the USA 29-7 in the bronze medal match.
As it stands, with four legs left, South Africa is 1st, Fiji 2nd, NZ 3rd and Australia 4th.
The series next heads to Hong Kong, then Singapore, then Paris & England.
Banksy Is Back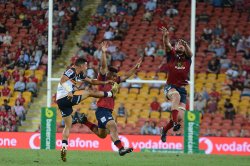 The Brumbies have announced the re-signing of fullback Tom Banks, a man mainly Brumbies supporters thought should have got a Wallabies cap last year.
The Queenslander, who swapped sunny Queensland for swampy Canberra in search for elusive game time and possibly also fun times at Parliament House, is quite confident he's made the right decision.
"I am very happy to have extended my contract with the Brumbies and am looking forward to enjoying my rugby with this fantastic club," Banks said, according to rugby.com.au.
"I am continually learning at this level and am thoroughly enjoying playing at the Brumbies.
"The coaching staff is excellent and the playing group is exceptional. It really is a tremendous place to live and play.
"I am grateful to the Brumbies for giving me an extended chance at Super Rugby level and am excited by the prospect of developing alongside the many talented players at the club."
Dan McKellar, who in all honesty is probably hoping this news distracts people from criticising his team's poor performances, was also happy that Banks re-signed.
"He's got good speed, can identify space well and is a genuine threat to opposition defences, so it's exciting to have him commit to the squad," McKellar said.
"You need point of difference players and Tom is certainly one. He is someone who can create something out of nothing.
"Confidence and belief for any young footballer is a great thing to have and Tom is certainly showing signs of that.
"He's just got to continue to work hard on his game, following his process every day and every week and that will allow him to reach his potential."
Leave Eddie Alone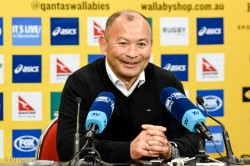 It's turned south very quickly in England, the nation that only knows two emotions – unbearable smugness and unbearable self-pity.
After being punchably smug for two years, English rugby fans are back down to 0. Why? Well because England lost two games in an increasingly competitive 6 Nations.
"Eddie Jones's honeymoon is over, he is about to experience the other side of being the England coach," wrote Clive Woodward, who was knighted – knighted! – for winning a World Cup, in Britain's Mail on Sunday newspaper.
"The biggest problem of all was the huge penalty count against England: 16 in total…you are not going to beat any top-10 team in the world with a statistic like that, especially away from home.
"The Six Nations is an unforgiving arena and they now face a rampant Ireland, gunning for the Grand Slam on St Patrick's Day at Twickenham.
"Lose that, which is very possible, and, as defending champions, England will have finished with only two victories. That is poor and unacceptable, given the investment in the team and their huge advantage in playing numbers and strength in depth. Jones has huge credit in the bank but these will be tricky times."