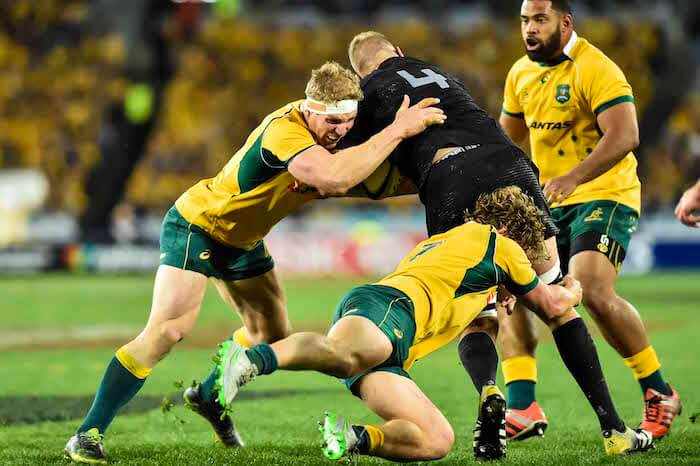 Tuesday's Rugby News has the Waratahs not getting cocky, the Reds bringing back George Smith, the Brumbies sweating on Isa Naisarani and the Pooper on the comeback trail.
---
Don't Get Cocky Kid
The Waratahs are on a winning streak at the moment, having beaten every other Australian conference side (incl. the Sunwolves) in the past four weeks. But as every other New Zealand side has shown over the past two years, that's not really an impressive feat.
So, Simon Cron doesn't think the Waratahs should get cocky.
"I think our conference at the moment there's obviously naturally an internal battle between all the Australian teams," the Tahs assistant coach told the SMH. "But on any given day each of those sides are really good so I think it would be stupid to be cocky.
"(Captain Michael Hooper) said at the end of the game (against Queensland last week) the most important thing for the boys is that they understand now and then they will get a pat on the back but they haven't earned that yet."
The Waratahs play the African leaders, the Lions, at home this week, followed by the Blues (H), Crusaders (A), Highlanders (H) and the Chefs (A).
As for the Lions, Cron said: "I don't see many weaknesses across the park for them in their set piece or their attack and defence so for us it's going to be test of every position.
"We threw away a lot of ball down the sideline [against the Reds]," Cron continued. "We were looking for 50-50 offloads when they weren't on and as a result all we did was alleviate pressure [so we bloody well can't bloody do that against the Lions]."
Reds Go Back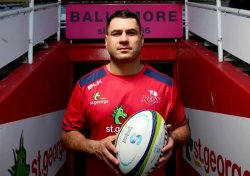 Queensland coach Brad Thorn is looking forwards, not backwards, the Courier Mail says, as 67-year-old George Smith is set to come back to the side this weekend against the Chefs.
Smith made his comeback with Brothers' golden oldies on the weekend, playing a sprightly 40 minutes. Smith has been on the mend off-the-field after having spinal surgery and getting thrown in a Japanese slammer (aka 'it is what it is').
Brothers coach Carl Marshall reckons Smith will be ok.
"He was not rusty at all, he was into everything physically, his catch-pass was crisp, he grabbed one excellent pilfer, deserved a few more and certainly looked the part for a recall to the Reds," Marshall said.
"He was so humble at his one training session, the boys were really excited to have him around and it was a great thing for club rugby."
The Courier Mail also thinks Lukham Tui will be play better on the weekend, having just signed a new 2-year contract. Which goes against standard practice, but oh well.
"It was an easy decision to stay at Ballymore. I'm really happy with how everything is going and I'm looking forward to the next two years," Tui said. "There's a good vibe at Ballymore at the moment. Everyone is keen and working hard, pushing each other to get better."
Duncan Paia'aua is also set to return to inside centre, in what will be the Reds' 1000th capped game. The Chefs are coming to Brisbane with 6 (six) injured props, which gives the Reds a chance of Steven Bradburying it.
Niceeeeeee-arani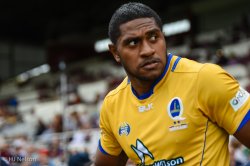 David Pocock is BACK baby but that doesn't mean that Brumbies coach Dan McKellar doesn't want to lose Isi Naisarani for the weekend's game against the Jags.
Naisarani was neck-rolled is recovering from concussion and McKellar hopes he's a-ok for the Jags.
Standout Lachlan McCafferry has dislocated his elbow, Rob Valentini is recovering from knee surgery, and Lolo Fakaosilea has a sore shoulder, so the more backrowers the better.
"He's played well. He has a high work rate, dynamic, powerful footballer," McKellar said to the Canberra Times of Naisarani.
"It's still only his second year of Super Rugby so he's still got a lot to learn and he is going to get better, but he has performed well for the Brumbies that's for sure.
"He has had a pretty good start to his career here and he's a young man that hasn't played a lot of Super Rugby, so he will get better as well."
Despite the injury crisis, McKellar is confident that Michael Oakman-Hunt, a pickup from the John I Dent Cup who played in Dunedin, can do the job.
"He went well, he did well. He got 10 or 15 minutes there and had a couple of nice carries. It's just [a matter of] picking up the detail now and understand the detail of his job in the team," McKellar said.
"He had a lot of information thrown at him last week and he handled it well. I've known Michael for a long time and I knew he would do a good job.
"Michael has got a good work ethic and has faced adversity and just stuck around and kept chipping away. It's great to see guys like that get an opportunity in Super Rugby because they've worked so hard."
Pooper 2.0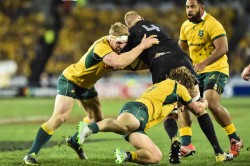 Paul Cully writes a regular column on Sundays in the Sydney Morning Herald and you should read it cos it's good.
This week he wrote about the Pooper. He thinks David Pocock and Michael Hooper and playing so well that it's bound to be rolled out against Ireland.
"Pocock was a monster in Dunedin," Cully mused. "The home side didn't know how to cope with him, legally at least [oh snap! – sassy Ed].
"He won turnover after turnover and provided a reminder that no matter what happens in Super Rugby, when it comes to Test season the Wallabies have probably the strongest man over the ball in world rugby.
"Michael Cheika knows Ireland are strong on the ground…[so] the odds must be extremely low on Pocock and Hooper being reunited in the back row against the Irish, no matter which number Pocock has on his back."
Cully also thinks that Curtis Rona ("[the Waratahs have] finally appear to have found their man at 13″) and (deep breath) Rob Simmons ("the maligned second-rower is looking more and more at home in blue every week.")are finding some fine form.
On top of that, Cully reckons that the Melbourne Rebels are struggling with the 'good rugby side' thing – aka they can't keep their leads – and it will take time for them to build that confidence. And whats one way of making themselves better?
By signing the man "on the sort of coin a decent All Black would be on" – Quade Cooper. "Of course, Dave Wessels would have to be convinced," Cully says, ending his column, "if Genia is not already working on it".