Tuesday's Rugby News has Ned Hanigan hurt, the Aussie women's 7s thumped, Tolu Latu back or something, and the Bill Puiver Cup
---
Hanigan Hurt
Ned Hanigan looks set to miss the next 3 Super Rugby games and the 1st test against Ireland after getting injured against the Crusaders.
It appears that Hanigan copped his injury after Scott Barrett cleaned out the ruck from the side Kiwi-style, which is to say illegally but not illegally because he's a Kiwi and it doesn't matter.
In the 52nd minute, Barrett can be seen coming in on the McCaw highway, hitting Hanigan as the Waratah was clawing at the ruck. Hanigan subsequently retired from the field.
"He [Hanigan] got cleaned out from the side just twisted his knee a bit, he's pretty tender and in a brace coming back from New Zealand," Waratahs attack coach Chris Malone said, according to the SMH.
Joining Hanigan may be Rob Simmons, who has a shoulder niggle, and Damien Fitzpatrick and Will Miller who both suffered concussion during the Crusaders game.
The Waratahs are facing the Highlanders this weekend, and Malone wants none of we wuz robbed chat.
"A lot of the commentary afterwards was about us letting such a good lead slip, but one thing I would say was in order to put ourselves in that position, there was some of the best footy that we played in a long time," he said.
"The reality of the last two weeks is we had plenty of opportunities to beat both the Blues and Crusaders and that's the disappointing thing. Some of the things we have displayed in those games were some of the things we were criticised for not displaying last year … the physicality we brought to the game, in going across there and showing what this NSW team is all about.
"We didn't control the ball as well as we would have liked in terms of field position after the first 35 minutes so there things we need to look at. We had such a good start but now how do we put the final nail in the coffin."
Latu Update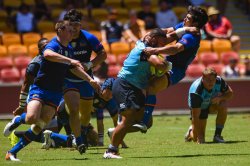 It seems like everybody – Queensland Reds fans, Melbourne Rebels fans, ACT Brumbies fans, Western Force fans, the Rugby Report Card guys, the Dalai Lama himself – has been worried sick to death about the state of Waratah hooker Tolu Latu.
Well finally – FINALLY – there's a bit of news, this time from rugby.com.au. Latu has been working hard, according to rugby Pravda, mainly by throwing heaps of balls n that.
"I've been watching him in the last couple of weeks, he's throwing 200 balls a day and he's making sure that when the door opens again that he runs through it," said Waratahs assistant Simon Cron.
"The biggest thing for Tolu is a consistency of performance and it doesn't matter who you are in our squad, we're 1-35, you've got to be a consistent performer to open that door and I think he's getting pretty close to having an opportunity where I think he can run through that door.
"It's something I've been saying from the start and for him to get better at throwing, he's got to throw.
"I've been pretty strict on the fact this needs to happen and we need self-motivated athletes, so they know it's got to happen and the hookers all tick the box on that and they compete with each other.
"Tolu, I've been watching him closely in the last 2-3 weeks, and he's getting those reps and as a result of that he's going to get more consistent performance.
"He adds some things to us that we love, he's great on-ball, he's got a good body, but at the same time, there's not a lot of guys wanting to share their jersey, the other two are going pretty hard at it.
"So, now his job is to take it off them."
Aussies Lose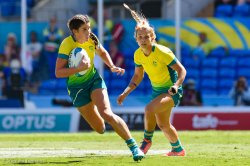 The Kiwis have absolutely belted the Australians in the women's sevens series leg in Vancouver, beating them 46-0 early yesterday morning. That's 8 tries to 0.
Both teams were undefeated but the Kiwis, it seems, have legally defeated the Australians in a dominant performance.
"There was plenty of good stuff over the weekend and I thought there was some big improvements in many areas but we just got blown away in the end," coach John Manenti said (via SMH).
"We just have to dust ourselves off. Our attack was far more clinical, our passing was better, our tackling was better other than falling off a fair few in the end there though.
"Some good exposure and minutes for our younger girls too. Page McGregor played half the game in the semi-final so there's a heap of good stuff we'll take out of that and a fair bit of hurt that will inspire us towards Paris as well."
The Kiwis' win means the competition gap is just 4 points 74-70 going into the final of the five legs. The final leg will played in Paris, in June.
The Vancouver leg was the first with Manenti as coach, after Tim Walsh's move from the women's to the men's.
Bill Pulver Cup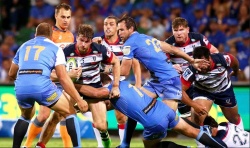 The Western Force will retire to the bunk beds for 3 weeks, until their next hit out int World Series Rugby on 9 June – against the Rebels.
Coinciding with the June internationals, the Force-Rebels game, will be shorn of Wallabies. However, it will obviously be a bit tingly. But Force captain Ian Prior doesn't think it will have any tingle.
"A lot of those players there are really close mates of mine, and I really support them in their careers and what they're doing," Prior told Fox Sports.
"We went through quite a unique year last year as a group, so there were a lot of special memories off the field and on the field.
"It's going to be exciting to come up against them and test where we're at as a team."