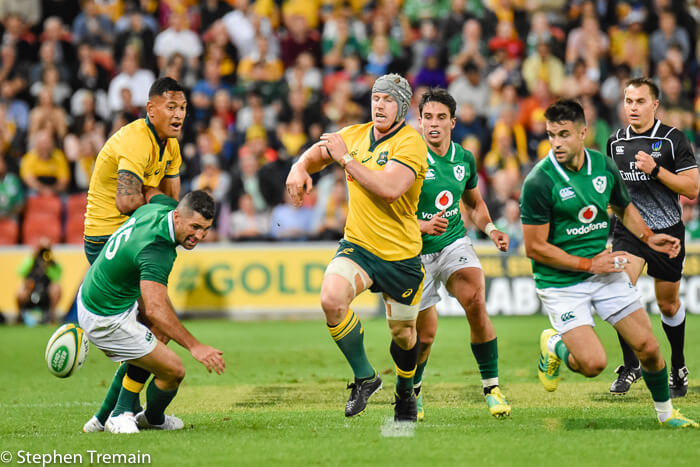 Tuesday's Rugby News takes you on a roller coaster of Pocock magic, Convict success stories, French revolution references and the ACT's squad for a quick jaunt to Japan
---
Guess Who's Back?

Back again, Pocock's back, tell a friend. (In case they were somehow unaware).

Yes, we kick off today's news heaping yet more praise upon David Pocock (he can handle it, the guy is a rock).

Back after his sabbatical away from rugby that saw him do all sorts of non-rugby-related stuff (there's a whole world of non-rugby stuff out there, but it's scary and different, so let's just stick to rugby) Pocock returned to the test arena in emphatic fashion on Saturday night in a talismanic performance that ensured the Wallabies started the international season off in style.

With 18 tackles, 3 turnovers, a couple of forced penalties, a try of his own and a hug for Folau after his (disallowed) try, the only question hanging over his future is how can Cheika get the 22 clones* of Pocock ready for next weekend's second test in time?

In bad news for Ireland and good news for Australia Pocock touched on his, and the whole team's desire to step their respective games up even further. "As a rugby player you always want to be chasing that improvement and trying to push the boundaries of what you're capable of as a player. If you speak to most guys they certainly don't think they're at their best, they're trying to get something more out of themselves."

He did go on to highlight the danger Ireland present and is expecting a response from them in the coming match. "But they're not No 2 in the world for no reason, I think they'll be a much-improved team in Melbourne."

While the Irish are expected to rebound for the second test the signs look good for the Wallabies who took to the field on Saturday night with obvious passion, starting with Brandon Paenga-Amosa's stirring rendition of the national anthem and finishing with the scrambling defence to deny Kieran Marmion a try at the death.

*I'm assuming we're working on fielding a team of consisting of David Pocock from 1-23.

 
Convicts win the Bingham Cup

The Convicts have won the Bingham Cup held in Amsterdam over the weekend.

Not only did their A side clinch victory in the Cup but their B team were winners of the Shield competition.  The women's competition was won by local side the Amsterdam Lowlanders.

It was the Sydney team's fifth victory in the tournament and takes the total number of times an Australian team has won to six.  It also extends Australia's streak to four cup wins in a row with the Convicts streak being interrupted by the Melbourne Chargers' win last year.

The tournament was the largest ever held with 2,500 players from 72 teams playing across Shield, Cup and Women's divisions.

Convicts founder and chair of International Gay Rugby, Andrew Purchase summed up the growth surrounding the tournament, "The number of gay and inclusive rugby teams around the world has grown dramatically in the past four years, since we hosted the Bingham Cup in Sydney in 2014. There has been a 50 per cent increase in clubs, which means winning the cup and the shield was a particularly hard battle this time for both teams."

Convicts' president Dan Rose was similarly proud of what the club had achieved, "Both victories are a testament to the preparation and hard work of the club leading up to the tournament," while also singing the praises of the other clubs from the bottom half of the globe, "We are very proud that for the fourth time in a row the Bingham Cup is coming back to Australia, which shows the strength of the southern hemisphere in rugby union."

The win was also used as a platform by the club to announce they'd raised $27,000 to aid research into ways to address and stamp out homophobia in sport.  It's hoped that the research like the study by Monash University's Erik Denison will lead to effective programs being implemented in rugby and other codes in future.

As Purchase put it, "Ultimately the Convicts would like to put ourselves out of business, we'd like one day for there not to be a need for gay rugby teams".

"Unfortunately, right now many people drop out of mainstream clubs because of homophobic language, which is often not intended to be harmful."

 

 
Off with their Heads!!

Not since Louis XVI turned out on the wing for the Paris Peacocks in 1793 has there been such a blatant attempt to tear a player's head off during a rugby match.

In a sickening incident during Saturday night's first test, French winger Remy Grosso was hit high by two All Blacks in the one tackle which resulted in Grosso being taken to hospital where it was revealed he has two fractures in his skull.

To add insult to injury, neither Cane nor Tu'ungafasi have been cited over the incident and it only resulted in penalty at the time with both New Zealand players permitted to play on, in direct contrast to World Rugby's crackdown this year on contact to the head.

Inexplicably defending a shoulder directly to the head of a player which saw them hospitalised, Hansen said "Our game is really fluid, there's movement in it, and when you get two guys coming in to make a tackle on one, things can change late. I think that's what happened."  Further adding, "Sammy made the tackle and Ofa ended up hitting him in the face with his shoulder accidentally. There's no intention to hurt him. Unfortunately, it's one of those things."  (Although one might cynically point out that World Rugby doesn't actually consider 'intention', unless it seems the All Blacks are involved?)

To further the exasperation for the French Hansen has also come out denying any wrongdoing by his players, "We have been called cheats for 100 years haven't we? If you keep winning people will find reasons I suppose."

In stark contrast to the coach's denial of wrongdoing, Ofa Tu'ungafasi has taken to twitter post-match to apologise to the Frenchman who remains in New Zealand as doctors do not want him to fly just yet.

 

 
"Brums Crums" head to Japan

With their brightest and best players plying their trade for the Wallabies the remainder of the Brumbies squad has been pared down to 24 who fly out Monday night to Japan, ahead of their showdown with the Suntory Sungoliath as part of the Japanese Chichibunomiya Minato Rugby Festival.

Before the match on Sunday afternoon match the squad has a few other duties to take care of, there are school visits (presumably to conduct coaching clinics and win favour with the locals?), a dinner with the Japanese Rugby Football Union (presumably as full-time athletes they'll get hungry?) and a trip to the Australian Embassy (presumably they're predicting a big win and expect their night out celebrating will result in a diplomatic incident?).

The big ins and outs for the team are Matt Lucas covering for Joe Powell at the base of the scrum, Nic Mayhew and Ben Alexander filling in for Scott Sio and Allan Alaalatoa at the front of the scrum and Tom Cusack hanging off the side of the scrum in place of David Pocock.

It's of some note that the Brumbies will come up against Wallaby and barber shop legend Matt Giteau who is currently playing for Suntory.

Brumbies squad,

Robbie Abel

Ben Alexander

Richie Arnold

Sam Carter

Tom Cusack

James Dargaville

Benjamin Edwards

Blake Enever

Kyle Godwin

Wharenui Hawera

Jordan Jackson-Hope

Christian Lealiifano

Leslie Leuluaialii-Makin

Matt Lucas

Nic Mayhew

Lachlan McCaffrey

Connal McInerney

Andy Muirhead

Faalelei Sione

Andrew Smith

Henry Speight

Darcy Swain

Lausii Taliauli

James Verity-Amm