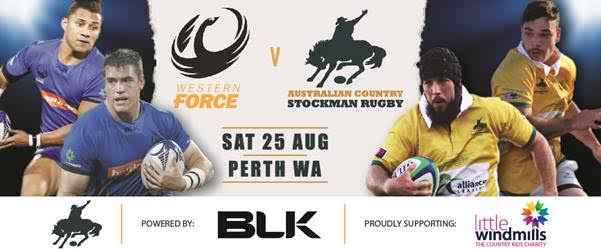 Tuesday's Rugby News reviews the review of the TMO reviews, checks out the latest from the judiciary, McKeller's take on the Brumbies' season and the first in and outs of the coming finals matches.
Also, who are the Stockmen that grace today's lead photo? Read on and all will be revealed.
---
TMO Referred to the…..

It seems that the almost universal cries of disbelief emanating from pubs, lounge rooms, club houses and stadiums around the southern hemisphere have actually been heard by SANZAAR and World Rugby.

It comes off the back of a home and away season in Super Rugby that has seen many a decision questioned and the fan base, at times, worried about the direction the sport was heading.

The wailing and gnashing of teeth has been the result of the oft bizarre rulings and inconsistent interventions by the Television Match Official.

SANZAAR chief Andy Marinos put it bluntly saying, "The protocols are clearly not working".

And suggested that the onus be placed back on the referee on the field, "SANZAAR believes the appointed referee needs to remain the key decision maker on the field and that TMO interventions only provide context to the match officials' decision making".

At the same time SANZAAR are at it the World Rugby bigshots will be meeting up in San Francisco to discuss the same issue after there were several decisions during the June internationals that drew the ire of the rugby community.

One may be excused for wondering how big an impact World Rugby's update on the rules surrounding fair play have impacted this year's refereeing concerns.  The update, released on 1 January this year included a preamble stating, "The underlying rationale for Regulation 17 is to maintain and promote fair play, protect the health and welfare of Players".

And while (I'm sure) we all want to see the game be safe for the players involved, the very same statement went on to add "acts of Foul Play are dealt with expeditiously and appropriately by independent means within the Game and that the image and reputation of the Game is not adversely affected" (italics added for emphasis).

It's a hard balance to strike for sure, but let's hope that both World Rugby and SANZAAR can come up with ways to ensure that all aspects of the game are balanced fairly and that at the very least some clear consistency returns to the officiating.
Weekend Disciplinary Update

To continue the discussions around discipline in rugby, the weekend's matches have yielded the following suspensions.

The Reds' Caleb Timu has been handed a two week ban after his illegal clean out against Sunwolf (is that the correct singular?) Hayden Parker.  On field Timu was (if I can personally interject for a second, rather surprisingly) only shown a yellow card but SANZAAR determined after the game that the offence had indeed met the threshold for a red card but decided to only hand the backrower a two-week term, rather than four it could have attracted, given his otherwise good behaviour.

Joining him on the sidelines, for the same amount of time, is another Queenslander.  This time it's in the form of Eddie Quirk who has been given a 'time-out' for his contravention of law 9.12 which reads, "A player must not physically or verbally abuse anyone. Physical abuse includes, but is not limited to, biting, punching, contact with the eye or eye area, striking with any part of the arm (including stiff-arm tackles), shoulder, head or knee(s), stamping, trampling, tripping or kicking." (again, italics added for emphasis) The committee cited the same reasoning behind Quirk's two rather four-week suspension.

The big loser so far from the weekend's matches are the Chiefs who will go into their quarter final rematch against the Hurricanes without their inside centre Johnny Fa'auli. Fa'auli was given a six-week ban after his high shot on Wes Goosen saw both players leave the field for the remainder of the game, one with a red card, the other with a concussion.

In explaining the length of the ban SANZAAR said, "The committee added two weeks to the entry point as aggravation for the fact [Fa'auli] has two previous offences of a similar nature on his judicial record and as a personal deterrent to combat a pattern of such offending by the player.

"However, taking into account mitigating factors including the player's expressed remorse and his plea of guilty at the earliest possible opportunity, the committee reduced the suspension to six weeks."
McKeller Looking Forward to the Future

Can the Brumbies join Braithwaite's horses "way up in the sky"?

If coach Dan McKeller has his way, they will.

After a season that yielded some terrifying lows, some dizzying highs and some creamy middles McKeller has spoken glowingly about how his troops have performed, ".…I'm just really proud of how we've grown as a group and how we've just bought in and when times were tough we didn't move away or question what we were doing, we just stuck at it".

It was the first year for McKeller in charge in the nation's capital (well, at Super Rugby level, he had previously coached the Canberra Vikings in the NRC) and he knows it will take time for his vision for the team to become a reality but seems at ease with the drawbacks of the more attacking style, "Counter attacking tries coming out of our own end and just backing ourselves, and that's what we'll continue to do and understand that no matter what part of the field that we're in, if there's opportunity there, you take it…….. there will be errors every now and then and that's something as a coaching group that you've just got to live with."

One thing that's still not clear in the Brumbies' future is whether they'll have the services of their co-captain Christian Lealiifano (or if you will, Leali'ifano).

McKeller is clearly a fan (serisouly though, who isn't?) saying, "I feel the last couple of months of the season Bruz (Lealiifano) is back to his best.  He's an integral member of our club and no one's more important."

Lealiifano too was full of praise for his time with the Brums, "I loved playing for this town and city for a long time and seeing this group grow."

Whatever happens, and wherever he ends up, Lealiifano's story is already amazing and hopefully he can add to it in years to come.
Moody Blues

Joe Moody is out of this weekend's quarter final against the Shorks.

The front-rower picked up a knee injury against fellow south-island team the Highlanders and missed the Crusaders' last start flogging of Auckland.

Although the 'Saders are blessed with other international-level props in Wyatt Crockett and Tim Perry, Moody and his 33 tests will surely be missed.

In a real turn-up for a match against the lowly-ranked men from the north, the dominant Cantabrian scrum gave up a penalty try.  Assistant forwards coach Jason Ryan was blunt in his assessment of the incident, "We were five per cent off technically, and probably about three per cent off mentally, which was probably the disappointing thing just for that scrum".

It's not all bad news for the men Canterbury though, it looks like both Ryan Crotty and Kieran Read will be fit to play this weekend despite suffering injuries from the game against the Blues.  Speaking of Read's injury Ryan said, "He just had a bit of bruising there, he just got a bit of a bang on it, it was the hand that he has had a few issues with – it give [sic] him a fright more than anything. We were just being precautious."

They also welcome back All Black trio Codie Taylor, Owen Franks and Scott Barrett.

The Crusaders host the sudden-death quarter final match up this Saturday evening.
Want to play against the Western Force? No, you are not reading that wrong!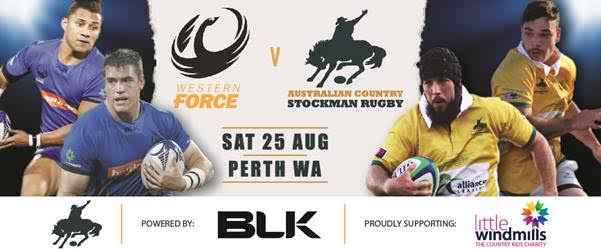 The Australian Stockman Rugby Union is giving anyone and everyone the chance to play against the Western Force in Perth on Saturday 25 August.
This presents a rare opportunity for amateur players across Australia who have been consistently performing at a higher level to put their hand up for possible selection and play a professional rugby team.
While the squad will be complemented by professional players, it will consist mainly of club and country players from premier competitions around Australia including the Shute Shield and Queensland Premier Rugby,
The Australian Stockman side will be coached by former Wallabies Nic Henderson and James Holbeck and will go into camp in Perth from Saturday 18 August to Sunday 26 August.
"This fixture presents a great opportunity to reward some of the best club rugby players in Australia with a Stockman Rugby jersey and a game against a professional team," said Henderson. "We reckon there is a fair bit of untapped talent in grassroots rugby, hungry for an opportunity like this one and able to perform at this level."
As the Stockmen can't go around and select players, the Australian Stockman Rugby Union is asking the rugby community to recommend player/s.
As a heads up, the key selection criteria include Character, Strength and Fitness, Experience and Potential. Unfortunately, due to constraints, there will be a touring cost of $2,000 for each player (incl. return flights, food and beverages) and for the week-long camp in Perth players will have to financially support themselves.
However, this is a rare and exciting opportunity for amateur players across Australia who have been consistently performing at a higher level to put their hand up for possible selection and play a professional rugby team.
If you know anyone who you think fits the bill, simply submit their name, contact deets and a brief outline of what sets them apart to info@stockmanrugby.com by COB Thursday 19 July. For any further information, visit stockmanrugby.com.