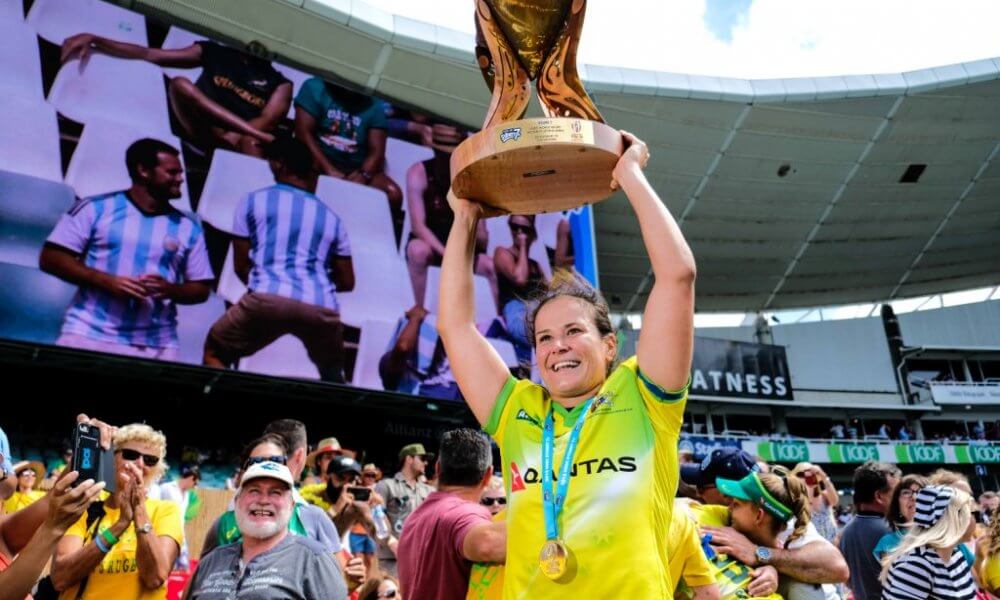 Tuesday's rugby news follows up on the recent spat over the weekend, O'Connor finding himself, Sevens stars re-signing and the Poms going pro.
---
Case Closed

Australian rugby has sunk to a new behavioural low this week on the back of the scenes that unfolded at CBUS stadium after the Wallabies' loss to the Pumas.

For a game that has long drawn pride from being "a hooligans' game played by gentlemen", what took place between Aussie backrower Lukhan Tui and a spectator almost belies belief.  The sledging, the alleged knocking over of an innocent bystander and both parties needing to be physically separated flies in the face of rugby's ethos.

As far as Rugby Australia is concerned though, the matter directly surrounding the incident is over.

Raelene Castle spoke about the matter and it seems RA's response was dictated to some degree by Tui himself, "Wallabies team management have been in dialogue with Lukhan since the incident and he has indicated that he does not wish to pursue the matter any further and therefore no further action will be taken by Rugby Australia".

One has to imagine that the reference to "no further action" is specifically regarding the spectator in question facing any blow-back from their actions as Castle did hint that RA is looking at just how fans and the players engage with each other, "The interaction between players and fans is an extremely important part of sport and we never want to see an incident like this again".

Although their next statement suggests that things won't change much, "We want rugby fans to be able to get up close and personal with their heroes and our Wallabies stars" or at least won't change much anytime soon, "We feel that this is an isolated incident and we haven't experienced anything like this in our game in the past, so we don't want to race into any hasty measures."

Where to for RA from here though remains a loaded question.  Do they further isolate their team who are struggling to engage fans given the lack of bums on seats?  Do they go the other way and open up press conferences to the masses?

Trying and interesting time for sure.
James O'Connor Vying for RWC

Remember when the worst thing about James O'Connor was his hair?

The teenage prodigy burst onto the professional rugby scene as a skinny kid from Brisbane who couldn't even buy a beer when he played his first Super Rugby match and was still a teenager when he first pulled on the Green and Gold.

How times have changed.

After 59 Super Rugby matches and 44 tests, much like a Takata airbag equipped Hilux, things started to go horribly wrong for the utility.

What should have been a holiday to Bali ended up with the him being removed from Perth airport by the feds and the Wallabies tearing up his contract.  Forced to ply his trade overseas the downward spiral continued with a late-night arrest in Paris on suspicion of buying cocaine surely marking the lowest ebb.

Jump to this week and O'Connor is taking to social media to announce himself a new man and push his claims for a world cup spot next year.

You may be thinking JOC is getting ahead himself, and you'd be right, he hasn't played the requisite 60 tests to fall under Giteau's law and without a Super Rugby contract in place he's no chance of a Wallaby recall.

The posts, which remarkably haven't featured either a plate of kale or fitspo hashtag clearly state his desire to make it back into the fold, "I have learnt from my mistakes and I am now ready. Ready to bleed green and gold. Ready to bleed for my brothers. Ready to bleed for the people".

Whether his team-mates who have long expressed their disgust at his behaviour believe he's a changed man is yet to be seen.

#fitspo #blessed #influencer #skinnytea #follow4afollow
Aussie 7's Re-Signings

In some non-punch-on, non-kombucha-spruiking news, the Australian women's sevens squad has been bolstered by three of their starts committing to the team until at least 2020.

Sharni Williams, Shannon Parry and Alicia Quirk all have put pen to paper and with a combined 534 HSBC sevens points between them, things are looking up for the defending Rio Gold Medallists.

Williams and Parry not only bring their years of co-captaincy to the table but both have also pulled on the jersey for the 15 a side version of the game racking up 31 tests between them.

Sevens Head Coach, John Manenti, was suitably chuffed with the autographs collected saying, "These three women are outstanding Rugby players and leaders within our squad.

"They all have such passion and drive for the program and for the game, wanting to see it grow and you can see this enthusiasm in the way they still throw themselves at everything.

"This year stands a massive year for the squad as we fight to secure Olympic qualification and to have these three as a part of our plans is the wind in our sails as we charge through our pre-season".

Parry too was excited by the prospects of what the 2-time World Series winners could achieve, "We have an excellent program in the Aussie Sevens and a good plan for the next two years, which I am looking forward to getting into.

"The squad has continued to change and grow over the years and it's humbling to be a part of such an exciting period for Women's Rugby.

"We don't shy away from the fact that we have high ambitions for this team, so there is a lot of hard work to come, but we're looking forward to making sure that we are ready for the challenges that lie ahead for us."
Poms go Pro, again

In continuing good news for the women's game, the RFU has announced they will hand out 28 full-time contracts and a further seven "elite player squad" agreements.

It's a stark reversal after the turmoil that surrounded the game in England when following on from their 2017 World Cup campaign (where they finished 2nd to the Kiwis) the focus shifted from 15s to 7s and contracts weren't renewed.

The reasoning behind the shift at the time, was the build up to the Commonwealth Games 7s and 7s World Cup.

With that recent history, RFU's chief executive Steve Brown's statement on the matter could be seen to be a little rude, "We are delighted to be able to offer full-time contracts to our 15s players.  This has long been our ambition and demonstrates the RFU's commitment to growing the women's game and the belief we have in the future of the sport".  (I added the underlining for emphasis)

Whatever transpires, it seems that big things are a-brewing and the RFU might just provide the catalyst to really kick things up a notch.

"We are at a tipping point for women's rugby globally and it is our ambition to be world number one and drive growth at every level. As an organisation, from top to bottom, we are very much behind this and want to see the continued expansion and growth to realise the ambitious targets we have set ourselves", Steve Brown.

The contracts are set to start as of January next year.