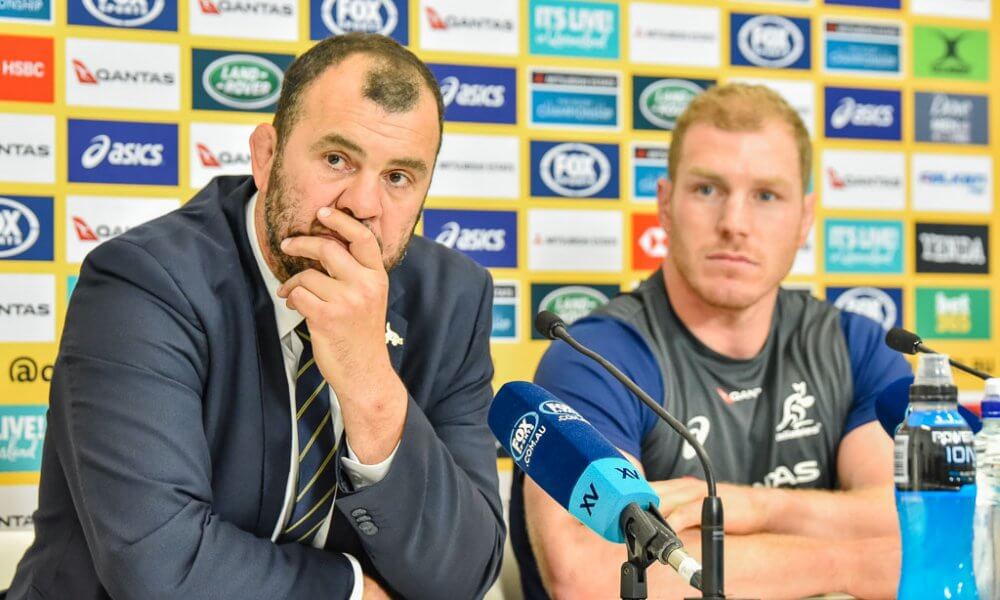 Tuesday's Rugby News is all about odd, off-beat and outlandish statements as well as a quick lap around the grounds to see how the kids are going.
---
Genia Guarantees It

There are times throughout history where people make bold statements and if they're right they seem to be lost to the annals of time, if they are proven wrong on the other hand it forever is noted against their name and becomes a trivia question.

Let me give you some examples,

"I think there is a world market for maybe five computers"-Thomas J. Watson, IBM

"They couldn't hit an elephant at this distance"-Major General John Sedgwick, Union Army

"You won't carry a calculator in your pocket everywhere you go"-Mrs Drover, Ipswich West State School

And we may well be adding Will Genia to that illustrious list.

Speaking to rugby.com.au he's declared, "We're going to win. I'm telling you, we're going to win".

The Wallabies face Argentina this weekend is a potentially season-, nay, era-defining match. A loss would see the Wallabies slump to last place in TRC and only have a miserly two wins for the year whereas a win might drag them off the bottom of the table but would still only be third win this year for the men in gold.

To back up his bold claim of the assured victory Genia pointed to what he thought were some positives from the weekend's match, "I thought there were really good bits of play throughout the contest, good interlink between forwards and backs and we were really disciplined in sticking to our shape". (4th wall again, what's this obsession with "shape")

But he also touched on what a lot of us have been screaming at our tellys this year, "I think what let us down was just our execution errors/skill errors at times".

So, will Will forever be remembered for this claim?  Or can the Wallabies indeed trump the Pumas?
Schools and Under 19 Results

Building on the proud history of Australia dominating the tri-nations, a title the senior team has held since 2011, the Australian schoolboys kicked off their tournament in fine form with a walloping of Tonga.

The Aussies recovered from conceding an early penalty to goal to take full control of the match eventually running out winners, 53 points to 10.

And while the tournament it contested between three countries there are actually four teams getting run.  In addition to the first team the Aussies have also pieced together a Barbarians outfit.

In true BarBars fashion their match against NZ schools was a high scoring affair but alas, the lads from across the way were too good and got the "W" with a 55-31 victory.

The return fixtures will be at Ballymore this coming weekend.

Meanwhile, down in the nation's capital the under 19 NRC rages on.

Day two saw QLD Country down the Barbarians 30-25, Glory Glory Brisbane City knocked off the Brumbies 28-12, the Melbourne Rebels heaped more pain on Rays supporters with a narrow 28-26 win and NSW Country recovered from their first-round loss to defeat WA 36-22.

With one round to go before the finals QLD Country and Brisbane City remain undefeated while Brumbies, the BarBars and Rebels all have one win and the Rays and Force are still looking to notch up their first for the tournament.   The games continue later this week.

If I could just break the fourth wall here for a moment, if that's what you call it in this context, but a quick squiz at the team list for the Australian schoolboys reads with a lot "St Such'n'Such" this and "Grammar" that.  The only state school member of the squad hails from Brisbane State High School, who ply their trade in the local GPS competition.  Is this evidence of rugby being too isolated a game?  Discuss.

 
Big Picture Pocock

There's a guy in every team who isn't captain but could be.

He gets through a mountain of work on and off the field and when he talks, people listen.

For the Wallabies, that guy has to be David Pocock.

The almost-mythical backrower has been a titan for the Wallabies this year and you could forgive him if he was starting to get frustrated.  Seemingly though, he's not.

In assessing his side's performance on the weekend, the Wallabies' eight looked for the silver lining, "I think it's probably unhelpful as a player to judge yourself purely on the outcome because you miss a whole bunch of stuff you can actually improve," he said, seemingly missing the end goal of rugby matches, that being, to win.

"There were more positives out of this game in terms of set piece and way we're wanting to play", he continued having not seen the lineouts we're assuming.

It appears that Pocock is unable to say a bad word about anyone, even Beale's first minute pass that lead directly to a try for the rainbow nation somehow got praised, "When you've got a team-mate who's backing himself to make that play you'll back him and you can't fault that … he's a competitor, he's one bloke who stands up and you can count on".
Why Would You Say That?

Remember how the Bokke beat the All Blacks recently and there was this collective "oh yeah?  So, they can be beaten" sentiment that gave long-suffering fans of other nations a glimmer of hope?

Well that's already almost certainly been knocked on the head after Argentinian Mario Ledesma came out and labelled the All Blacks as, and I quote, EASYBEATS, sorry, had to be done, what he really said was that the All Blacks aren't "untouchable".

Speaking after the very same All Blacks proved untouchable for his team, the Argentinian coach laid into the world's premier rugby team. "I thought the All Blacks were not very clinical," he said.

"They dropped the ball a lot and lost a lot of lineouts". (although the match stats have NZ winning 13 or their 15 lineouts)

"They are not untouchables". (gasp)

"It was not the normal New Zealand team that we played against, but we failed to take advantage of the situation. My team made as many line breaks as the All Blacks only to waste scoring opportunities while they took full advantage of theirs." (again, that stats have NZ with 15 line-breaks to the Argie's 8)

The first chance to see how the All Blacks respond to this take on their recent from will be when they face up to their recent vanquishers, the Springboks, in Pretoria.

Meanwhile, the Argentinians will host the Wallabies.