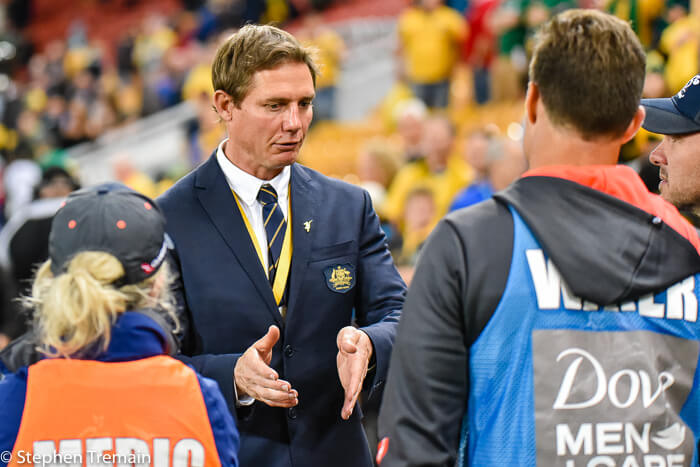 Tuesday's Rugby News sees Larkham is out but has a new job, Super W is back, Foley wants clarity and Tim Walsh open to XVs players in Sevens.
---
LARKHAM OUT
Stephen Larkham has been sacked eight months out from the World Cup

It appears the World Cup winning Wallaby no longer has a place on Michael Cheika's coaching staff after it was announced today he will be moving to a new role.

Larkham joined the Wallabies coaching staff in 2015 ahead of the World Cup as the attack coach after serving as the head coach of the ACT Brumbies.

With the announcement of Scott Johnson stepping into the role of Direct of Rugby, and the Wallabies record for 2018, non of Michael Cheika's assistants had their safety guaranteed, with early report suggesting Larkham and Simon Raiwalui would be on the chopping block.

It appears though that Larkham is the only casualty of the season review, citing "difference in attacking strategy" between himself and Cheika as a reason. 18 months ago Cheika had all but pegged Larkham as his heir apparent.

In a statement Larkham said: "Ultimately Michael is responsible for the performance of the team. We have differences in attacking strategy and overall game philosophy. We couldn't agree on these key points and it is in the best interest of the team that they receive clear and consistent messages from their coaches.

"I am obviously disappointed with this outcome as I had chosen to pursue the experience of taking the Wallabies through to the World Cup, however I am pleased to be able to continue coaching and contributing to Australian Rugby in this new role." 

It is interesting to note that even though axing of Larkham has occurred under Scott Johnson's watch, the decision predates his appointment, with Michael Cheika making the call.

"During the post-season review when they came back and obviously looked at the Wallabies performance, everyone identified that the Wallabies didn't play well enough this year or consistently enough and therefore deliver results," she said.

"So when they sat down and had those conversations there was a philosophical difference between the attacking styles and ultimately they agreed that for Bernie (Larkham) to move on was the right thing to do.

"Michael consulted with Scott and explained to him what he was going to do and his rationale so he was involved in the process."

Castle claimed that the pair had tried to work through their differences, rather than rush the decisions. 

"When you've got two coaches with great experience and really good depth of knowledge whether it be attack or defence, you want to try and work those things out and you also don't want everyone to agree all the time," she said.

"You need challenge and differences of opinions to make sure that what you do in the final outcome is grow and develop it but ultimately they didn't think that the core elements of attack was aligned and so ultimately that's where they believed it was the right thing, Michael believed the right thing for Stephen to move on."

According Raelene Castle, it is a lateral move to the position National High Performance Coaching Advisor, a role that will focus on coach mentoring, coaching and skills development across the Qantas Australian Sevens program, Junior Wallabies, State U20s Academies, and Buildcorp Wallaroos.

Castle said "We are very pleased that Stephen has agreed to take on this role. He was one of our greatest ever Wallabies and has developed a strong depth of experience during his coaching roles with the Brumbies and Qantas Wallabies.

"It was very important from Rugby Australia's perspective to retain Stephen's services and to ensure his experience is used to grow and develop coaches and players in our next generation.   "We will also look to support Stephen in his transition into another Head Coach role,"

Castle has claimed there will be no rush to find a new attack coach, though one will be appointed prior to the World Cup.
SUPER W IS BACK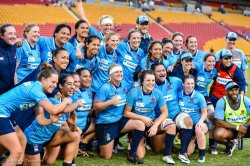 Super W is back with a beefed up format, new televised set up and even more double headers.
The new format will see only the team that finishes first on the ladder guaranteed a spot in the Grand Final, with second and third playing off for the final spot.
The opening weekend see the defending champions NSW taking on the Brumbies in Canberra, with Melbourne hosting Queensland in Victoria.
Every match will be broadcast LIVE on Kayo Sports and RUGBY.com.au, while FOX SPORTS will show matches that are apart the double header with their male counterparts. 
There will be three Super Rugby – Super W double headers this season; Brumbies vs NSW women, Queensland vs Rugby WA women and the Melbourne Rebels vs Rugby WA women will all be played and shown a head of the Super Rugby matches.
Raelene Castle Super W is having a positive impact on Womens XVs and will continue to see growth.
"The hype of last year's competition has brought forward a new era for Women's Rugby in Australia, and we've seen a 20% increase in female XVs participation since Super W last year," she said.
"That growth is part of the reason that all the clubs are taking matches back to their grassroots, to continue to promote the game and inspire our next generation of Buildcorp Wallaroos.
"The competition gives our players top level game time, week-in, week-out which will hold them in the best possible stead for an action-packed international calendar in 2019."
Super W 2019
Round 1
Saturday February 23 – Brumbies Women vs NSW Women*, GIO Stadium Canberra, 5pm AEDT
Sunday February 24 – Melbourne Rebels Women vs Queensland Women, Box Hill RFC, Melbourne, 3pm AEDT
Round 2
Saturday March 2 – Queensland Women vs RugbyWA Women*, Suncorp Stadium, Brisbane, 4pm local, 5pm AEDT
Sunday March 3 – Brumbies Women vs Melbourne Rebels Women, Seiffert Oval, Queanbeyan, 3pm AEDT
Round 3
Friday March 8 – Melbourne Rebels Women vs RugbyWA Women*, AAMI Park, Melbourne, 5pm AEDT
Sunday March 10 – NSW Women vs Queensland Women, Leichhardt Oval, Sydney, 3pm AEDT
Round 4
Saturday March 16 – Queensland Women vs Brumbies Women, Ballymore Stadium, Brisbane, 5pm local, 6pm AEDT
Sunday March 17 – RugbyWA Women vs NSW Women, Curtin University, Perth, 3:30pm local, 6:30pm AEDT
Round 5
Sunday March 24 – RugbyWA Women vs Brumbies Women, Wanneroo Rugby Club, WA, 2pm local, 5pm AEDT,
Sunday March 24 – NSW Women vs Melbourne Rebels Women, Sunday 24 March, 3pm AEDT Anne Ashwood Park, Bathurst
*Denotes doubleheader
Playoff
March 30/31 – 2nd vs 3rd
Super W final
April 6/7 – 1st vs winner of 2nd/3rd
XVS INTO SEVENS?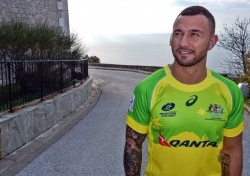 Current Aussie mens Sevens coach Tim Walsh says that despite being happy with his current crop of sevens players, he wouldn't rule out reaching into Super Rugby and bringing across a star a head of the Olympics next year.
Australia will be looking to try and finish fourth in the world rankings in an effort to automatically qualify for the Olympics, a position they will most likely be competing against England and South Africa for.
The Aussie team looked promising throughout the tournament, and took the game on against Fiji, opening the scoring and fighting to keep scores eve before the Fijians ran away in the dying minutes of the match. Final scores were 22-17
Australia managed to make it through to the fifth spot play off after beating France 17-14, but lost their play off to South Africa 12-10.
"We wouldn't say no to some of the best players in the world, which are in Australia, but happy with what we've got and where they're progressing to," Walsh said.
Last Olympic Games saw the attempt to bring across XVs players, with Quade Cooper, Henry Speight and The Bachelor Nick 'the Honey Badger' Cummins, all putting their hands up for the shot at the games.
Ultimately the experiment did not work, with former coach Andy Friend opting for specialist Sevens players.
But Walsh has seen the benefit of players who know both games, with his recruitment of Michael Wells and Nick Malouf, players who played XVs before transitioning to the shorter game.
Maybe some time in a different game would be good for some of the Wallabies, help them learn to play smarter rugby and adopt better skills.
FOLEY SEEKS CLARITY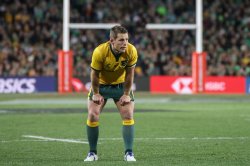 Waratah's and Wallabies fly half Bernard Foley has ask for clarity around Rugby Australia's plans to rest Wallabies players during the Super Rugby Season.
Foley says players in NSW have no idea who will be rested and when.
"Hopefully, there is a plan and we're not just playing it by ear," Foley said.
"There needs to be a balance around the amount of football we play and getting the right amount of rest.
"You've seen the All Blacks do it well, but it's going to be tricky (to balance) and we need a plan to make sure both campaigns (Super Rugby and World Cup) are maximised."
It is believed that Rugby Australia has already begun discussions with the four franchises regarding resting Wallabies stars for multiple Super games.
The move is to mimic other Rugby nations policies to rest players, in particular in the UK due to the length of their seasons, and New Zealand because of their success.
Foley was one of the players invited to Michael Cheikas January preseason camp, which Foley said focused on fitness and bonding a head of the World Cup.
Foley said at the time that there has been no discussions on a new structure or whether the assistant coaches would be sticking around. 
"That might be finalised once Scott is finished with Scotland (as director of rugby in March)," he said of the coaching set-up.
"We won't get much time together as a group after the Super Rugby season, so the camp was a valuable chance to get together, do some hard work and talk about what it's going to take (to win in Japan).
"We haven't spoken about it but it's definitely the goal; we don't want honourable defeats."
Foley was rested when the Waratahs played their first trial match against the Highlanders last Friday, and will likely be rested again when his side faces the Brumbies in Goulburn for the final trial match on Thursday.