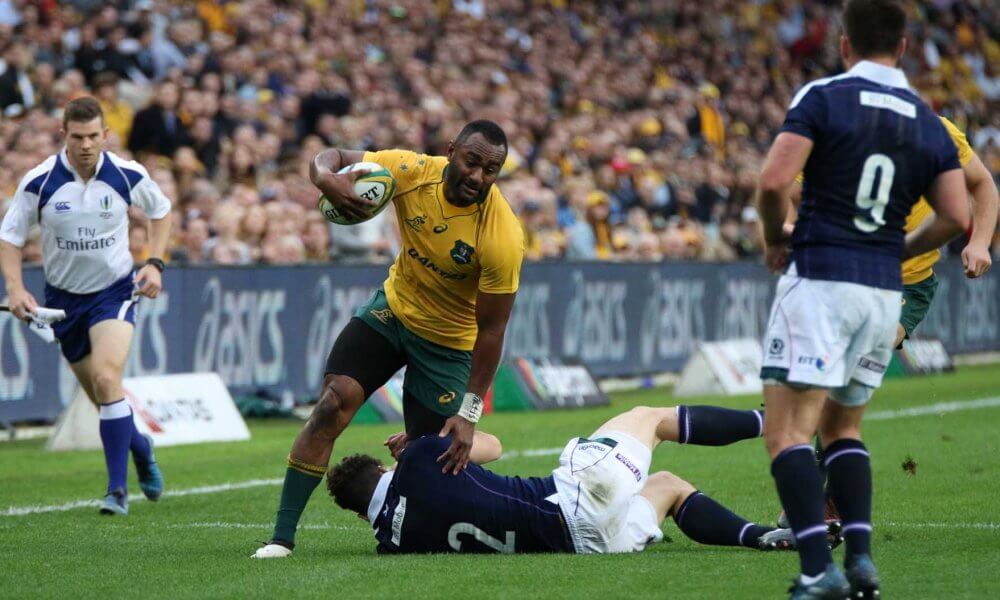 Tuesday Rugby News sees No changes to the Giteau Law, Kuridrani benefits from a holiday, Nic White interested in World Cup return and a review into injuries.
---
NO CHANGES TO THE GITEAU LAW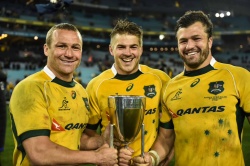 With the recent announcement that Rugby South Africa are scrapping their version of the Giteau Law, it comes as no surprise that the actual Giteau Law would be up for discussion. Despite the rule being frequently reviewed, Rugby Australia are happy with the standard that requires a player to have played 60 test and seven seasons of Super Rugby to qualify.

It is a law that many believe should be changed, especially now with the South African change fro 30 tests to no requirements.

According to RA boss Raelene Castle, Australia are win no rush to change the laws.

"At the moment, we're very comfortable with the way it's performing," she said.

"The Giteau law for us is a rule that's in place that we review often because we need to make sure that it's delivering to the outcomes that we put it in place for.

"And we believe it is, we believe the benchmark is right as a 60-Test threshold because if you've played 60 tests for your country you deserve the chance to look at other options because you have the training maturity and the professionalism to come back into the Wallaby environment and fit right in.

"We think from a going overseas perspective it's right, we think probably if we lowered it, what it does do is potentially have us lose some of the current talent that we have playing here in Super Rugby.

"And Super Rugby is also incredibly important for us because we need to make sure that our four teams are successful in the Super Rugby competition."

Many critics believe this will cripple South African Super Rugby, RSA believe it will prevent an exodus of players leaving Africa in search of better money.

Castle also raises a fair point when looking at the location differences between Australia and South Africa, in comparison to Europe.

"And I think also the reality of their decision is that works for them because 12 hours up and back on the plane is achievable, whereas 24 hours to get from the UK and Australia and back again, is probably not realistic." Castle said

"There's some differences in views. The All Blacks have no rule, so if you're not playing in Super Rugby, you don't get selected for the All Blacks, we have a 60-cap threshold and that works for us." she added.

Whilst plenty have called for a change to the Giteau Law (this pundit not included), former Wallaby and Director of Gainline Analyistcs Ben Darwin believes the "ramifications of this decision will be pretty dire".

Darwin and his company broke down the statistics on the success of an open selection policy.

In Rugby World Cups since 1999, full small system domestic teams, that is, countries with the entirety of their squad playing domestically and with few foreign players in their competitions, have won 87.5 per cent of their matches.

Countries such as France and England, who only select locally-based players but have a large influx of overseas talent in their club competitions, win 74.5 per cent.

With laws such as Australia's Giteau Law and South Africa's previous 30-cap restriction for overseas players, the win rate goes to 58.2 per cent and when players are allowed to be picked from anywhere, that rate falls to just 14 per cent historically. Via. RUGBY.com.au

Darwin believes that team cohesion tends to be far more impacting on the squad than the most talented players.

"Teams that draw their players from just the local teams do much better historically at World Cups," Darwin said.

"Generally, the drivers of success for a World Cup is that it's not about the national team alone, it's as much about the clubs and the states.

"Most success comes off the base of cohesion that comes out of club level."
RUGBY AUSTRALIA TO REVIEW INJURIES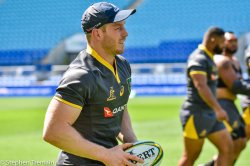 Not long ago it was brought up on Green and Gold Rugby that four players left Michael Cheika's "fit camp" carrying soft tissue injuries, David Pocock, Adam Coleman, Nick Phipps and Dane Haylett-Petty.
Now the wider rugby community has put one and one together, with the Super Rugby clubs left fuming that their players were injured, and Rugby Australia issuing a review of what happened.
At the unveiling of the John "Nobody" Eales statue at Suncorp Stadium, RA boss Raelene Castle was questioned about the injuries.
"We are all concerned about the injuries. That's certainly not the ideal place for anyone to start. Nobody was comfortable with the fact we had injuries and Rugby Australia is reviewing the reasons for those injuries," Castle told the Herald.
Castle followed up with a comment saying that it would be inevitable to have frustration between the Super Clubs and the Wallabies staff as they try to collaborate.
"The tension that is in the market around Wallaby camps in a World Cup year, that's perfectly natural and I would expect the Super Rugby teams – while wanting the Wallabies to be successful – they are also trying to win. Coaches and administrators know their reputations are on the line, too," Castle said.
"It's a marriage everybody knows we need to have but it does have some tension around it."
No coach or administrator for the Super Clubs or RA has gone on record about the issue, for obvious reasons.
Pocock and Haylett-Petty returned for round one, with Coleman expected to play this Friday. Waratahs assistant coach Chris Whittaker has said there is no timeline on Phipps.
From a Wallabies perspective, Michael Cheika made a request that his players arrive at the camp in match fitness, which begs the question how professionals like Pocock and Haylett-Petty were pushed to the point of injury? Or why was the Head Coach running the fitness sessions.
Adding to more fuel to the already burning situation, RA as requested that Rebels and Brumbies players be in Sydney the day after their match at AAMI park on the 8th, and the Reds and Waratahs are to join them after their match the following night at the SCG. This camp will run until Tuesday night.
This will jeopardise the Rebels who travel to Johannesburg to take on the Lions in the first Africa legs, as well as the Waratahs and the Brumbies who face of in Canberra on the 15th, meaning they would only have two full days of training a head of the match.
With the resignation of Hayden Masters, it means his successor will have to hit the ground running and produce results quickly.
WHITE WANTS TO COME HOME
Following on from the topic over seas players, comes the regular segment of, "Over Seas Player wants to come home for the World Cup". Todays segment features former Brumby and current Exeter half back Nic White.
White played four years for the Brumbies and has 22 Wallabies caps to his name, so for him to be eligible he would need to sign with a  Super Rugby team for the 2020 season.
White who is originally from NSW could step in and fill the void of London Irish bound Nick Phipps at the Waratahs.
There is also conversions regarding the long term playing future of Will Genia, or maybe there is a home for him in his old stomping ground in Canberra. 
"As much as people think old head and that I've played a lot of footy now, I'd like to think I'm only half way through my career," White told the Newcastle Herald last year.
"I think the year I've just had with Exeter is certainly the best footy I've played in my career and I'd like to think I'm getting better.
"So I hope one day that opportunity [to play a World Cup] comes. I'll probably line myself up contractually wise to leave the door open after this World Cup [2019]. I've put a line through that World Cup … but if I'm playing good enough footy then [2023], something could possibly happen and it's something I'd jump at. Maybe a World Cup at 33."
Many pundits have claimed given how White has been playing for the Chiefs that he could easily slot his way back into the Wallaby fold, but after he was overlooked in 2015 for the World Cup it might not be as easy as it looks on paper.
If he does find his way back to Australia though, he would join the likes of Matt Toomua, Luke Jones, Will Genia, Quade Cooper, Kurtley Beale and Adam Ashley-Cooper who were all apart of the last post World Cup exodus.
TIME AWAY GOOD FOR KURIDRANI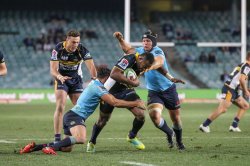 A season ending injury can sometimes be a curse, and sometimes be a blessing in disguised as it offers some time away to not only heal the body but heal the mind.
After a pectoral injury ruled Tevita Kuridrani out of Wallabies selection for the second half of 2018, the 27 year old centre decided to take some time away from the game and go and travel.
As a devout christian he took this chance to travel to Israel and it offered an insight to him of a world away from Rugby.
"After I knew I wasn't going on Spring Tour I used my time off, travelled and got away from rugby," he told RUGBY.com.au ahead of the Super Rugby season.
"It refreshed my mind and I think that really helped me coming back into preseason."
"I'm of a Christian background so going to Jerusalem was definitely the highlight," he said.
"It was really interesting to go there and visit all the places written about in the Bible.
"I think that really helped a lot just trying to get my mind away from rugby and refresh."
Kuridrani is also reaping the benefits of not going on the Spring Tour as it has allowed him to have a full preseason with the Brumbies after starting back in December, something he hasn't had the luxury of for many years.
"I  think the last time I had a full preseason was 2012 or 2013 and it's really helped me this preseason," he said.
"I've dropped a few kilos and feeling a bit fitter and a bit faster, which is good."
Though the Super season is only two matches in, Kuridrani appear to be in some of the best form in recent times, scoring a double against the Chiefs, whilst also looking leaner, faster and stronger.
Kuridrani isn't the only player who has talk about the benefits of stepping away from Rugby and going traveling, Quade Cooper speaking with SEN in Melbourne opened up about the mental benefits of his time playing for Souths in 2018. We all saw the impact David Pocock had coming back from his sabbatical. Maybe time away would do some players a world of good?
The competition for the Wallaby 13 jersey will be hotly contested this year with youngster Jordan Petaia showing great form early on, Samu Kerevi pushing hard at the end of last season, and Reece Hodge returning from a freak injury.