Tuesday's  Rugby News sees Another article regarding Israel Folau, James Horwill calls time, Pocock back for tour, another All Black injury.
---
HORWILL CALLS TIME
Former Wallabies and Reds captain James Horwill has called time on his 14 year rugby career, announcing via social media that he will retire at the end of the season with English side Harlequins .
"The time has come for me to retire from professional rugby. I have given this great game everything I have & I feel I can no longer give what is needed to play at this elite level," he wrote.
"Rugby has been a big part of my life for many years, never in my wildest dreams would I have envisaged the incredible journey it has taken me on.
I've had the privilege and honour to not only play, but captain my state, country and club on a number of occasions over my 14-year career."
"Winning the Super Rugby title and being asked to captain my country are some of the moments I'll cherish for a lifetime," he wrote.
"I want to thank all the coaches and staff I've worked with over my career, you have all made an impact and shaped me into the player I am today."
"Special thanks must go to the physios and doctors, who have put me back together. We spent more time together than I would have liked, but without your care, I wouldn't have played as long," he wrote.
"To all the players I have had the pleasure to play with (and against), you are why I have loved my career so much. We have made some unforgettable memories and I know I have friends for life.
"To the fans all over the world, who have supported me throughout my career, thank you .
"My job would not have existed without you; you are what makes this game so special."
Horwill boasts and impressive resume including 120 Queensland caps, A Super Rugby Champion captain, 62 Wallabies test caps including 16 as captain, a Tri-Nations winner and 66 appearance for Harlequins in English Premier Rugby.
Known as 'Big Kev' the 33 year old spoke to Fox Sports about his decisions to call time on his Rugby career.
"I had an injury riddled start to the year and I had been thinking about it and I didn't want to be one of those people that played on for too long," Horwill told foxsports.com.au from London.
"I guess I'd rather retire a year early than a year late and drag yourself on and go through the motions, and that was something that eventually came to the reality in my head.
"After a lot of conversations with my wife and family the time was just right. While it's tough to walk away I think it's for the right reasons and I'm excited about what the future may hold."
Horwill has a lot of fond memories in Australian Rugby but his highlight was winning the Super Rugby title back in 2011.
"I'd have to say the Super Rugby title (was the highlight)." Horwill said.
"Winning trophies is important, but I think the way it happened and the years prior, from where we were, losing by 92 points to the Bulls, we'd probably bottomed out as an organisation, lost a lot of players, lost a lot of fans, probably lost a lot of respect, so to work slowly and gradually get that respect back and eventually win the whole thing at Suncorp against the Crusaders, who are won of the greatest provincial franchises in the world, that was very, very satisfying."
"It was a bit of a blur," Horwill jokes about the celebrations.
"I don't think many of us wanted to let go of the trophy.
"It was one of those things, we ended up having a bit of an after-party just up the road at the Normanby and I just remember being on the bar with the trophy with a lot of people standing on the bar filling it up with beer and eventually vodka red bulls.
"The trophy itself I remember weighs about 18 kilograms without anything in it and it takes a lot of liquid, so when you fill it up it does weigh a bit."
Congratulations on an amazing career James "Big Kev" Horwill.
IZZY DONE
Israel Folau's rugby career in Australia is all but done.
Yesterday, Rugby Australia and NSWRU issued Folau a breach of conduct notice over his social media posts from April 10th. The Rugby Australia integrity unit deemed Folau's actions as a high level breach of the Players Code of Conduct. They believe this warrants his termination.
Folau now has 48 to either accept the sanction or face a Code of Conduct hearing. Though Melbourne Rebels and Wester Force fans know exactly how long a Rugby Australia 48-72 hours can be.
Raelene Castle, Rugby Australia CEO, said at the press conference: "At its core, this is an issue of the responsibilities an employee owes to their employer and the commitments they make to their employer to abide by their employer's policies and procedures and adhere to their employer's values.
"Following the events of last year, Israel was warned formally and repeatedly about the expectations of him as player for the Wallabies and NSW Waratahs with regards to social media use and he has failed to meet those obligations. It was made clear to him that any social media posts or commentary that is in any way disrespectful to people because of their sexuality will result in disciplinary action.
"All professional Rugby players in Australia are bound by the Code of Conduct and there is a process in place for any disciplinary matter. We appreciate that this particular matter will attract significant interest, but due process must be followed."
The press conference came off the back of another one, where Wallabies coach Michael Cheika, Wallabies and Waratahs captain Michael Hooper and Waratahs coach Daryl Gibson addressed the media as a united front.
Cheika told the media he believed he wouldn't have to address this issue again after the last time Folau posted about homosexuals going to hell.
"No I didn't to be honest. We had a discussion after the last time  and made it pretty clear about his right to believe and our support in that, if that's what he wants, to be part of the team," he said on Monday.
"But getting out in that disrespectful manner publicly is not what our team is about.
"When you play in the gold jersey we represent everyone in Australia, everyone.
"Everyone that is out there supporting us, we don't pick and choose.
"I felt that I needed to talk to him (Folau) about why but I haven't had that chance as yet."
Cheika believes that as it stand he couldn't select Folau for the Wallabies.
"Disappointed in the fact that we're here again," Gibson said, 
"Second year running that we're fronting up around an issue that on a large extent we'd settled and the impact that it has on the team.
"I think last year the team responded very well in the circumstance.
"This is not new ground for us and it's something we're going to have to do again."
Hooper agreed with his coach: "It's frustrating that I have to stand here.
"I can't speak on Izzy's behalf here today but what I can speak on is the footy we've got ahead and that sort of thing.
"It's hard being here, we're rugby players for sure, we are trying to create the best team environment we possibly can and at national level."
Neither Cheika or Gibson have heard from Folau, but Hooper has exchanged txt messages with his teammate. 
You can watch the press conference here
Folau made his first public comments to the Sydney Morning Herald on Sunday at a Truth Of Jesus Christ Church service 
"It's obviously a decision that's in the process right now but I believe in a God that's in control of all things,"
"Whatever His will is, whether that's to continue playing or not, I'm more than happy to do what He wants me to do."
Folau said his comments came from a place of love.
"I'll stand on what the Bible says," he said.
"I share it with love. I can see the other side of the coin where people's reactions are the total opposite to how I'm sharing it.
"But in Ezekiel, chapter 33, verse 11, it says that 'God has no pleasure in the person that's living in sin'  … He's a loving God and he wants people to turn away from what they're living in and he'll give them life.
"That's the message that I'm trying to share, even though it comes across as harsh. I can't change what the word of God says."
POCOCK IN FOR AFRICA TOUR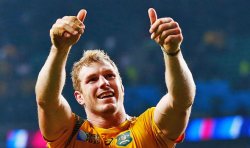 Good news for Brumbies fans with David Pocock named to join the touring squad bound for Africa and Argentina.
Pocock hasn't played in over a month, with his niggling calf injury carrying over from the Wallabies January camp and flaring up again despite his best efforts on the field.
Despite a month away from the game, Brumbies coach Dan McKellar is confident that the Wallabies backrower would be up to the challenge if called upon.
"Poey's one of the few blokes in the country who can not have played for a long period of time and come back in and perform at an extremely high level," he said.
"His on-ball work but just the confidence he brings to the group. The opposition have got to worry about David Pocock.
"I think most teams would breathe a sigh of relief if he's not in the opposition."
In more positive news for the Brumbies, Locky McCaffrey will also make the trip despite there being concerns around his knee after he was subbed off during the Brumbies win over the Lions on Saturday.
McCaffrey has found a new element to his game this season, being a key part of the Brumbies forward pack and one of the inform backrower in Australia.
McKellar has named the same 23 from Saturday's match plus five new inclusions for the tour.
Pocock, Lock Murray Douglas, prop Tom Ross and backs Mack Hansen and Wharenui Hawera have all been include in the Squad.
The Brumbies play the Stormers in Cape Town on Saturday April 20, kicking off at 3:05pm local, 11:05pm AEST
Forwards
Allan Alaalatoa Rory Arnold Jahrome Brown Sam Carter Tom Cusack Murray Douglas Folau Fainga'a Leslie Leuluaialii-Makin Josh Mann-Rea Lachlan Mccaffrey David Pocock Tom Ross Pete Samu
Scott Sio James Slipper Darcy Swain
Backs
Tom Banks Mack Hansen Wharenui Hawera Tevita Kuridrani Christian Lealiifano Matt Lucas Andy Muirhead Joe Powell Toni Pulu Irae Simone Henry Speight Tom Wright
 MCKENZIE OUT WITH ACL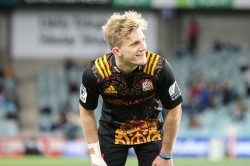 New Zealand's injuries list grew over the weekend with Chiefs playmaker Damien McKenzie ruled out for the World Cup after tearing his ACL against the Blues on the weekend.
"He could be out for eight to nine months," All Blacks coach Steve Hansen.
"It's a real shame for him, his World Cup opportunity has gone.
"He's still young enough to probably make the next two (World Cups) so it creates another opportunity for somebody else.
"We've got to expect injuries and there'll be more than just him, I suggest, by the time we finally name the team to go to the World Cup." 
McKenzie has 23 All Blacks caps to his name and offers versatility as a fly half or full back.
Sonny Bill Williams and Sam Cane lead the All Blacks injury list as they race against the clock to get fighting fit for the World Cup. Cane, who broke his neck last year playing for the All Blacks against South Africa, has begun light training.
"What is important is he comes back when he is ready and he is confident," Hansen said.
Other All Blacks in the rehab group are Owen Franks, Aaron Smith, Liam Squire, Luke Whitelock, Codie Taylor, Waisake Naholo and George Bridge.
"We know there will be (more) injuries in the next two or three months so our whole planning now is based on what happens when this happens," All Blacks assistant coach Ian Foster told Radio Sport.
"We don't like it but we've just got to make sure we control what we can control and have the best possible medical programme that gives them a fighting chance to come back strong."
Most of the injured players have been included in the training camps so that All Black staff can help give them every opportunity to make the World Cup Squad.
An injury to an Australian Rugby player and the community screams "what now!" in New Zealand they can cry out "Next!"