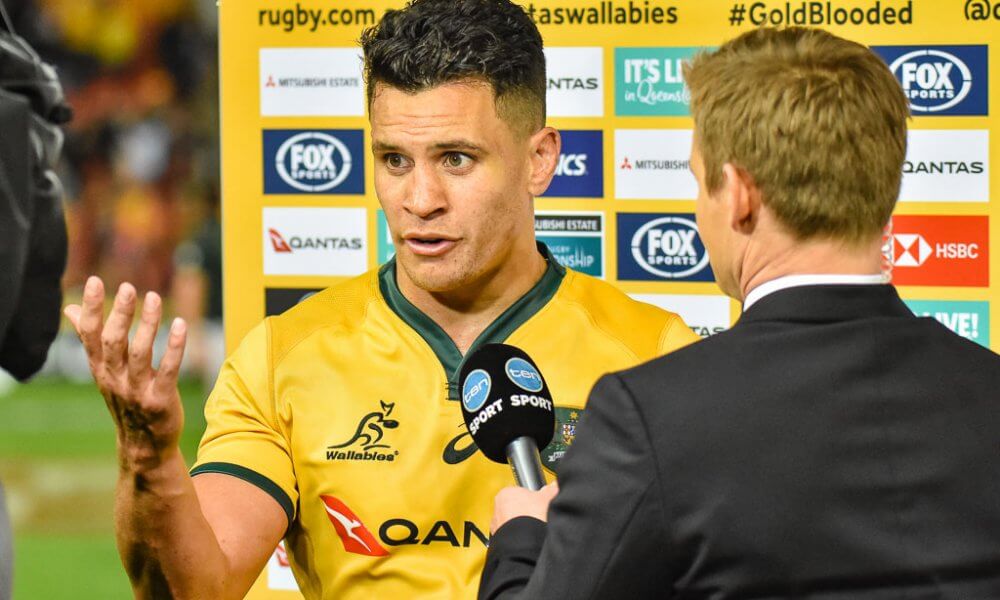 Tuesdays's Rugby News sees Matt Toomua back in Australia, Internal and External attack coach candidates, Rising take on the Wolfpack and TJ Perenara speaks about generalisations.
---
NEW REBEL ON THE BLOCK
Matt Toomua might have just landed back in Australia but he has already reported in at his new home, with a chance to debut this Friday night.

Toomua was granted early release from his Leicester contract after the club escaped relegation but failed to make playoffs.

According to Rebels coach Dave Wessels, the club wasn't expecting Toomua until after May 20th, where he would get a week of training under his belt before debuting against the Waratahs on the 31st.

After Quade Cooper went down early in the second half with a nasty head knock, Melbourne went back to Leicester again to see if Toomua could return home a week earlier. This time they obliged.

Regardless of Coopers state, Wessels may expect Toomua to step up into the 10 Jersey, to provide Quade with some much needed rest as he is one of the few Rebels who had almost played every minute up until Friday's collision.

"We get Matt Toomua in a week's time, which makes a big difference for us, and that probably takes a bit of pressure off Quade in having to play every single minute.

"But to be honest, I wouldn't like to be the guy that has the discussion not to play Quade. He's so invested in things at the moment and enjoying his rugby that I think he wants to be out there." Wessels said on Friday after the Rebels victory over the Reds.

It is conceivable that the Wallaby incumbent flyhalf may have to start off the bench for the Rebels. Or find a way to slot in somewhere else.

Often playing either 10 or 12 Toomua will have some strong competition for spots in the Rebels star studded back line given the form of Quade and with Billy Meakes putting his name on the 12 jersey, and Reece Hodge and Tom English both putting strong cases forward for the 13 spot.

Speaking with reporters in Sydney last August Toomua said he wasn't phased where he played.

"My junior stuff was all done at 10 and I think I probably still slightly prefer it," Toomua told reporters in Sydney in 2018.

"However, I do like playing 12 in the Australian system because it is a lot more entertaining than other systems. So without sitting on the fence too much I'd say 10, but I don't mind either."

Toomua's return also puts him in a good position for the Wallabies, allowing him to attend the  Wallaby Camp in Brisbane next weekend.  

Quade and injured Adam Coleman will have until the 11th hour to prove their fitness, whilst Jordan Uelese had a successful return to Rugby playing for Gordon over the weekend, he is expected to line up for the Rising in their match against the Wolfpack on Friday.

I for one am excited to see what new Melbourne hair styles Matt Toomua will rock in the years to come.
INTERNAL EXTERNAL CANDIDATES
Rugby Australia's director of rugby Scott Johnson says they will be looking at "internal and external" candidates as they look to find a new attack coach for the Wallabies.
We are four months out from the World Cup and there is still no replacement for Stephen Larkham who was dismissed from the role back in December. 
Speaking with FOX SPORTS, Johnson said that after next weekends camp in Brisbane, they would have a better idea of the right fit, and have a few options to pick from.
"We're in a process," he said.
"We're looking internally and externally. Names are bouncing around and we're just trying to see the options that fit and having a look what Cheik (Wallabies coach Michael Cheika) does.
"We'll be closer aligned after that camp."
"It'd be nice to have it but they're still involved in their provincial teams.
"It may be an internal candidate and Cheik's got a way he wants to play.
"He's there and that's what he's employed to do.
"He'll have a greater role at the start but that doesn't mean he won't get help at the back end."
Plenty of names have been thrown around, and despite Rugby Australia CEO Raelene Castle saying they wouldn't disturb the Super Rugby franchises, internally and externally raises a few questions.
Rebels attack coach Shaun Berne, Waratah's head coach Daryl Gisbon, Brumbies backs coach Peter Hewat, and Reds attack coach Jim McKay have all had their names thrown into the mix.
Scots College Director of Rugby Brian Smith's name is continuously used in consideration for the role, but it is unclear if he could step away from his duties mid season.
Johnson has ruled himself out of the role, despite having done temporary coaching for Scotland, he appears to wish to stay out of the day to day coaching operations. 
"I think it's important you can't have two masters," he said.
"The team's got to be looking at the one person and the one individual and I think it's important for that. "If someone heeds my advice, I won't be reticent to give it.
"I understand the parameters – I've been doing this type of job for a while and I probably found it hard at the start but I've found a nice comfort level there and it's important that the players and all the officials now where to look."
RISING VS WOLFPACK
Victorian club Rugby players will have the opportunity to represent the Melbourne Rising in an "International" match against the Japan A Wolfpack side.
The Wolfpack is Japan's extended World Cup training squad, and will feature Japanese internationals not playing for the Sunwolves, (and not Amanaki Mafi).
The Melbourne Rising will be comprised of current Rebels not playing on Friday and Victorian club players, for many of which wouldn't have had much exposure to international opposition.
Rising Co-Head Coach Pom Simona says the Melbourne side will be mostly Victorian Club rugby players.
"The majority of the team will be Victorian Club players who we've gone out and watched, or we've watched video tape and potentially can step up to that next level," Simona said.
"I'm really excited for them to play international rugby, it's not something that happens every day in Victoria."
"(It's a great opportunity) to have a look at the local talent, because we know there's a lot of out there, but we want to see them in our environment to see how they go," Simona said.
"They're testing themselves against players who've played 50-100 Super Rugby games and have played international games.
"Games like this we probably haven't had in the past, so it's a chance for the guys coming in from Dewar Shield to really put their foot forward and say I belong in this environment and I could potentially play NRC and make a good case for myself."
The Wolfpack previously had a hit out against the Brumbies Runners, and came away victorious 66-17, so it will be an exciting challenge for the Victorian men.
Simona says the Rising are well aware that the Japanese players are looking to put their stamp on a Jersey a head of the World Cup, and understand the need to be prepared to put up a fight.
"We're expecting a very well drilled and well-disciplined side full of internationals and professionals," Simona said.
"We're under no illusions to how tough the game is going to be.
"They're all playing for positions at the World Cup, so they'll be very tough team indeed."
The Rising side is due to be announced Wednesday.
Rising v Japan A Wolfpack
Kick Off: 5:05pm AAMI Park
Tickets Available for both Rising and Rebels Games here
PERENARA SPEAKS OUT AGAINST GENERALISATIONS
He might be one of the most vocal half backs, (speaks a lot with his hands as well) now Hurricane's and All Blacks half back TJ Perenara has hit out around the dangers generalisations on the back of Taniela Topou's facebook post.
Taniela Tupou was caught up in the Israel Folau storm after he posted comments reacting to a story about Samu Kerevi "apologising" for his faith.
Tupou wrote on Facebook,"Might as well sack me and all the other Pacific Islands rugby players around the world because we have the same Christian beliefs.
"I will never apologise for my faith and what I believe in, religion had [sic] got nothing to do with rugby anyways #TYJ ".
"For him to make a statement for everyone, I don't think that's right,"Perenara told Jim Kayes on Radio Sport. "He can certainly make his own statement if that's how he feels but you can't paint a brush over every single Māori or Pacific Islander who has any religious beliefs.
"You can't speak for everyone."
"It's obviously a tender subject for a lot of people and I just feel for especially the young people that get influenced by those words and who are trying to figure themselves out at the moment," he said.
"As leaders in our community, we need to empower those people and let them know that it's okay to be who you are, it's okay to feel the way you feel and that being you is okay.
"That's the message that we should be sending, that love and that unity and empowering people is what we should be doing."
There has been a generalisation regarding this topic, fuelled by the sensationalisation in the media of an us versus them mentality regarding Pacific Islander players and supporters. Perenara has been vocal in the past regarding his support for inclusiveness for the LGBT community in and away from Rugby.