Tuesday's Rugby News has Nic No Wuckers White Washing Away Wallabies Woes, Agustin Creevy out, Karmichael Hunt playing for Gordon and more Folau follow on.
---
White Washes Wallabies Worries
The best Australian scrumhalf named Nick has told Fox Sports that a week is a long enough time to fix something that's been breaking for the past three years.
"It may have been a little bit clunky but we feel that we're putting a few things in place and that we're not far away," White said of a game that involved two bombed tries, and a dumb imposter of 2018's Tongan Thor.
"We are trying to do things a bit differently so there's going to be a few teething problems but I felt like in that first half when we were patient we were creating opportunities.
"If a few of those opportunities go to hand that game looks a lot different so it's not panic stations.
"We need to work on a few things and make sure we take those moments and I think that's something we can turn around in a week."
The weekend's game was White's first game in four years, after he helped the Wallabies beat the All Blacks. There are rumours Cheika will play Genia at 9 on the weekend, with Joe Powell at 20/21, but White is just happy he's had a shot.
"It's good to be back but I want the results now," the No 9 said.
"We've got to be able to take opportunities when they come and if those ones come, I'm happy to take them."
Talking of ch-ch-changes, Marika Koroibete is pencilled in to return on the wing after missing the Boks game due to a new sprog, Christian Leali'ifano may swap in for Foley (depend on CL's shoulder injury),  Cheika may continue his habit of rotating the second-row, and with 4 billion injured props it may be another case of a Waratahs props (!!!) in the scrum again.
Creevy Out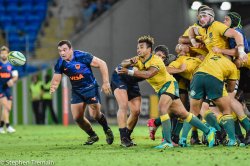 Argentina hooker and icon Agustin Creevy has been ruled out of the Pumas squad for Saturday night. reports rugby.com.au.
Everybody's favourite Anglo-Argentine injured his shoulder in his side's close 20-16 loss against the All Blicks on Sunday morning.
Julian Montoya is expected to come into the #2 shirt, with Newcastle Falcons' Santiago Cordero to be the 16.
The Underdogs-In-Black were very impressed with the Pumas, with captain Sam Cane singing their praises.
"The Pumas are very accurate, very good one on one defenders and make a nuisance at the breakdown," Cane said.
"They might not pinch the most ball but they certainly know how to slow it down. Their ability to just get back on their feet and keep coming off the line shows real desire.
"They put us under pressure from the first whistle right up to the last second of the game."
Pumas captain Pablo Matera was frustrated after the game but is looking forward to the Wallabies.
"[Si claro] we took another step [pero] in the first half we were too structured. Then we took a little more risk and went [muy bien]," Matera said of the ABs game.
"He (Ledesma) has worked hard to improve the level of the team and now against Australia we need more again."
Hunt Back In Club Rugby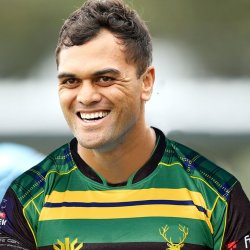 Karmichael Hunt played his first game since injuring his knee in May, turning out for Gordon in the Shute Shield over the weekend.
Sporting News reports that Hunt "asked Tahs officials who was at the bottom of the table, earlier this year when he joined the Tahs." So, he joined Gordon.
"I told him where the club was and where we wanted to take it and he said he loved going to teams at the bottom and having a crack," coach Darren Coleman said.
"We pay a small match fee but he said to use it on a young bloke. He didn't want a cent.
"The Tahs cop a lot of flak about where their players go but I've got to say they right behind this. We basically got him over a half hour meeting at a café. There is no deal signed or anything. It's a handshake arrangement.
"I didn't know the guy until the start of the year but I couldn't more impressed. He's been awesome."
Over the past two weeks, Hunt has been driving up from Bowral for training sessions. He made his debut for the club in their 42-34 win over Norths.
"Tuesday was our best session of the year and I put a lot of that down to Karmichael," Coleman said.
"Guys insides and outside didn't want to look like a goose.
"What's been most impressive is how professional he's been. He's a class athlete. His focus to the detail is very good."
In other news, Parramatta's Bankwest Stadium, which is 10x better than North Sydney Oval except its distance from Rose Bay, has been confirmed as the venue for the Shute Shield final.
Folau Federal Court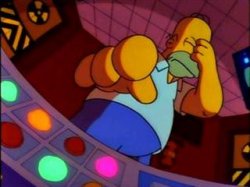 The gift that keeps on giving aka the guy who couldn't help himself but shitpost, Israel Folau, will probably take his unfair dismissal case to the Federal Court.
The news comes as mediation at the Fair Work Commission has fallen down after a series of "yeah?"s were followed by "nah"s.
The FWC gives out a certificate, which basically says that they've done all they can and now its up to the judges in the courts to do their thing.
It is expected that RA will continue with their argument that Folau fell foul of their code of conduct, but as employment relations lawyer Josh Bornstein says (via the ABC):
"If you had a contract which said 'I'm going to pay you four dollars an hour,' it would be no defence in an underpayment case under the Fair Work Act to say, 'he agreed to it'."
Bornstein, who works for Maurice Blackburn lawyers – look away Sky Newsites, that's a pro-labour law firm!  – is actually really smart and knows his stuff. He's like employment relations celebrity.
"I think Folau's got a respectable argument, but it's not clear-cut," Mr Bornstein said.
"One of the reasons that it's not clear-cut is that there's been very little judicial consideration of this part of the Fair Work Act. Most cases settle. If this goes the full distance, it will be the test case. It will set the precedent."
Plenty more of this rip-roaring ride to come folks. Remember when rugby was not about Instagram posts, indecision over cutting the Western Force, or the Wallabies being crap? I don't!!!