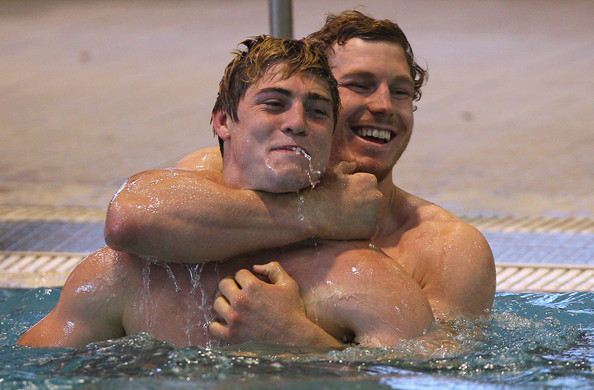 Tuesday's Rugby News has O'Connor's wisdom, Pocock's wisdom, Leali'ifano's wisdom, and Andrew Hore being weird.
---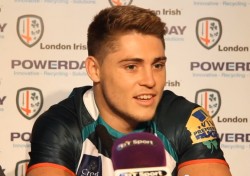 Obi Wan O'Connor
Local monk James O'Connor has graced the media with the calming words he doth verily said to youngest squire Jordan Petaia before the latter's premier appearance for thine Australian national team sur le weekend.
"I got to speak to Jordy the night before the game and [verily] all I passed onto him was almost what was passed on to me, it was just, 'focus on your defence and get [thy]self in the game early and the big moments will come'," O'Connor said, making the sign of blonde boy with cornrows with his right hand while his left hand remained tucked under his robe, while he was floating in sensory deprivation tank that had its lid adjusted for rugby.com.au's  microphones.
"[Yae,] you're going to be very excited and adrenaline's going to be flowing. It's just (about staying) composed and I think one thing he does have is that composure.
"He's quite a calm presence on the field and then when he gets the ball, he switches into game mode.  He plays in the moment very well so possibly he's a bit calmer than I was on my debut, that's for sure."
O'Connor, who has taken on the role of the Wallabies spiritual leader now that Israel Folau has gone, also mentioned that he was in contact with the parents of Petaia, esquire.
"I've spoken to his folks briefly about that sort of stuff but I think that'll more come when we settle into the Reds and whatnot," he said.
"He's got a pretty level head on him, I think he's been brought up very well and obviously he's got a job at hand to do here and once he goes back things will change for him but that's not for now," he said.
"I'm focusing on me and our job, just for the rugby right now, that sort of stuff can come after the Cup."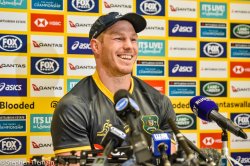 Respek
David Pocock has come out swinging in support of Tier 2 nations, telling journos to have more respect and also that eligibility rules need to be looked at.
First, respek.
"As a player, I sometimes find it a bit disrespectful with people expecting massive margins at the World Cup," Pocock  said (via SMH) yesterday, after Australia's massive 45-10 margin over Uruguay at the weekend.
"I think some of the tier-two nations have put a huge amount of work into their prep over the last four years. You've seen a massive improvement, obviously led by Japan and the strides they've made, but Namibia also against New Zealand last night – in the first half really held their own.
"You're clearly seeing a lot of IP moving around the world with coaches and that sort of thing. It's great for world rugby."
 Pocock, who was born in Zimbabwe and once paid $300,000 a year by Rugby Australia to go on a safari for 6 months there once, would love to see that nation return to the World Cup. The Zimmers made the first two cups in 1987 and 1991, but haven't made it since.
"I would love to see Zimbabwe at a World Cup," Pocock said. "They've got so much talent at schoolboy level and it would make me very happy to see them running out on the world stage again."
Remaining tight-lipped about whether he'd help them out once he's retired, Poey went on to discuss Tier 2 eligibility.
"It's worth talking about … it gets pretty complicated," Pocock said. "In my mind if you're not playing for a country that you've been capped for for a while, and clearly aren't in contention, then potentially.
 "But that's a discussion for the players' unions and World Rugby to be having."
The Da Cheika Code
Has Leali'ifano cracked the Wallabies first half code?
According to the Rolling Maul, the compilation that the Daily Paywall puts together for stories that aren't big enough for their own piece, there's a few revealing quotes from the flyhalf discussing the Wallabies' first half woes.
Is it anxiety?
"I think we're putting a lot of pressure on ourselves to really, really start well and it's creating a little bit of stress maybe, I don't know," Lealiifano said (via Fox Sports).
"And you can't really start a game well when you're getting penalised. We really need to fix that up as well and just be smart with what we're doing early."
For three games in a row, the Wallabies have had shocking standards and 11/10 finishes.
For the record, Cheika also noted the issue. But that's not an indication that it'll be addressed any time soon.
"Not that we haven't played well. We've just been a little bit less consistent in the first 20-odd (minutes) and it gets you off on the wrong foot so it's definitely something we need to address," Cheika said.
"That's three times now, three games a little bit off the pace at the start. So I know I have to get my pre-match speech a little bit better."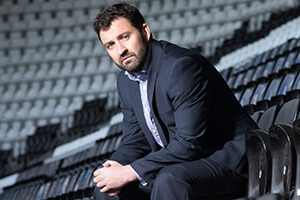 Cya Stinktown
The Waratahs chairman has thrown his prawn sandwich at the dust cloud where Andrew Hore formely stood, calling the former CEO's departure "shit timing".
Last week it was more or less revealed that Hore was thinking of leaving NSW for the Auckland Blues. It turns out that the chairman had no idea after – especially after Hore rocked up in Tokyo to unveil the coach for the next three seasons, Rob Penney.
"I formally communicated with him on Sunday saying, 'It's fish or cut bait time, you either are in or out, confirm or deny'," chairman Roger Davis told the SMH.
"He resigned this morning [Monday]. The rumours were circulating and all I had were rumours until this morning. When there is smoke there is fire. Until such time as he tendered his resignation, we were dealing with speculation.
"The season starts soon, so the timing is shit in that regard … [we] didn't see it coming. We'll survive as we always have and hopefully put a good team on the paddock."
2020 isn't look great for the Waratahs, as they have lost half their squad, including their starting halves, their coach and currently only have 2 hookers on the books.
Davis is confused either way.
"I don't quite understand the move,'' Davis continued. ''He has achieved a considerable amount in the three-and-a-half years he's been with us. He's about to get a brand new stadium, a brand new high performance centre, a new coach and arguably has got the largest player franchise [base] in Super Rugby. I just struggle to understand what he would see in going to the Blues that we don't have here.
 "Admittedly it's New Zealand and going home, but I'm not sure in the days of professional managers that's as compelling as a reason as it was in the past. Still trying to come to grips with why he wanted to pull the plug.
"It's been a hard couple of years for Andrew. We had the Israel Folau issue and a new stadium going on. We had good results and good outcomes, so it was a chance we thought for the next couple of years to celebrate some well deserved success and that's all gone now.
"We've got to move on. The sun will come up tomorrow. We will find someone to take over the shop and that work will start this week."
Phillip van Schalkwyk will be the interim CEO.