Tuesday's Rugby News has haka fines, a pessimistic Sonny Bill Williams, bad news for Warren Gatland and also bad news for Siya Kolisi (maybe)
---
Haka Hacks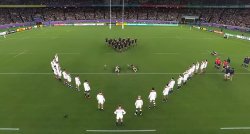 Leave New Zealand alone! That's the line from World Rugby, as the Guardian report that England are set to be fined for challenging the challenge.
Precedent was set when France challenged the All Blacks haka in 2011, and were £2,500 for getting close enough to the plucky little New Zealanders to whisper "Rainbow Warrior" to them.
France's fine was for breaching "cultural ritual protocal", according to the report.
England's V formation, which had the tips of the V standing over the halfway line, was meant to deliberately "rile them up" according to Easter Island's Mako Vunipola.
"[Joe Marler] said he got confused," Mako Vunipola said.
"He thought he was supposed to go all the way around it and go to their 10. But because of that, he's the one who has to pay the fine. He dishes it out a lot so the boys would be more than happy if he has to pay it."
Aaron Smith also revealed that Owen Farrell was winking at him during the haka which, if true, makes Farrell much more likeable.
No To Gatland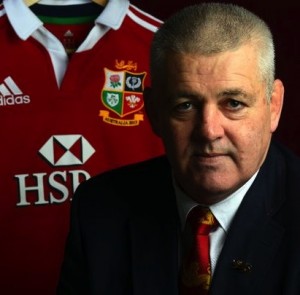 Outgoing NZRU boss Steve Tew has nixed the idea of Warren Gatland becoming All Blacks coach, saying that one simply can not be British & Irish Lions coach and an All Blacks coach within 4 years.
Gatland is scheduled to coach the Lions on their tour of South Africa in 2021.
"I think to coach the All Blacks and the Lions in a four-year period would be impossible," Tew told New Zealand's Radio Sport (via ESPN).
The NZRU will set up a four-man panel to figure out the next ABs coach, according to the article.
Tew, who himself will be replaced by Mark Robinson at the end of the year, urged Kiwis to move on with their lives after the semi final defeat.
"This is sport. The best team won and it wasn't us. I am very proud of this team and how they carry themselves," he said.
"I think people should take a deep breath and let it go.
"Everyone is hurting. These are not easy days.
Drop Kolisi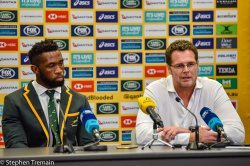 Fox Sports' 3rd-best talking head Stuart Barnes reckons the South Africans should drop Siya Kolisi so the Boks have a chance against Brave Eddie's Little England.
"Sometimes you have got to make substitutions and we took a captain off, that's the way it is," Barnes said according to Fox Sports.
"South Africa to win the World Cup have got to start competing better at the breakdown. They are going to have to turnover ball.
"Does that mean Malcolm Marx starts and the other question is can they leave Francois Louw out because Louw does that time after time after time.
"When you look at Tom Curry, Sam Underhill and Maro Itoje England have got a fantastic turnover game.
"It asks the question Siya Kolisi is a magnificent leader and he stands up for so much in South Africa, but I think Francois Louw is a better openside than Siya Kolisi.
"That poses an imponderable question for Erasmus."
Barnes added that he wasn't too impressed with Kolisi's post-match comments, as he views South Africa's general approach as too cautious.
"If Rassie Erasmus can't say right we can beat England and get his players to believe in it all they are going to do is exactly the same. They are going to hope the old Springbok track of having a big pack and kicking their goals will be enough," Barnes said, adding analysis to a rugby conversation much to the bewilderment of his colleagues.
"Kolisi said he was very pleased because we stuck to what we know best.
"That's not good enough. If England had won in the manner that South Africa had won and they interviewed Owen Farrell he would have said, we are in the final, but that was rubbish. Eddie Jones they would have kept off the screen because his language would not have been repeatable."
Sonny Side Down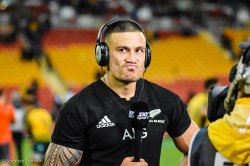 The Offloading One doesn't think New Zealand's post-RWC review will be too fun, saying that his teammates will need "bulletproof vests" as the NZRU wonders how they could lose to England as badly as they lost to the Wallabies in Perth.
"We went through the review this morning and some of the boys had their bulletproof vests on," said SBW (via Fox Sports), who added that he was adamant to win the bronze medal so he could graciously give it away to some disabled kid.
"Now we've just got to get on with it.
"It was a little more stressful yesterday with my little one. Didn't sleep well, she was out of whack."
"It was a tough night, but there were some lessons," SBW continued
"Straight after the game, I didn't really want to play this week – but five or 10 minutes later I [offloaded] the script and thought how good it would be to get through this, play again next week and put those lessons into practice."
Assistant coach Ian Foster echoed the Great Offload's sentiments.
"It's a chance to redeem ourselves," he said.
"We have players and management that are hurting and we want to go out and show we're better than that, and start this process.
"Energy levels might be low with the quick turnaround but there are players jumping out of their skin (to play)."