WARNING!!! If the pain from yesterday's video on lost possession hasn't subsided, don't watch the video because although it's not quite as painful, it's shows plenty of "basic" mistakes the Wallabies need to eliminate.
In the first four tests of the season the Wallabies have kicked the ball 82 times – that's around 40% of the times they've started a possession sequence.
In the first game of the Tri Nations last weekend New Zealand kicked 44% of the times they started a possession sequence and South Africa 53%.
Click on "Read More" to see the video and further anlysis of the teams kicking performances so far in 2010.
As part of our statistical analysis we measure the effectiveness of kicks based on the outcome so a Kick (-) is a kick that:
Gained no ground; or
Gave possession back to the opposition without a contest; or
Opened an opportunity for the opposition to counter or kick the ball back and gain more ground than the original kick; or
Wasted an opportunity to attack with ball in hand.
For example a box kick that goes too far and gives the catcher time to take and then shift the ball before the chasers can get there is a Kick (-), whereas the same kick that gives time for the chasers to arrive and contest possession is a Kick (+), unless of course there was an overlap in attack and the ball should of been passed instead of being kicked.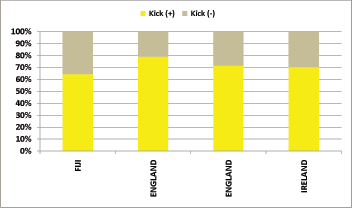 It's a subjective thing but those are the sort of guidelines we work with. Other kicks like the Kurtley Beale grubber against Ireland are not contentious and are clearly a Kick (-). If a kick was the right option but it was poorly executed it will also earn a Kick (-).
As you can see from the graph the Wallabies kicking was worst in the game against Fiji but that was to be expected, being the first game of the season.  The game against England in Perth was the Wallabies best kicking performance but then dropped back against against England in Sydney and then Ireland.
Our season rating for the Wallabies so far is 72% (+).  In the first game of the Tri Nations last weekend we rated New Zealand at 68% (+) and South Africa at 63% (+) so the Wallabies performance hasn't been too bad, albeit against lesser opposition.
Where the Wallabies do need to improve is in cutting down some of the simple mistakes they've been making as you'll see in the following video.